Spotify is going all-in on artificial intelligence.
Following the release of an Spotify AI-powered DJ earlier this year, the streaming service is now experimenting with ways to automatically produce playlists in response to a user request.
Spotify's New 'AI DJ' Mimics the Worst Parts of Radio Listening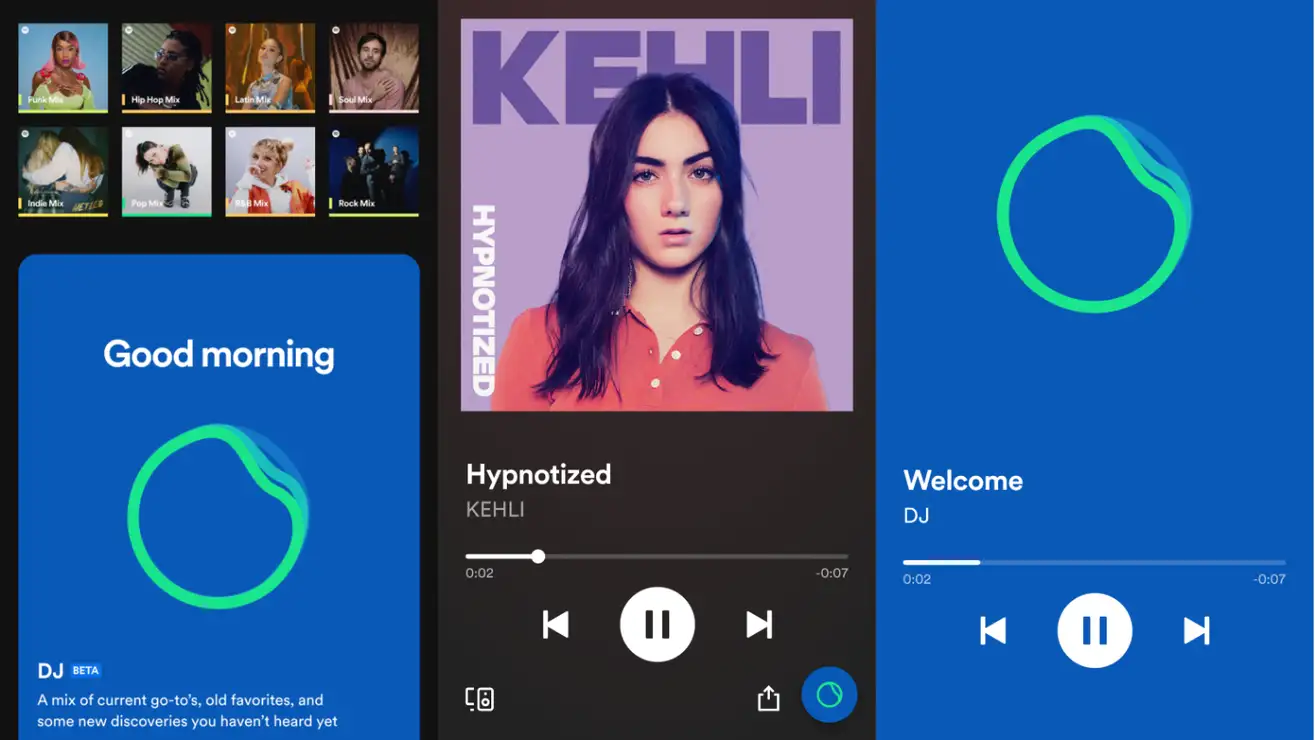 Spotify has introduced a new artificial intelligence-powered function to help you curate your music.
Read Also-The Rise of AI Composed Music -Insight
The company's new AI DJ, fittingly titled "DJ," guides you through your listening experience by playing music it believes you'll like and providing computer-generated commentary on what makes certain songs wonderful.
DJ is a Spotify music curation tool that feeds you songs you enjoy and songs it believes you'll like, all wrapped up in a lifelike voice modeled after Spotify's Head of Cultural Partnerships, Xavier "X" Jernigan.
DJ provides delightful and witty remarks after every few tracks created by machine learning, and these comments reflect your listening patterns as well as fascinating details about the album or song you're listening to.
Spotify's latest step into artificial intelligence is DJ, but the music streaming service is no stranger to AI—Spotify utilizes AI to give you tailored playlists like Daily Mixes, Decade Mixes, and Mood Mixes.
"At Spotify, we are constantly iterating and ideating to improve our product offering and offer value to users. But we don't comment on speculation around possible new features and do not have anything new to share at this time
Spotify AI experimented with the concept of description.
With Niche Mixes, which premiered last spring, Spotify dabbled with the notion of description-based playlists.
Niche Mixes, according to the firm, are "a set of personalized playlists that combines all that our Mixes offer in a playful way.
" Users may enter a description into the platform's search field, followed by the phrase "mix," and appear to be rewarded with a playlist that fits that tone.
Spotify, on the other hand, revealed to TechCrunch that Niche Mixes were not powered by AI, but rather by the company's personalisation algorithm.
---
Spotify is apparently in the development stage of offering AI-generated playlists, a discovery made within the application's code, in an effort to keep improving its user experience.
Following the successful adoption of AI-driven services like the AI DJ and AI-translated podcasts, this innovation is now available.
Chris Messina, a seasoned IT expert and investor, revealed the details relating to Spotify's most recent attempt. Using pictures of the Spotify application code, Messina revealed phrases like "AI playlists" and "playlists based on your prompts.
" On the basis of these findings, it is predicted that users will soon be able to create playlists utilizing AI technology and particular cues.
Messina proposed that Spotify's Blend genre might incorporate the use of AI-generated playlists.
The Blend feature combines the musical tastes of various people, creating a playlist that appeals to all of the persons involved despite their varied musical tastes.
Although the results are convincing, Spotify has stayed mum regarding its plans for AI-generated playlists.
A company representative declined to comment when contacted for comment, saying only that "At Spotify, we constantly iterate and ideate to develop our product and deliver value to users.
However, we have nothing to share at this time and don't comment on rumors about new features.
Despite Spotify's secrecy, it is widely believed that the foundation for AI-generated playlists is already in place.
The business had already introduced a function called "Niche Mixes." Users can use this function to make unique playlists based on various descriptive prompts, such as genres, vibes, and aesthetic themes.
The Niche Mixes make use of Spotify's cutting-edge personalization technology and algorithms, despite not being AI-powered.
According to Messina's analysis of Spotify's source code, the upcoming AI playlists would likewise make use of prompts.
These functionalities, nevertheless, have not yet been made public and are still only available to developers.
Additionally, it has been suggested that the Blend genre may be connected to the AI playlist feature, enabling user collaboration in the building of AI playlists.
The observations made by Messina point to continuing internal testing and development of AI-generated playlists at Spotify.
The public availability of these capabilities is not certain, but it is clear that Spotify is thoroughly investigating the potential of AI in music personalization.
The business has a committed team working relentlessly on AI and machine learning, trying to comprehend and apply sophisticated personalization methods, generative voice, and massive language models.
Spotify is definitely at the vanguard of the growing field of AI in music personalization, setting the stage for a potentially novel musical experience for users.
The future of music streaming seems to be becoming more intuitive and user-centric with the arrival of AI-generated playlists.