Researchers create a model that helps explain how consumers' ethical view affects their willingness to utilize care future robots.
The global population of adults over the age of 65 is quickly growing, increasing the demand for care.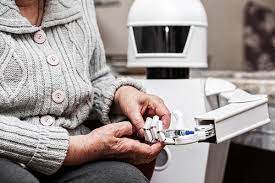 Although care robots are a viable answer for caregiver replacement, their social implementation has been delayed and poor.
A group of multinational academics has created the first global model that can be used across cultural contexts to explain how ethical judgments influence desire to deploy care robots.
Introducing Care Future Robots
Japan, for example, is facing dropping birth rates and an aging population.
The rising burden of care for an aging population may result in a caregiver shortage within a decade.
Read Also –Robots and AI Automation Taking Over Jobs: What to Know About the Future of Jobs :2025
As a result, recruiting and resource allocation must be planned ahead of time. Robotic interventions that give home care services to the elderly look to be a possible answer to this problem.
Although care robots are rapidly being created and improved, their societal acceptance has been restricted.
It is thought that ethical concerns about the employment of such robots are impeding the technology's development.
Many acceptance models have shown that older persons, their families, and professional carers' ethical opinions of care robots can influence their willingness to use this technology.
However, no uniform model exists that may explain the link between ethical attitudes and readiness to deploy care robots across nations and cultural circumstances.
To fill this knowledge gap, a team of international researchers led by Professor Sayuri Suwa from Chiba University, including Dr. Hiroo Ide from the University of Tokyo, Dr. Yumi Akuta from Tokyo Healthcare University, Dr. Naonori Kodate from University College Dublin, Dr. Jaakko Hallila from Seinäjoki University of Applied Sciences, and Dr. Wenwei Yu from Chiba University, among others, conducted a cross-sectional study across Japan, Ireland, and Finland.
Their study's findings were made accessible online on July 25, 2023, and will be published in Volume 116 of the journal Archives of Gerontology and Geriatrics in January 2024.
Prof. Suwa describes the study's motivation: "Today, in Japan's super-aged society, various care robots, including monitoring cameras, have been developed and marketed to compensate for the shortage of care staff and to alleviate their stress."
However, no conversations have taken place between users – older persons, family carers, and care staff – and developers about the willingness to use care robots, privacy protection, and the acceptable use of personal information linked with the use of care robots.
The motivation for this research was a desire to better the situation and encourage proper use of care robots outside of Japan."
The researchers created a questionnaire that looked at the ethical problems that would influence people's desire to utilize a care robot in each of the three nations.
The poll was performed among older individuals, their family carers, and professional caregivers between November 2018 and February 2019.
Multiple ethical bodies in all three countries also assessed this study. The researchers examined a total of 1,132 replies, including 664 from Japan, 208 from Ireland, and 260 from Finland.
The desire to utilize care robots was found to be highest in Japan (77.1%), followed by Ireland (70.3%), and lowest in Finland (52.8%).
Future Robots Advancement 
The researchers then created a conceptual model and tested it statistically.
The researchers incorporated ten questionnaire responses into the model, which were divided into four broad domains: acquisition of personal information, use of personal information for medical and long-term care, secondary use of personal information, and participation in research and development.
The model was then improved using Akaike's information criterion (AIC).
To get better (lower) AIC values, the model underwent incremental changes. The resulting model was then applied to each country individually.
As a result, this study revealed the effective use of a single universal model that could explain the association between ethical attitudes and social adoption of care robots across three nations with diverse geographies, demographics, cultures, and systems.
Prof. Suwa concludes, "From our findings, we can infer that social implementation of care robots can be promoted if developers and researchers encourage potential users to participate in the development process, as proposed in the form of a co-design and co-production concept."
We believe that the process of producing care robots can be enhanced so that they can contribute to human well-being in an aging world."