Rancho definition in history

– Rancho is the Spanish term from which the English word ranch is derived.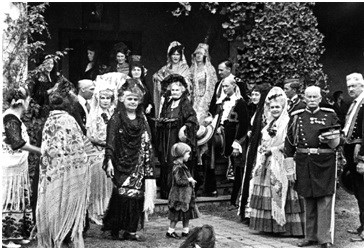 Ranchos were vast land grants made to people who had been faithful to the Spanish Crown or later to the newly independent government in Mexico.
They were first formed during Spanish rule and later continued under the Mexican flag.
Ranchos were the preferred structure during the long-term attempt to colonise Alta California's lands.
While some ranchos were granted during the mission era, the majority of Alta California ranchos were granted after the missions were secularised in 1834.
Spanish exploration of the area around San Diego Harbour started in 1542, although colonisation didn't start until much later. Around the 1760s, Jesuits began establishing missions in Alta California with the help of the Spanish Crown in an effort to introduce the Spanish culture to the Native Americans residing there and to assert control over vast areas of country with fewer inhabitants.
A presidio, or military fort, would be built, and a small group of soldiers would be sent there to guard the mission and its people. In order to rear livestock near these presidios, ranchos were first established.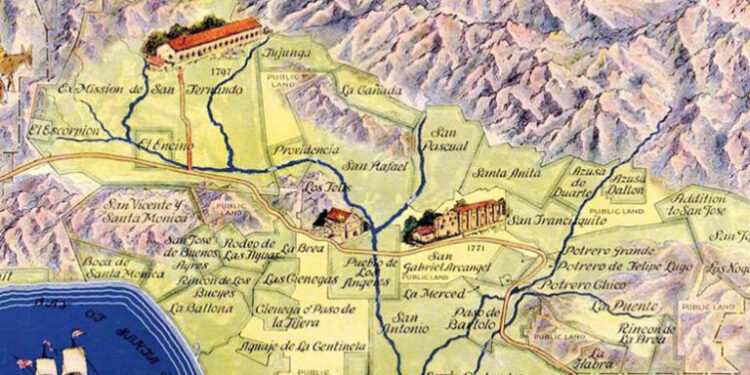 Native Americans made up the majority of the rancho workforce. They played nearly every part, including that of vaqueros.
After the mission system was abolished (and the Spanish were driven out of Mexico), about 500 more people received California land grants and established their own ranchos.
Between 1784 and 1821, the concessions of territory to the Spanish were made. Beginning in 1784 and continuing until 1846, the Mexican land grants.
The cattle had multiplied and wandered freely at the time. All that was needed to start ranching was to acquire a few of the cattle and perhaps borrow a bull from the missions (an act that would later require payment).
Any cow would be expected to be taken by anyone in need of meat, leaving the owner with the hide. Sharing cattle wasn't seen as theft until California joined the US in 1847, following the conclusion of the Mexican-American War.
Before California was annexed in 1848, cattle ranching dominated the state's economy. Despite California becoming a state in 1850, American law permitted land grants to remain as private property.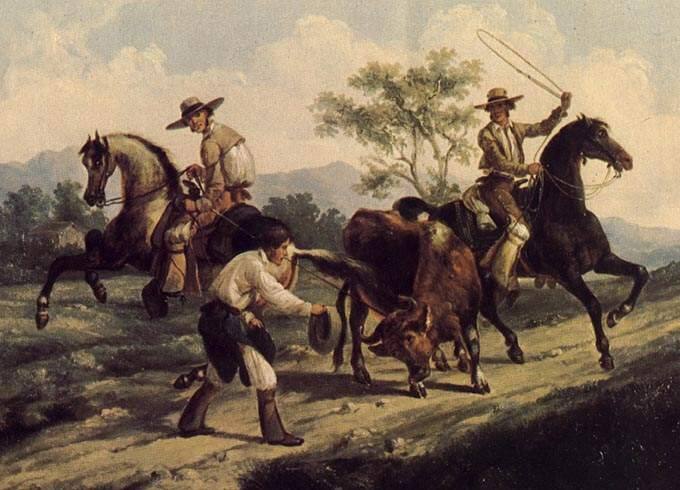 After the Mexican-American War, California's rancho era came to an end. Rancho owners had to substantiate their ownership of the land to the US government when California joined the union.
The majority of rancheros ended up selling up their land to cover their costs because hiring solicitors to protect property was highly expensive.
The majority of California's ranchos had been divided up and sold to new owners by the end of the 1860s.
Favourite Ranchos
Although the majority of California's ranchos were dismantled more than a century ago, you can still visit some of their original locations to have a better understanding of rancho life.
Many of them have been transformed into public historical monuments or state parks.
Rancho Camulos
Rancho Camulos, which was established in Ventura County in 1833 as Rancho San Franciso, is one of the most well-known ranchos in California.
Antonio del Valle was the proprietor of this hacienda. His son, Ygnacio, received the rancho upon his passing. To learn more, go to ranchocamulos.org.
San Pedro Rancho
Juan Jose Dominguez obtained Rancho San Pedro, one of the first land grants in Alta California, which covered 48,000 acres in Los Angeles County, sometime around 1784.
The Dominquez Rancho Adobe Museum is currently open for tours. Go to dominguezrancho.org to learn more.
Rancho Petaluma
General Mariano Guadelupe Vallejo settled in Sanoma County at Rancho Petaluma, which Governor Manuel Micheltorena had granted him in 1834.
This 66,622-acre rancho was the biggest and richest rancho in northern Alta California at the time it was constructed.
The adobe is now a state historic park that welcomes visitors and is now a recognised landmark in California history. For further information, go to California Department of Parks & Recreation.
Rancho Po Pico
This rancho in Los Angeles County, which was first given to Crispin Pérez in 1835, finally became the residence of Pó Pico, the final governor of Mexican California.
The rancho, which was just 8,000 acres in size compared to his other possessions, was given the name "El Ranchito" by Pico.
The rancho now serves as a state historic park. For further information, go to California Department of Parks & Recreation. Additionally, Pico arranged for his brother and him to receive a second property grant of 133,440 acres. Before changing its name to Rancho Mission Viejo, it was known as the Santa Margarita y Las Flores Rancho.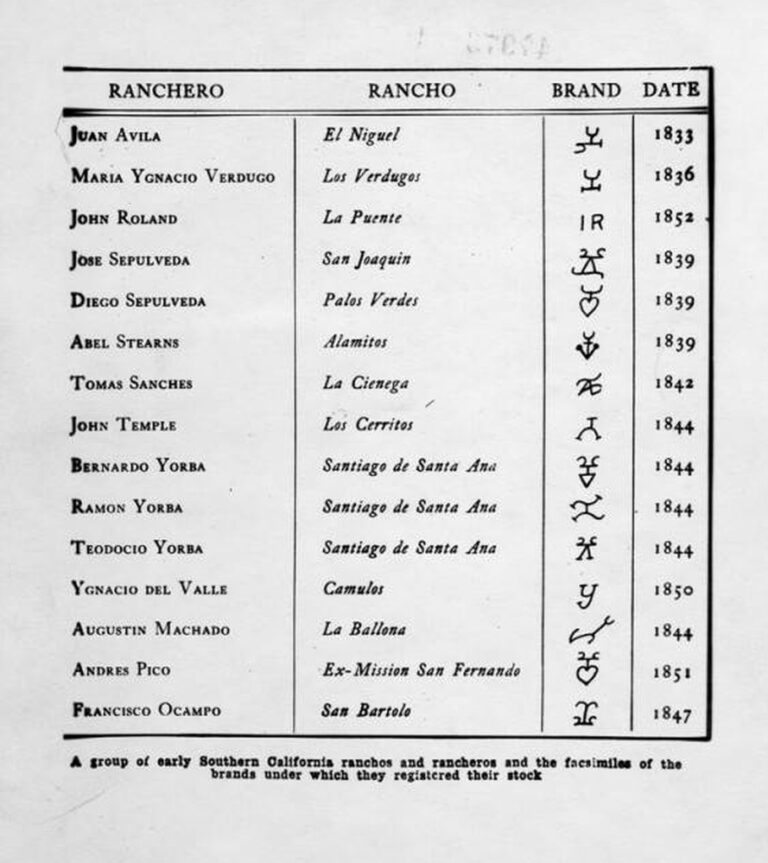 LIVING ON A LAND GRANT
Where you live today is on one of the original ranchos, created when the Mexican government seized property controlled by the Missions under the Secularization Act of 1833 and granted millions of acres of land to Mexican citizens (either native or naturalized). Citizens were able to petition the Mexican Republic for land if they were Catholics who had the ability to raise crops or cattle. They also had to be willing to live on the property.
Of the 700 grants made or reconfirmed throughout California between 1833 and 1846, 20 were either all or partially within today's Orange County's borders.
The names of the original families ant their ranchos should sound familiar to you: several present day streets and cities were named after them.
1. Rancho Boca de la Playa: 6,607 acres were granted to Justice of the Peace Emigdio Vejar in 1846, who sold it 23 years later to Juan Avila. The rancho was then acquired by Juan Forster, a major regional landowner.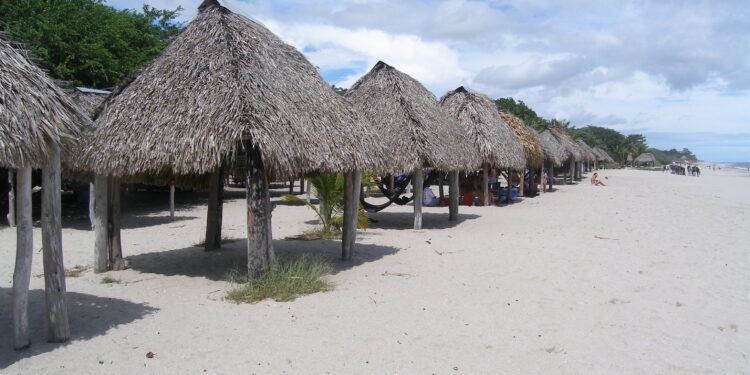 2. Rancho Bolsa Chica: 8,107 acres were granted to Joaquin Ruiz in 1841 then became part of Abel Stearns' holdings. Through marriage and land purchase, Stearns became the largest landowner in Southern California.
3. Rancho Canada de los Alisos: The "glen of the alders" was granted in 1842 to Jose Serrano. When supplemented by a later grant in 1846, the Serrano property swelled to 10,668 acres. It became the Whiting Ranch in the 1880s.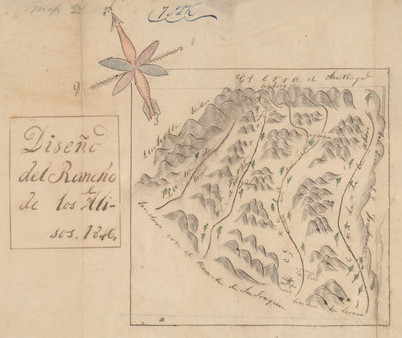 4. Rancho Canon de Santa Ana: The 13,328-acre rancho was granted in 1834 to Bernardo Yorba, the most prosperous of Jose Antonio Yorba's sons. Bernardo eventually acquired land that extended his holdings from Riverside County to Newport Bay.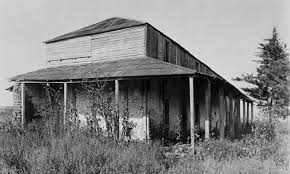 5. Rancho La Habra: This rancho was granted in 1839 to Mariano R. Roldan by Manuel Jimeno on behalf of the Mexican nation. The acreage is not known. Andres Pico acquired the land, and it was later sold to Stearns.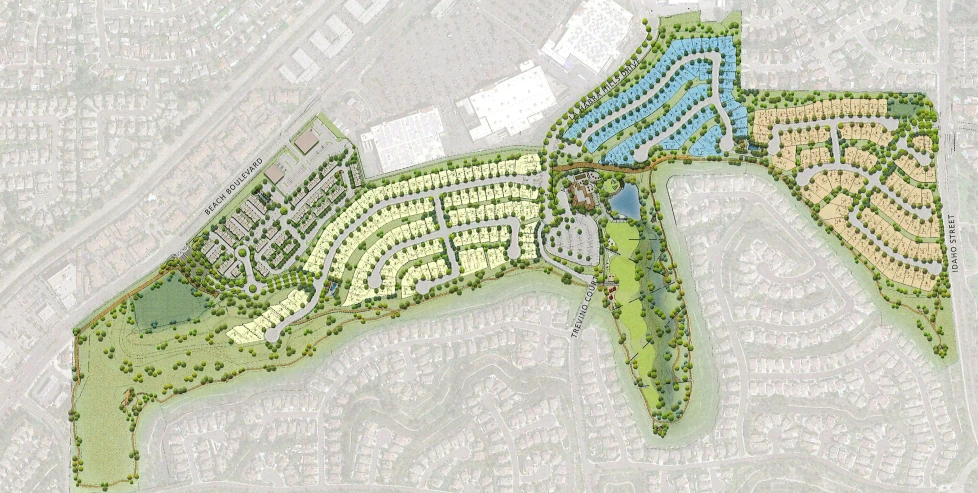 6. Rancho La Puente: The 48,790-acre rancho, mostly in L.A. County, was granted in 1845 to John Rowland and William Workman, trappers who had brought a party of Americans to California from New Mexico in 1841.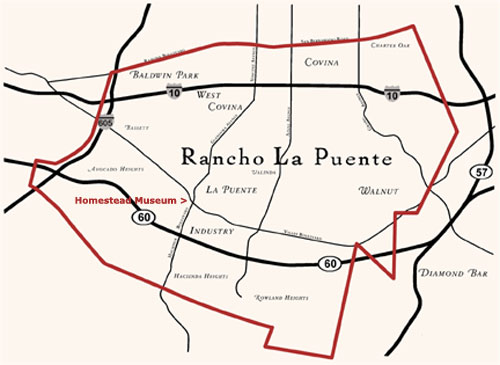 7. Rancho Las Bolsas: Granted in 1784, it became part of former soldier Manuel Nieto's vast concession. Las Bolsas was created when Nieto heirs asked for a partition of the larger grant. In 1834, the land was given to Catarina Ruiz, the widow of one of the Nietos. By 1851, ownership was in dispute. Ramon Yorba and Jose Justo Morillo each claimed a half-interest. Stearns later became full owner. The acreage of the rancho is not known.
8. Rancho Lomas de Santiago: 47,266 acres were granted in 1846 to Teodocio Yorba, son of Jose Antonio Yorba. It later was acquired by James Irvine Sr. in deeds dated 1868 and 1876 from his partners who had purchased the land for 15 cents an acre.
9. Rancho Los Alamitos: Part of the larger 1784 Manuel Nieto concession. The acreage is not known. It was later acquired by Stearns.
10. Rancho Los Coyotes: Created during the breakup of the Manuel Nieto concession, it was given to Juan Jose Nieto in 1834. Stearns later added it to his holdings. Its acreage is not known.
11. Rancho Mission Vieja: The 46,435-acre rancho was granted to Antonio Estudillo in 1841 under the name Rancho La Paz, but Estudillo failed to meet conditions of ownership set by Mexican law. He sold it to Augustin Olvera in 1845, who sold it to Forster two days after the title was confirmed. The rancho's name was changed to Rancho Mission Vieja.
12. Rancho Niguel: The 13,316-acre rancho was granted in 1842 to Juan Avila, then acquired by Lewis F. Moulton in the 1890s to became Moulton Ranch.
13. Rancho Potrero los Pinos: This was one of three small pastures in what is now Cleveland National Forest granted in 1845 to Forster. The other two potreros are now in Riverside County. The size of the three in an 1866 title was 1,167 acres.
14. Rancho Rincon de la Brea: The rancho was first owned by Gil Ybarra of Los Angeles, a former town council member who received the grant in 1841. Its size is not known.
15. Rios Tract: This seven-acre parcel of land was within the boundaries of Rancho Boca de la Playa. It was granted to Santiago Rios in 1843.
16. Rancho San Joaquin and Rancho La Cienega de las Ranas: The combined 48,803 acres of the two ranchos were given to Jose Andres Sepulveda in 1837 and 1842. He was a hospitable rancher who owned fast horses. His ranchos later were joined with Lomas de Santiago and a portion of Santiago de Santa Ana to form the Irvine Ranch.
17. Rancho San Juan Cajon de Santa Ana: 35,970 acres were granted in 1837 to Juan Pacifico Ontiveros, an early-day resident of Los Angeles who had served in the Spanish army.
18. Rancho Santa Gertrudes: Another part of the 1784 Nieto concession. Nieto lived on this rancho southwest of what is now Whittier. After the breakup of the concession, Figuero granted the rancho to Josefa Cota de Nieto.
19. Rancho Santiago de Santa Ana: Jose Antonio Yorba, a retired sergeant of the presidio in San Diego, who had been a Portola party corporal and one of the first Europeans to see the Santa Ana River, was granted 62,516 acres along the river in 1810. Cities of Orange, Santa Ana, Costa Mesa, Tustin and Villa Park are all or partly on this land. In 1868, the rancho was divided among 100 claimants (including Yorba and Peralta relatives and Stearns). Attorneys A.B. Chapman and Andrew Glassell received land that became the city of Orange in exchange for their legal advice.
20. Rancho Trabuco: A third of the rancho was granted in 1841 to Santiago Arguello, who sold his interest to Forster two years later. Forster obtained the additional two-thirds of the rancho giving him a total of 22,000 acres.
Source 
Beck, Warren and Ynez Haase. Historical Atlas of California. Norman: University of Oklahoma Press, 1974. 
Cleland, Robert G. The Cattle on a Thousand Hills. San Marino: Huntington Library, 1975. 
Robinson, W. W. Land in California. Berkeley: University of California Press, 1948.