LG OLED G3, While waiting for the expected arrival on the market between April and May , LG has made a pre-series copy of the new 65-inch OLED G3 available to us for a few hours .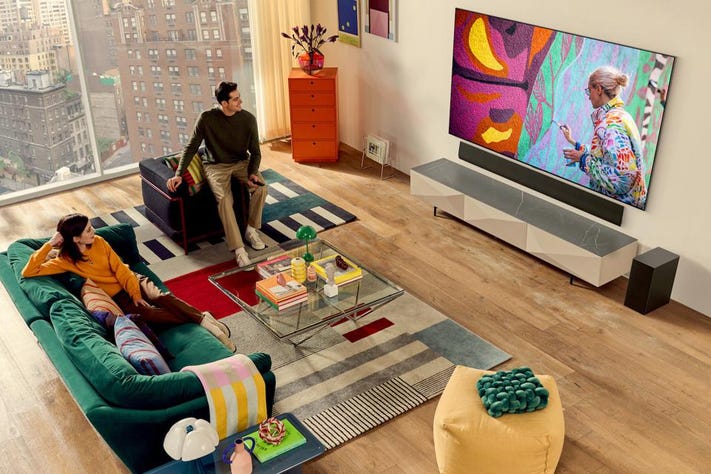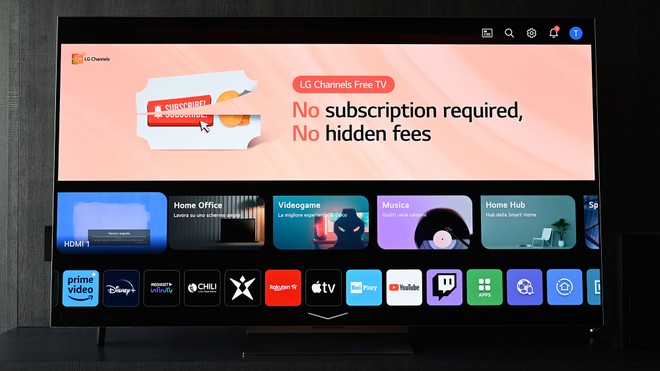 Arriving on site, the room was brightly lit by a beautiful sun and the first thing that struck us was the effectiveness of the new anti-reflection coating that distinguishes the G3 series this year from all the other OLED series of the Korean manufacturer. Not only does it manage to contain ambient light reflections very well , but it also helps to restore the perception of a brighter and more "compact" image (pass me the term).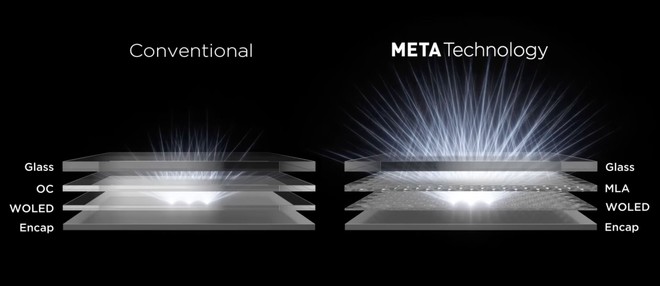 According to LG, the new G3s with MLA panels are capable of achieving a peak HDR luminance of just over 2000 nits (windowed at 3% and in "Vivid" mode), while in white point corrected mode D65 (6500°K) of the "Filmaker Mode" or "ISF Dark Room" presets, the peak drops to about 1400 nits and about 230 nits in full screen.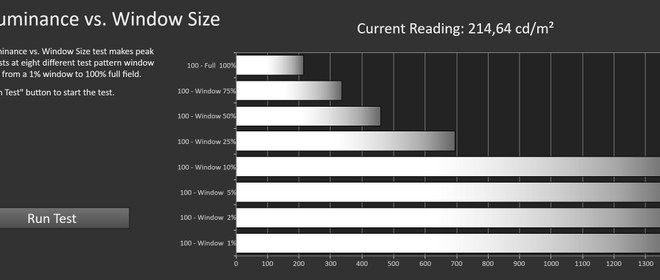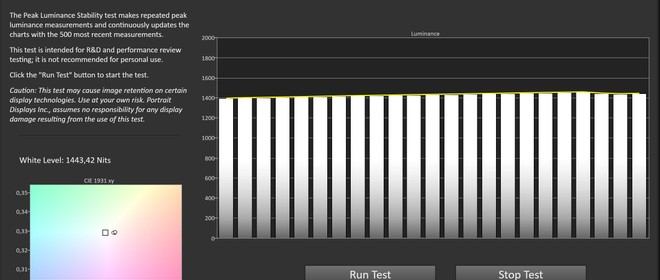 HDR peaks in D65 window
Peak HDR substained D65
Measurements in hand we can substantially confirm these values ​​with the sample tested which reached 1700 nits in HDR "Vivace" (in the window at 10%), while with the preset "Filmaker Mode" (but also with "Cinema" and the two ISF profiles ) the peak of 1400 nits is perfectly centered and this value is reached not only in the 10% window, but also with 1, 2 and 5% windows . At 25% the value drops to 700 nits (until a few generations ago it was the maximum peak achievable in the window at 10%), and then gradually drops to about 220 nits in full screen (when the ABL intervenes).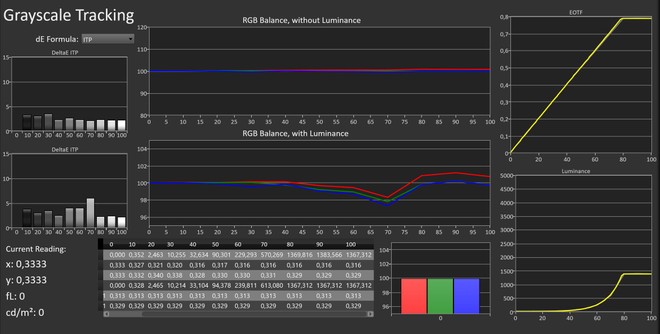 Grayscale HDR
HDR Color Checker
Very interesting to note, then, how the G3 thanks to the new panel and the cooling solution with dissipation plate is also able to maintain the 1400 nits in the window at 10% even for almost 1 minute without problems. At that point it will be possible to notice the retention, which will in any case be reabsorbed within a few tens of seconds (but we advise against doing so, except for educational and verification purposes, as in our case!)
Gamut BT2020
Gamut DCI-P3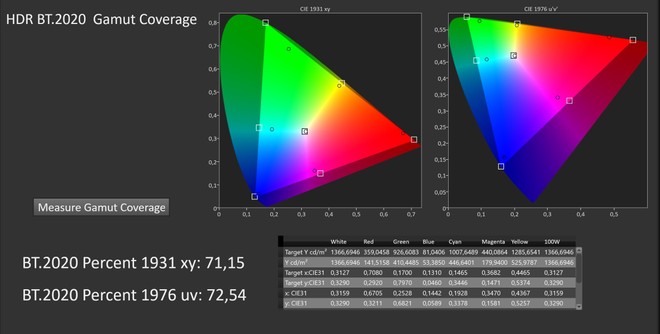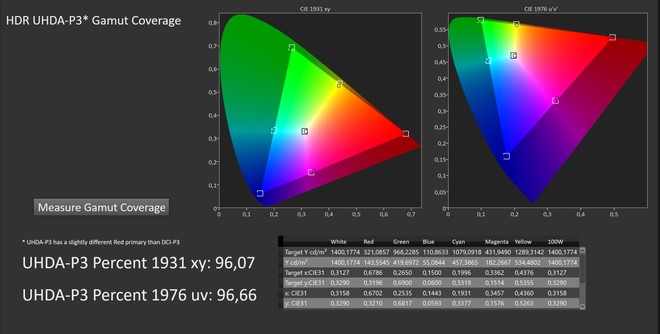 All then with an absolutely exemplary HDR tone-mapping curve tracking from the factory . On the color front, the G3 covers almost 97% of the DCI-P3 gamut and 72% of the BT2020 gamut , and even the primary, secondary and intermediate targets are well centered from the factory.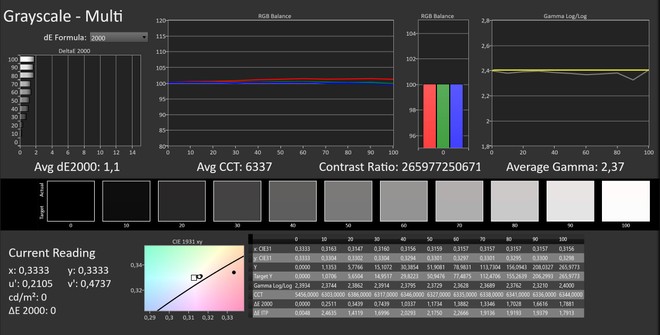 Grayscale SDR
The same is then repeated during the instrumental verification in SDR , with the G3 which was able to reach 750 nits peak in "Vivace" mode (absolutely to be avoided). Instead, using the more correct "Filmmaker Mode" preset (but the same behavior also occurs with "ISF Stanza Buia", for example) we find a D65 white balance that is close to perfection , with a gamma of almost 2.4, an average DeltaE of just 1.1 and a peak luminance of 265 nits. Equally good is the REC709 gamut coverage which is perfectly covered and the ColorChecker feedback of the intermediate colors.
In short, the step forward of this new generation of panels is evident and can be seen very well even by eye , with HDR images that are able to offer even more incisiveness and an anti-reflection coating that significantly improves vision in daytime contexts.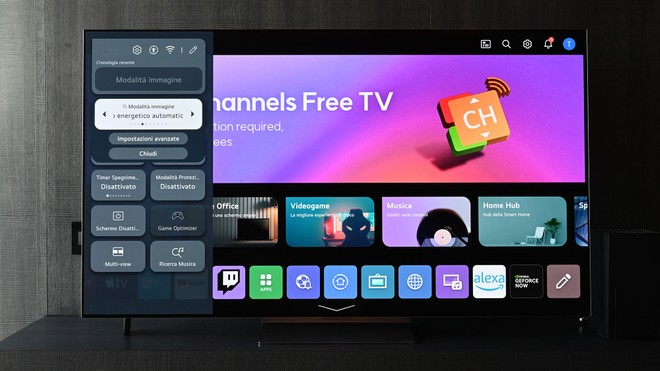 The new webOS 23 interface is also very nice , which will be common to all the 2023 OLED series, the result of a reorganization and rationalization that favors the user experience, but also the responsiveness and fluidity of general navigation. We also really liked the new fully customizable "Quick Menu" interface .
On the gaming front , the functionality and compatibility of LG's OLEDs were already at the top in recent years and therefore only further customization refinements were introduced.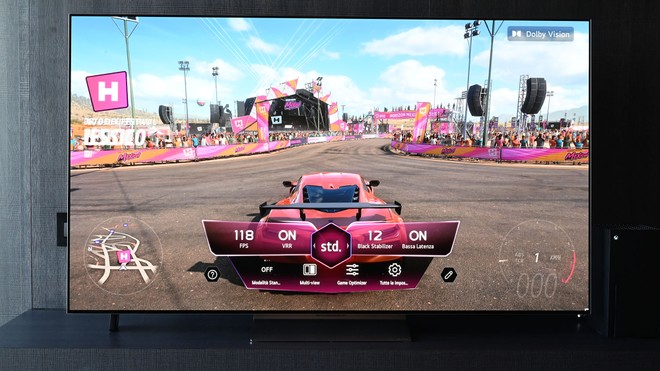 If good morning starts in the morning, we can already say that the new G3 series will have no problems placing itself at the top of the 2023 OLED TV proposals and we can't wait to be able to calmly test a definitive example that should arrive in the editorial office during of the next few weeks.
---
What is Micro Lens Array (MLA) technology?
 MLA, got its debut as part of the new LG OLED G3 and Panasonic MZ2000 TVs. This technology supposedly adds a whole new dimension of brightness, with claims of peaks in the 1500 to 2000 nit ballpark. 
But how does this new display tech work? And how do we expect it to change the world of OLED TVs?
What is MLA?
Micro Lens Array is more or less what it says on the tin. It's a layer of microscopic lenses (sometimes known as lenslets) that are layered on top of the OLED pixels.
To contextualise how microscopic these lenses are, LG Display (the panel-manufacturing arm of LG that provides all of the standard 'WOLED' panels used by all manufacturers) claims that it can fit 5000 microlenses on a single pixel or 42.4 billion lenslets on a 77-inch TV.
Spotting a TV that features MLA tech isn't always going to be easy, as some manufacturers aren't very forthcoming about the raw components used. LG Electronics, for example, won't confirm that it's using one of LG Display's MLA-equipped "META" panels for the G3, but we have it on good authority that this is the case. Panasonic, on the other hand, has been upfront that its new MZ2000 does indeed feature MLA technology.
These are the only two TVs so far announced that use OLED panels with MLA, but more are likely imminent.
What can MLA do?
The headlining feature when it comes to MLA displays is the supposed mind-blowing boost in brightness that can be achieved by these tiny lenses, which are apparently controlled by LG Display's META Boosting algorithm. LG Electronics' latest OLED G3 could apparently see brightness levels north of 2000 nits in certain circumstances, though it's felt that 1500 nits might be more realistic with the kind of content and settings that will be used at home. This is mostly conjecture at this point, as LG won't be drawn on specific figures, but either way, it's a huge step up on the roughly 1000-nit peak brightness of 2022's G2 model.
A relative lack of brightness compared to LCD-based TVs has been an ongoing criticism aimed at OLED by some people, with fears that burn-in could be caused if companies pumped the brightness of their OLED TVs up too far. MLA tackles this issue head-on, as instead of over-exerting the OLED panel (i.e. forcing the OLED elements to go brighter), these lenses simply focus the light already being emitted. This extra efficiency means the increased brightness comes with no increase in the possibility of burn-in.
This also means we should see HDR performance like nothing before; and in our early hands-on Panasonic MZ2000 review, this appears to be the case, as we saw a general boost to HDR performance on this new model. 
This could have dramatic consequences when it comes to the battle between traditional OLEDs and QD-OLEDs, as the latter has excelled in brightness thanks to the inclusion of a quantum dot layer. Should Samsung, the progenitor of QD-OLED, be worried about these new MLA-equipped OLED rivals? And could Sony, who is unique in having both QD-OLED and standard OLED models in its range, also add MLA OLEDs to its roster?
MLA is also apparently improving on viewing angles – one of OLED's existing strengths. LG Display claims that viewing angles on these new META TVs could widen to 130 degrees, with a 30 per cent increase in the distance you can get from the screen without brightness drop-off and distortion. 
So what's the catch?
It's too early to say quite yet, however, we've identified some possible concerns that we'll be keeping an eye out for when we get to test these upcoming MLA-enhanced OLEDs. 
The key concern is the possibility that boosting white light may result in a loss of colour volume. Upping the amount of white light specifically could result in the beloved bold and punchy colours of OLED panels looking washed out in the brightest parts of the picture. Obviously, we can't say for certain that this will be the case. Instead, we'll wait until we get the new models into our test labs for comprehensive, comparative testing.
Another possible caveat to these new META displays is cost. Pricing for the G3 and MZ2000 is yet to be officially released, however, with first-generation features included in these new sets, we are braced for a higher price tag to match. We hope this isn't the case, but looking at the current trends within the tech world and the greater economy as a whole, we wouldn't be surprised to see pricier TVs this time around.
The future of MLA
LG Display says that it's going all-in on META OLED, producing 4K panels in 55-, 65- and 77-inch sizes, as well as 8K screens in 77- and 88-inch variants. As for now, LG only plans on including MLA tech on the G3, however, we anticipate a fully MLA-equipped OLED lineup on the horizon – we have fingers crossed for an overhauled LG C4 for 2024 complete with META OLED.
Panasonic is currently testing the waters with its Master Series OLED, although the company does offer a variety of other OLED models, so we hope to see the feature trickle down for improved OLEDs across the board.
We're already anticipating CES 2024 to be a big year for TVs, as 2023 seems to be the year for MLA to find its footing. But as for 2023, we're eager to find out whether MLA can deliver on its huge promise. Stay tuned for our full reviews on both the LG G3 and Panasonic MZ2000.