Solana blockchain is often referred to as the Ethereum killer by many analysts and experts. Solana has achieved growth of over 17,500 percent in 2021. It has become the fourth largest cryptocurrency by market capital. Due to this year's boom, Solana's market capital has reached close to $ 75 billion.
The growing demand for Ethereum has also given rise to an uptrend in its biggest competitor, Solana. With this, Solana has made impressive gains so far in the current calendar year and has given huge returns to investors.
Surpassed Tether
In terms of market capitalization, Solona has also surpassed Tether, the largest stablecoin, which has a market cap of a little over $72.5 billion.
Solana has risen from a level of just $1.5 at the beginning of the year to a high of $258. This digital token has converted an investment of Rs 1,000 into Rs 1.75 lakh in a little over 10 months.
Launched in April 2020
 Solana was launched in April 2020. These digital tokens have grown by almost 35,000 percent from $0.75 in that time.
It has registered a rally of over 750 per cent since May 2021. Experts point out that the pace at which Solana has grown is driven by its investors and supporters, including some billionaires.
Solana vs Ethereum
 Ethereum and Solana are often compared to each other as both have smart contract capabilities. In addition, the Solana is faster and more efficient than its formidable rival.
As a cost-efficient and scalable alternative to Ethereum, Solana can handle 50,000 transactions per second. Experts believe that Solana prices will continue to move upwards due to massive developer activity.
Ethereum's Market Cap
 It is too early to ask whether Solana will outpace Ethereum.
Ethereum, the second largest cryptocurrency, has a market cap of over half a trillion, which is 7 times that of Solana. Ethereum's market cap is a little less than $560 billion, which is about 20 percent of the total market cap of the entire crypto market cap.
Long term Investment
The story may change in the long term. Market experts say that Solana could outperform Ethereum in the long term. Solana should be able to strengthen its developer community. Market experts are seeing more upside in Solana.
This digital token has good potential in the medium to long term.
The founder of Solana is Anatoly Yakovenko. They designed Solana to support the creation of smart contracts and decentralized applications, or dapps.
Note that critics also expressed concern about Solana's decentralized, when in September it suffered a 17-hour outage during which the network could not process transactions.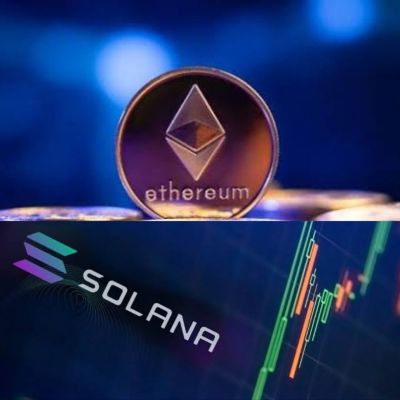 What Is Solana? All You Need To Know About The Ethereum Killer Before Investing
1) It has shown an outrageous craving to develop this year. An ascent of 16,000 percent is staggering. It is accessible on most top cryptographic money applications and trades.
2) Many individuals consider it to be the "Ethereum (ETH) Killer".
Probably the greatest variable that pushed Solano's worth is that individuals need options in contrast to Ethereum.
The second-biggest digital money on the planet and subsequently working a blocked organization. Like Ethereum, Solana also offers brilliant agreements.
3) Solana has extraordinary speed. It's one of the quickest developing digital forms of money on the square, handling around 50,000 exchanges each second (TPS), far more prominent than Ethereum which does somewhere in the range of 15 and 45 TPS at present.
4) Bitcoin utilizes a proof-of-work approval model and some others utilize verification of-stake.
In any case, Solana utilizes a proof-of-history model. Solana coordinates timestamps into its verification of-history approval model, which is the way it can deal with exchanges so rapidly.
5) A vital proportion of the fight among Ethereum and its rivals is the quantity of activities running on each organization. While Ethereum has the main mover advantage, its rivals, including Solana, are getting up to speed. Solana supposedly has more than 350 ventures in its environment.
Regardless of whether Solana has expanded amazingly this year, digital money ventures are incredibly unstable. In the event that it has gone up, it likewise conveys the danger of going down rapidly. Monetary specialists encourage all expected financial backers to not have a digital money openness of more than 5-10 percent of their general portfolio.
Disclaimer – This article just for information purpose, We never recommend to buy or sell cryptocurrencies.