PEPE coin has achieved a dazzling success recently, showing an incredible rise, surpassing the $1 billion market cap.
After the dog coin frenzy, now the PEPE storm has started and created a great excitement among investors. 
This rise has become noticeable even for novice traders in the cryptocurrency world. PEPE coin is considered one of the most exciting investment opportunities in the cryptocurrency market.
Crazy trends are constantly emerging in the cryptocurrency universe, and while people join these trends with the dream of getting rich, opportunists try to deceive the masses with similarly named projects. 
The recent PEPE craze is one of them. but short seller lose patient.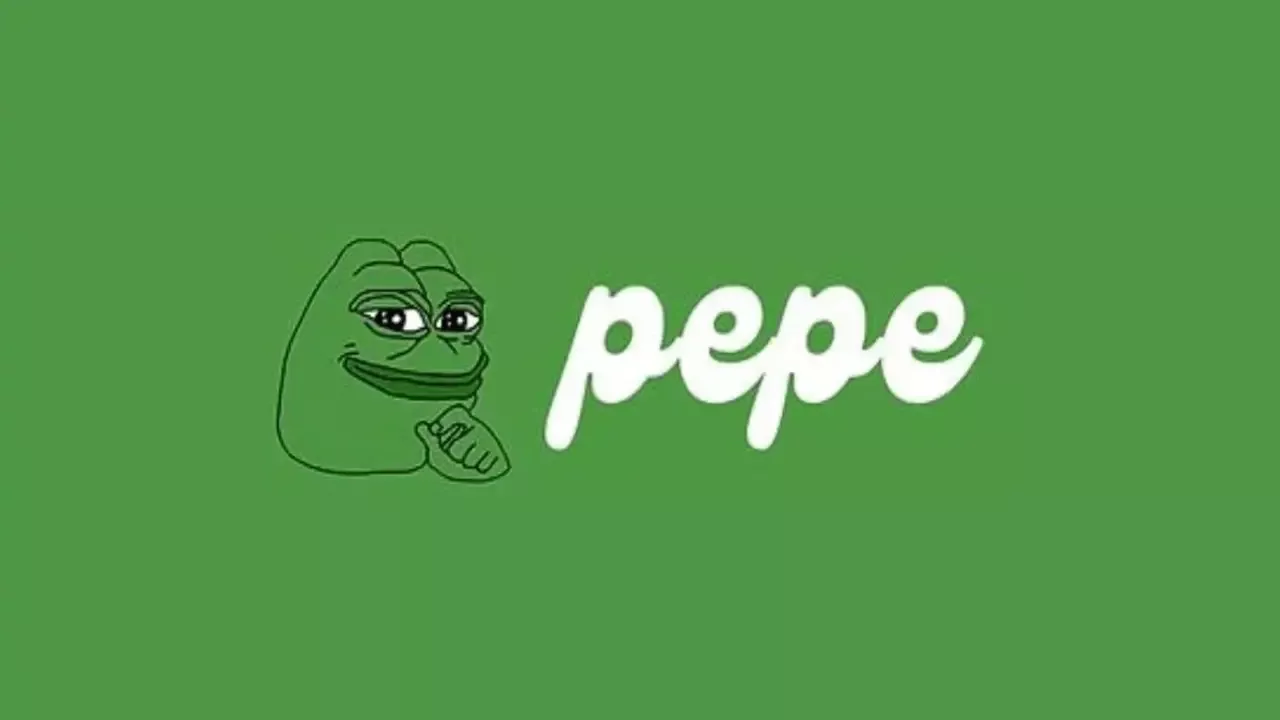 What You Need to Know About PEPE Coin
Launched as a memecoin on the Ethereum network , the cryptocurrency called PEPE is a continuation of the trend initiated by dog-themed coins. Currently, PEPE, whose value has increased hundreds of times and left behind a market value of 1 billion dollars, attracts great attention.
PEPE has no purpose or function and has reached a daily trading volume of $869 million. It is among the coins with a trading volume and market capitalization ratio close to 1. The highest trading volume occurs on OKX and MEXC exchanges.
The PEPE Craze Has Served Opportunists Too
The popularity of PEPE caused projects such as WOJAK and TURBO to experience great rises. In addition, numerous projects such as SuiPEPE, ARBPEPE, BSCPEPE, PEPECEO have sprung up like mushrooms in different blockchain networks. Some of these projects took investors' money and disappeared through what's known as rugpull.
Bull Prospects and Trends in Cryptocurrency World
Experts think that the only way to attract new investors is through such memecoin trends, while waiting for a bull period in the crypto money world with important coins such as BTC, ETH, BNB. Therefore, it is necessary to be careful and evaluate the potential risks when investing in projects like PEPE.
The tokens have run from strength to strength in the past week even as skeptics warned of an impending collapse, gaining some 500% in the past two weeks as per CoinGecko data.
These warnings centered around the apparent number of whales – or entities who hold large amounts of any token – who purchased PEPE in the hours after it was first issued in mid-April.
That has led to short interest booming among futures traders, as CoinDesk reported. Shorts refer to bets against a token's price.
Funding rates in perpetual futures tied to the token remain negative, indicating the dominance of bearish positions in the derivatives market. A negative funding rate indicates that shorts are dominant and are willing to pay longs to keep their bearish bets open.
---
BTC Progressive analysis, When it will be crossed $30k?
---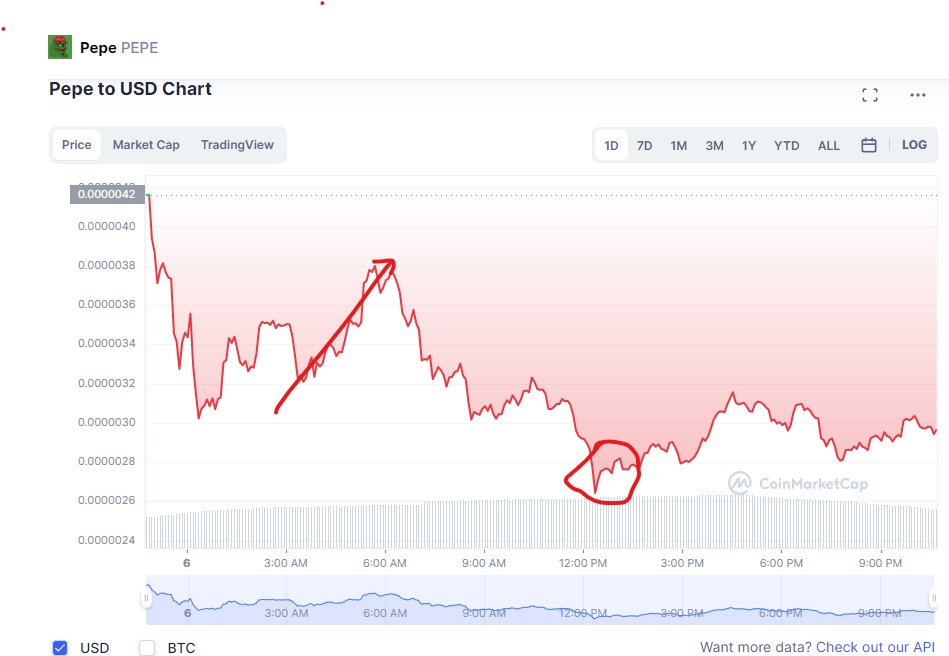 An 80% price bump in the past 24 hours has led to outsized losses for these traders, however. CoinGlass data shows shorts against PEPE lost at least $11 million on several exchanges over the past 24 hours – with traders losing $5.5 million on crypto exchange OKX alone, the highest figure among counterparts.
Traders lost another $2.2 million on Huobi, some $3.6 million on Bybit, and a few hundred thousand dollars on BitMEX. All these exchanges started offering PEPE futures trading in the past week.
PEPE losses were third to only bitcoin (BTC) and ether (ETH) futures liquidations, which usually rack up the highest futures losses.
Large liquidations can signal the local top or bottom of a steep price move, which may allow traders to position themselves accordingly.
Memecoins always risky for trade and investors should keep watch and analysis before trade.
PEPE Coin made its debut on April, 2023, with no presale and an anonymous founding team.
While the absence of a disclosed team may seem unconventional, it is not uncommon in the crypto space, where anonymous individuals often launch projects. PEPE Coin draws inspiration from the "PEPE the Frog" meme, which gained immense popularity in the 2010s.
The token's design appeals to meme enthusiasts, featuring the iconic green frog.
Understanding Meme Coins
Meme coins are a unique category of cryptocurrencies that leverage internet memes to capture the interest of social media users and meme enthusiasts.
These coins exhibit high volatility, experiencing dramatic fluctuations in value. Due to their association with social media and internet culture, meme coins have gained immense popularity.
While investing in meme coins carries a high level of risk, it also offers the potential for high rewards, attracting investors who are willing to embrace the unpredictable nature of the market.
 Meme Coins
Two well-known meme coins are Dogecoin and Shiba Inu. Dogecoin, originating in 2013, gained popularity through its association with the Shiba Inu dog meme.
It garnered a massive following, including notable figures like Elon Musk. Dogecoin's lighthearted nature and strong community have sustained its popularity.
Similarly, Shiba Inu, launched in 2020, gained significant attention by building upon the Dogecoin phenomenon and incorporating its own unique features.
These examples highlight the potential for meme-based projects to gain traction and become significant players in the cryptocurrency world.
PEPE Coin is the latest addition to the growing popularity of meme coins.
Its mascot draws inspiration from the "Pepe the Frog" meme and its creator, Matt Furie.
Notably, PEPE Coin has a circulating supply of 420 trillion coins, with 93.1% already sent to the liquidity pool and LP tokens burned.
This strategic token allocation aims to ensure effective utilization, long-term stability, and growth. The remaining 6.9% resides in a multi-sig wallet, intended for CEX listings, bridges, and liquidity pools.
Use Cases
PEPE Coin distinguishes itself from other meme coins by offering unique features and exploring potential use cases beyond the realm of meme culture.
While its inspiration comes from the "PEPE the Frog" meme, the project aims to go beyond the surface level and establish a robust ecosystem.
One of the key features of PEPE Coin is its emphasis on community engagement.
The project encourages active participation from its community members and holders through various initiatives. This includes regular community events, a dedicated social media presence, and opportunities for community-driven development and partnerships.
By fostering a strong and engaged community, PEPE Coin aims to create a sustainable and supportive ecosystem around the token.
In addition, PEPE Coin is exploring real-world use cases beyond the meme space.
The project aims to collaborate with artists, content creators, and businesses to integrate PEPE Coin into their platforms and systems.
By leveraging the blockchain technology, PEPE Coin envisions applications in areas such as digital art, content monetization, and online marketplaces.
These efforts aim to add tangible value to the token and provide utility beyond its meme origins.
Disclaimer – The information provided in this article is solely the author's opinion and not investment advice – it is provided for educational purposes only. By using this, you agree that the information does not constitute any investment or financial instructions. Do conduct your own research and reach out to financial advisors before making any investment decisions.