How Bing does work with ChatGPT ? Microsoft's Bing search engine has been given a boost by the addition of OpenAI's ChatGPT technology, making it capable of having conversations.
At a Microsoft ChatGPT event in February 2023, business executives said that OpenAI's cutting-edge chatbot technology would be incorporated into both Bing and Microsoft's Edge web browser.
In an effort to counter Google's dominance in search, Microsoft invested enormous sums in OpenAI. However, Google has since built its own Google Bard AI chatbot, which is now in the testing stage.
The AI chatbot race is getting more competitive because ChatGPT also has a paid version called ChatGPT Plus.
This could mark the start of a new era of web searching, one in which you communicate with your search engine in a way that is considerably more natural and simple.
After utilizing Microsoft's new Bing with ChatGPT for a while and learning how to use it effectively, I'm ready to walk you through the steps for doing the same.
To get the most of the chatbot, be sure to read our guide on 9 useful things Bing with ChatGPT can do for you. But take note: Microsoft Edge is transmitting all of your visited pages to Bing. If you'd rather it didn't, here's how to disable it.
How to use ChatGPT to connect to Bing
While you may use any web browser to visit Bing, at the moment the only way to use the new Bing with ChatGPT capabilities is to open Microsoft's Edge browser.
Additionally, it works with the mobile apps for the Edge web browser and the Bing app.
The good news is that using Bing with ChatGPT no longer requires you to sign up for the Bing waitlist.
Microsoft announced a tonne of additional updates in addition to moving the chatbot into an open preview. This indicates that the new Bing with ChatGPT is now available to everyone with a Microsoft account.
How to take advantage of ChatGPT and Bing
You'll immediately notice a change once you start using Bing with ChatGPT since you'll start receiving your search results in a more conversational tone rather than just a list of links.
You can help Bing improve your search by telling it what you think of its results as it parses your questions and searches for solutions. You can watch how Bing does this.
Here, I'll walk you through the search procedure and some typical follow-up decisions in order to demonstrate how to use Bing with ChatGPT.
Be aware that Microsoft has placed restrictions on Bing to stop the unsettling behaviour that many users have observed. Limits on the number of chats you can have each day and every session are some of these measures.
1. To use Bing with ChatGPT, point your web browser (which should be Edge for the foreseeable future) to www.bing.com and type your question into the search box. For the purposes of this tutorial, I'll ask "I'm traveling to Dublin in September. What should I do?"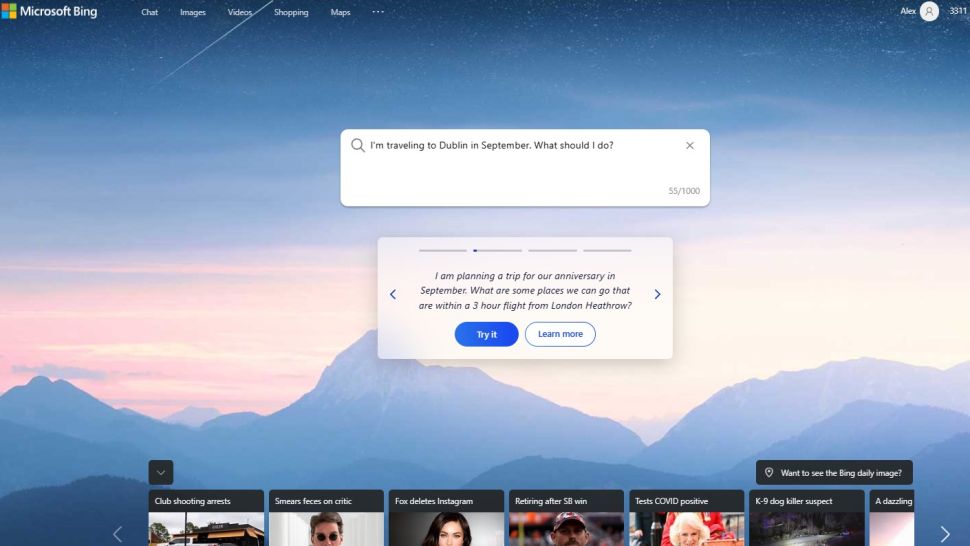 2.You should see a chat window open with your question as the first line if you have access to the new Bing with ChatGPT. If not, you might have to click Chat at the top of the window to put Bing into chat mode.
When you do, Bing will show you how it has interpreted your query and you can watch as it writes you a response in real time. You can tell it to stop responding by pressing "Stop responding" if you've had enough.
The bot's sources are acknowledged in the footnotes at the bottom, and after it has finished writing, a list of example responses will appear.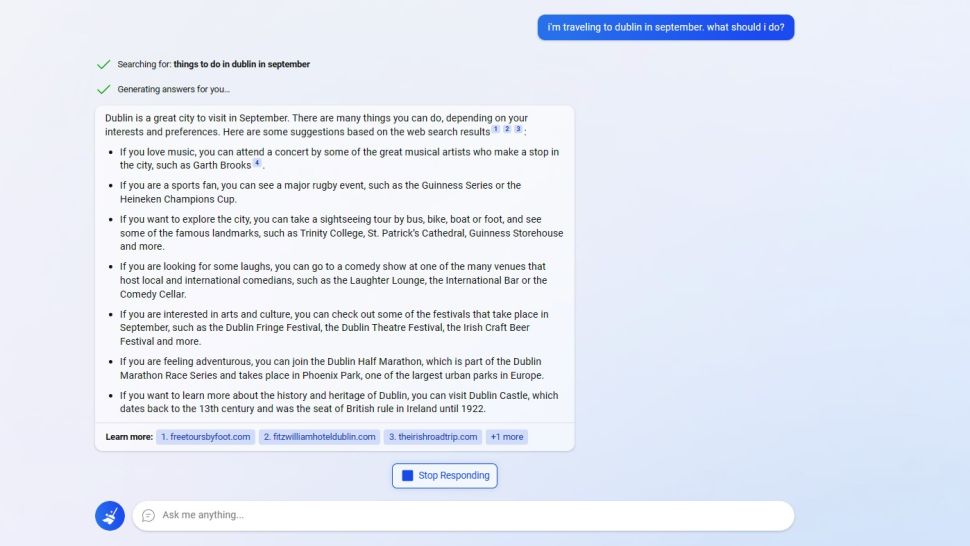 3. This is where the major change actually takes place. You can continue conversing with Bing to find out more or hone your search rather than visiting a link and doing more independent research.
Microsoft presents you with a scattering of suggested follow-up questions after each search because it definitely wants you to keep using Bing. I'm not going to employ one of Bing's suggested follow-ups for the purposes of this guide.
I instead ask Bing, "What bands are playing Dublin in September?" as I'm considering going to some live performances while I'm travelling.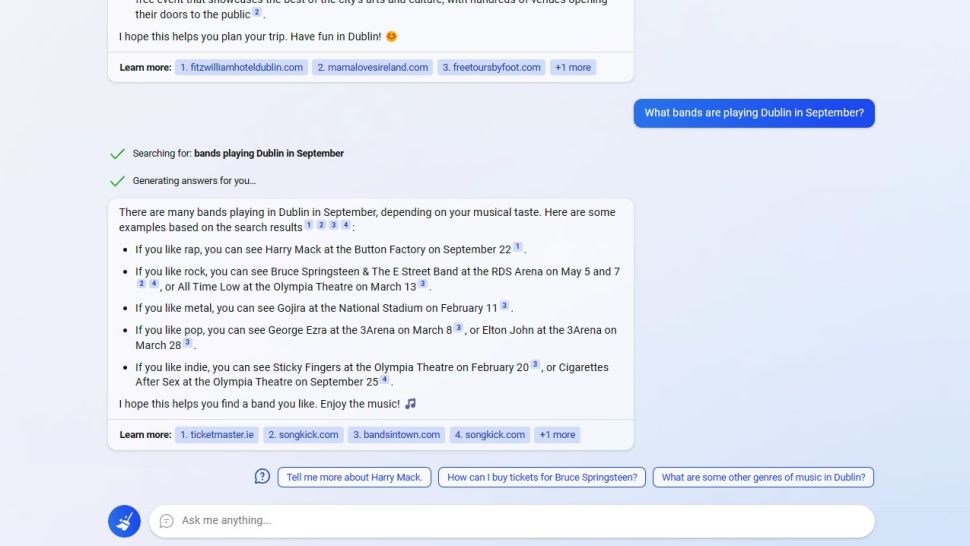 And there you have it—Bing gives me a list of bands appearing in Dublin in September along with links to the sources of the information and advice on what questions I should ask next.
You can click the thumbs up/thumbs down symbols that display when you hover your mouse pointer over the response to let Microsoft know it was a good or negative response, respectively.
To contact Microsoft directly, click the Feedback icon in the bottom-right corner if you find anything that needs further explanation.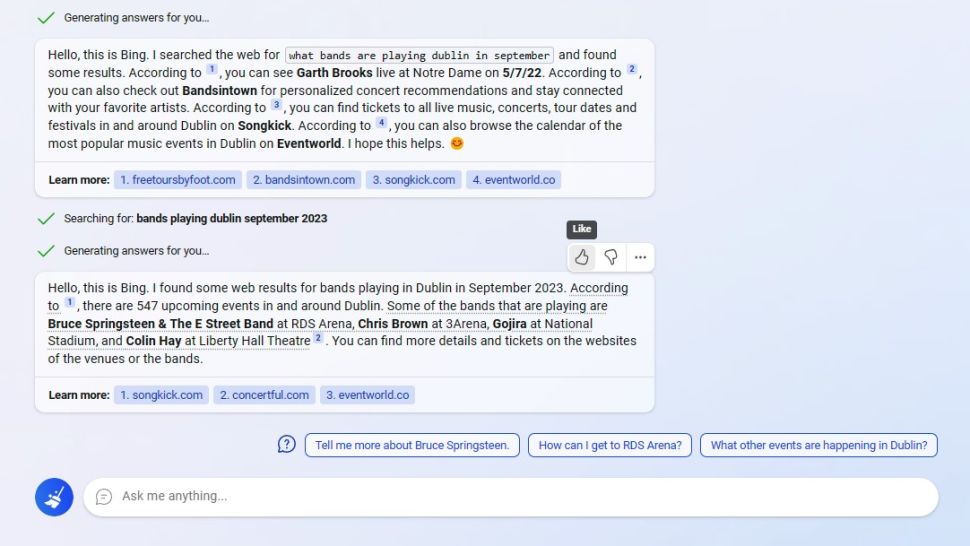 As you can see, the search engine industry will undergo seismic change as a result of this ostensibly tiny adjustment to the way Bing operates.
At its most basic level, Bing with ChatGPT makes search more conversational, but when you start pushing the chatbot's capabilities with the power of the entire Internet at your disposal, there's a lot more to discover.
For instance, when I requested it to write me a poem from the viewpoint of a ghost, it responded quickly and produced a surprisingly good poem.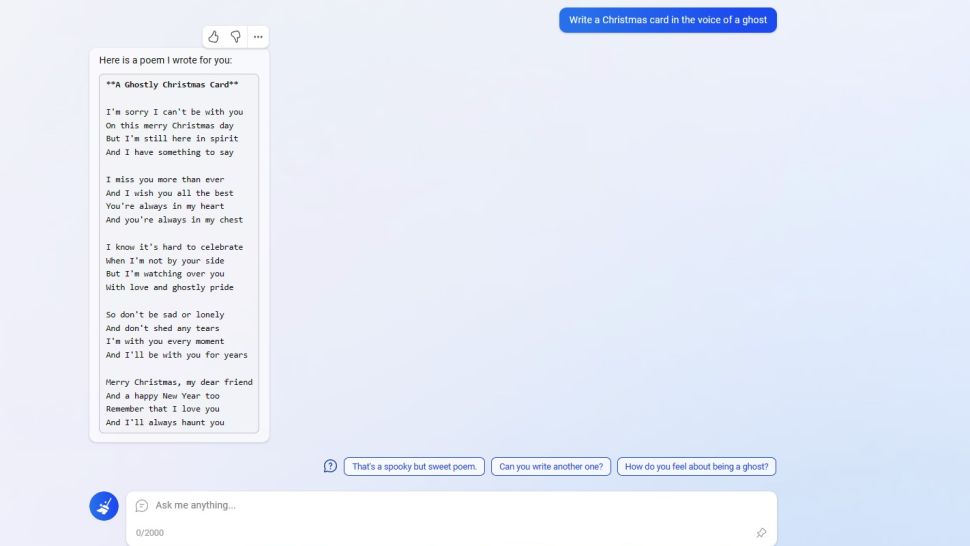 And the Bing Chat tab is no longer the only place where these changes have been made.
Although this currently only works for a limited number of search phrases, Bing with ChatGPT search results are now displayed on the standard Bing Search results page.
If you want to use the new Bing, continue with Bing Chat because it's still only seldom available.
Using Bing Image Creator
Following the incorporation of ChatGPT into the Bing search engine, Microsoft has done the same with the AI picture generator DALL-E 2 from OpenAI.
It's safe to say that Microsoft had great success launching the "new Bing" with its AI conversation functionality powered by ChatGPT. In a blog post(opens in new tab), Microsoft Corporate VP Yusuf Mehdi claims that the tech giant is "taking the chat experience to the next level by making the new Bing more visual."
In essence, that means creating the Bing Image Creator using OpenAI's AI image generator, DALL-E 2. Essentially, you can input prompts on its own website rather than utilising DALL-E 2 to generate graphics.
1.A new tab will appear when you go to bing.com/chat in Microsoft Edge.
Alternatively, you can click Chat in the top navigation bar on the Bing homepage. If you're wondering how to utilise the new Bing, see our article on how to use Bing with ChatGPT.
Before you can do anything, you must click the profile symbol in the top right corner and sign in with a Microsoft account (such as @live, @hotmail, or @outlook).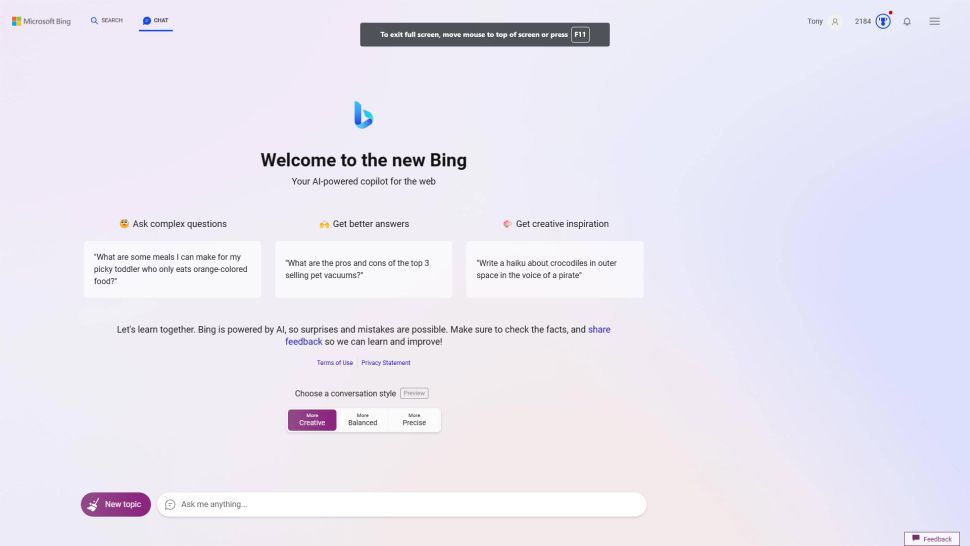 2. Now enter a prompt into the chat window for what you'd like your image to be. So it knows to create an image, make sure you specify somehow that you'd like an image created. Hit enter to see the results.
Alternatively, Microsoft has also released the Bing Image Creator as its own standalone website, so you don't need to use Microsoft Edge to generate images. You won't be using the Bing chat window here, but the results should be the same.
1. In any browser, head to bing.com/create(opens in new tab). Click the profile icon, top right, and sign into a Microsoft account (e.g. @live, @hotmail, @outlook), then enter a prompt into the prompt bar and hit Create. You can also select click Surprise Me for a randomly generated prompt to fill the prompt bar, then click Create to generate it.
2. Wait for your image to be created. This can take a while, so you may wish to click the boost button instead of Create next time, which speeds things up. Note: you have a limited number of boosts.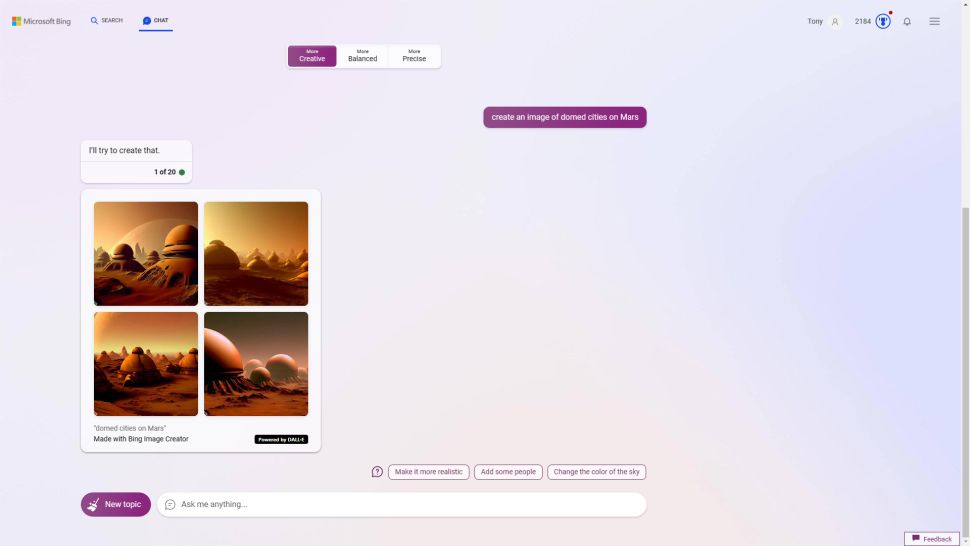 3. Four results will appear, all slightly different interpretations of your prompt. Click on an image to maximize it, then click Share, Save or Download as desired. Note: Clicking Save adds the image to your Microsoft account's Saved Images folder. To save to your computer's files, use Download.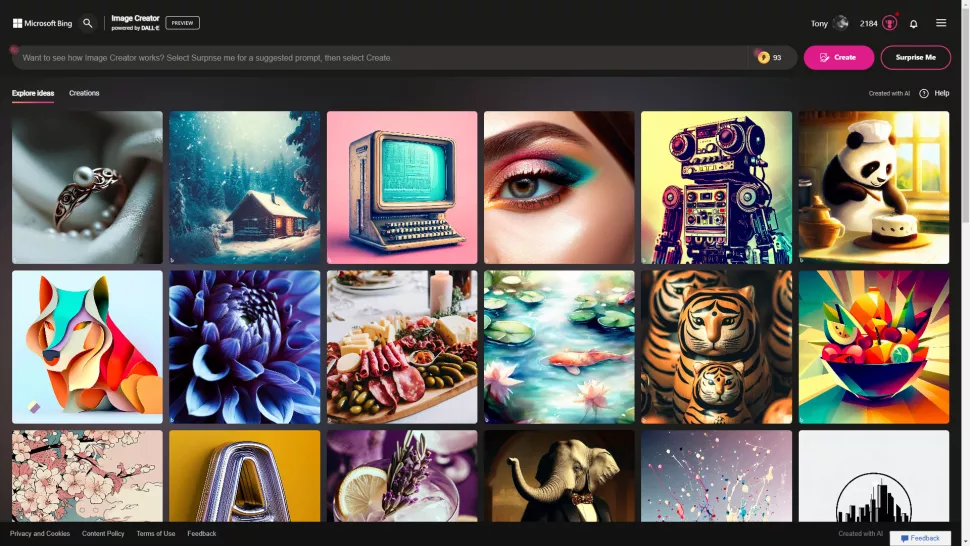 If you don't like your images or they just aren't quite what you were picturing, edit your prompt and be more or less specific. The more specific you are, the less interpretation the AI will take with your prompt, and vice versa.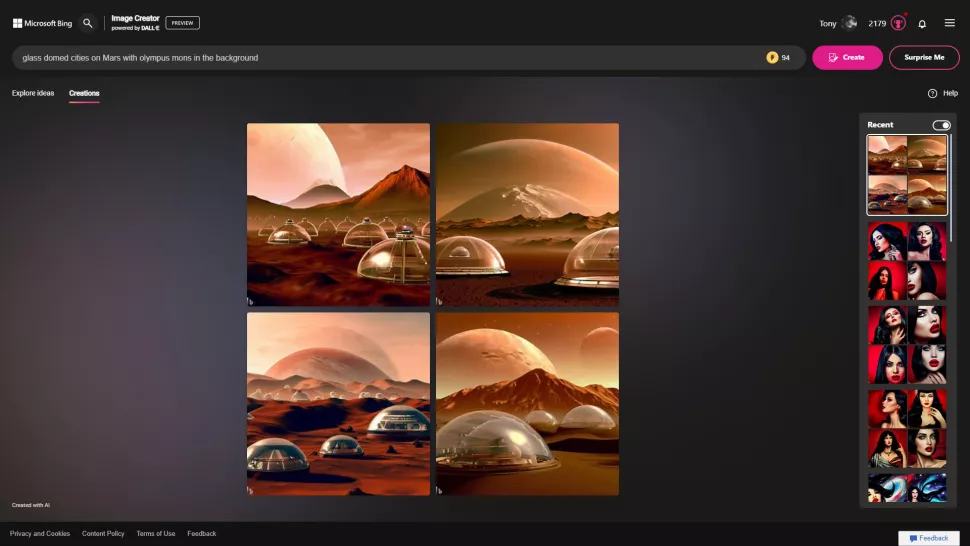 How to use Bing with ChatGPT on Smartphones
You used to need access to the new Bing to gain access to the Bing with ChatGPT features in these apps, but now that Bing Chat is in open preview, all you should need is a Microsoft account. 
What else could a chatbot do for you with the power to look up details and synthesize answers on its own? We're going to find out in 2023, as Google and other competitors race to launch their own spins on Microsoft's Bing chatbot. It's bound to be an unpredictable ride.
---
How Bing Integrates with ChatGPT and the Benefits It Offers
We at ChatGPT are aware of the value of search engine optimisation (SEO) in the current digital era. It is critical to comprehend how search engines function and how we may optimise our website to rank better in search results because search engines like Google and Bing are increasingly serving as people's primary information sources.
We will concentrate on Bing in this post, one of the top search engines that many people disregard in favour of Google. We'll look at how Bing operates and how ChatGPT can gain by making our website more conducive to Bing's search engine.
---
ChatGPT's optimisation for Bing
Let's investigate how ChatGPT can improve our website for Bing's algorithm now that we are aware of how Bing's search algorithm functions. The following advice can assist us raise our positions in Bing's search results:
Create High-Quality Content: Relevant, high-quality content is highly valued by Bing.
As a result, it is imperative to produce material that is educational, entertaining, and pertinent to user requests. By giving users something of value, we can raise the likelihood that other websites will share and link to our material, which will raise our authority and relevancy in Bing's eyes.
Use Relevant Keywords – Bing is no different when it comes to the importance of keywords in SEO. We must incorporate pertinent keywords into both our text and metadata.
By following these tips, ChatGPT can optimize our website for Bing's search algorithm and improve our visibility in search results. Additionally, optimizing for Bing can also provide benefits for our SEO strategy overall, as many of the same principles apply to Google and other search engines.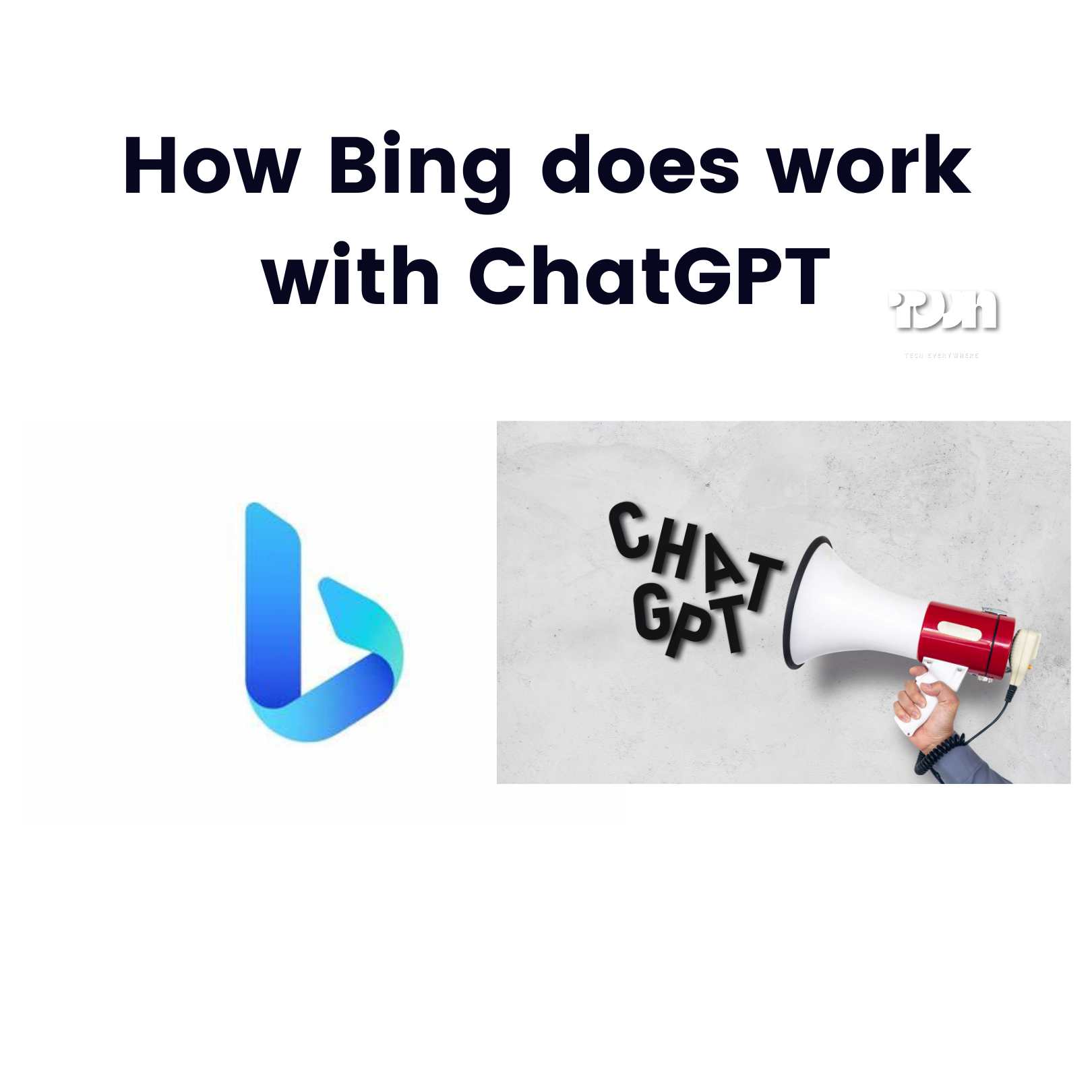 Conclusion
In conclusion, Bing is a major search engine that many people overlook in favor of Google.
However, optimizing our website for Bing's search algorithm can provide significant benefits for our SEO strategy overall.
By creating high-quality content, using relevant keywords, optimizing metadata, building high-quality backlinks, and leveraging.