LUNC was at the center of the collapse of the Terra ecosystem in May last year. The coin has also been severely affected by the collapse of the crypto exchange FTX in November last year. Its market capitalization has dropped from $1.5 billion to $0.9 billion since then.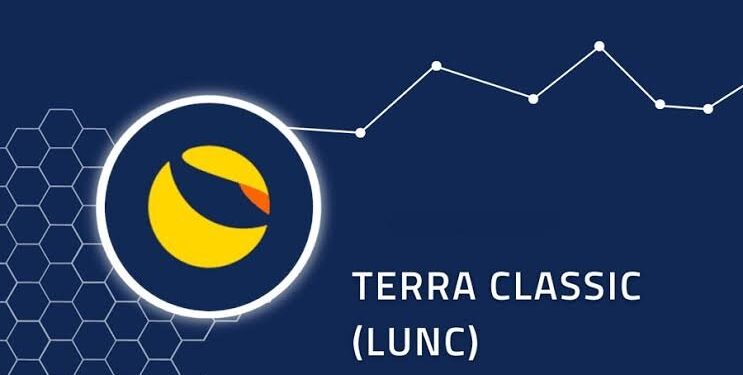 Transactions on the Terra 2.0 blockchain are validated through the proof-of-stake (PoS) consensus mechanism.
The leading cryptocurrency, Ethereum, has also transitioned from a proof-of-work to a proof-of-stake mechanism. This has only made the competition among PoS blockchains tougher.
The network has 130 validators working at a given point of time. As a PoS platform, it is considered to be a very eco-friendly token.
LUNC's price, brief
Since its launch in 2019, LUNC's price kept floating around $0.2 and $1.3 until April 2021. When the crypto market boomed in mid-2021, its price began to increase. And, it nearly touched $100 by the end of the year.
Following FTX's collapse early this month, its market cap fell from $1.5 billion on 8 November to a little below $1 billion, at press time.
Starting from 2022, it kept oscillating between $50 and $100 and reached an all-time high (ATH) of $119.18 on 5 April 2022. The next month, its price began to fall and the Terra system collapsed in mid-May2022.
What is Terra LUNA Classic (LUNC)? Project detail-
UNA Classic (LUNC) is the original Terra LUNA coin left behind after the recent UST/Luna collapse and the establishment of a new Terra chain. Kwon's plan for recovery included the creation of a whole new chain on which future transactions would be conducted. The old chain was split into the LUNA Classic and the Terra chains. Terra will be the name of the new chain (known as LUNA 2.0), and LUNA Classic (LUNC) is the original Terra LUNA blockchain's native token.
The term "classic" is most likely a reference to the hard fork of Ethereum and Ethereum Classic that occurred after Ethereum's 2017 decentralized automated organization (DAO) breach. This appears to be another ploy to promote the UST crash as "Terra's DAO hack moment," as Kwon stated.
The old version of the Terra protocol was expanded to offer support for stablecoin developers to build Terra decentralized finance (DeFi) projects. The project consisted of two cryptocurrencies: Terra and LUNA. Terra was the stablecoin standard pegged to fiat and other currencies. For example, TerraUSD (UST) is tied to the United States dollar, while TerraKRW (KRT) is tied to the South Korean won.
The native token, Terra (LUNA) was the network's staking and governance asset. Users stake LUNA to earn a place in governance and become validators and obtain rewards. Users can also burn LUNA to mint Terra's UST token or one tied to their local fiat. However, it's important to note that while these stablecoins are tied to the value of fiat, they're not backed by fiat. Instead, the LUNA token was considered an algorithmic stablecoin.
An algorithmic stablecoin is an asset that derives value through a set of rules rather than being tied to an asset, itself. This method enabled Terra users to invest in the price of these coins linked without needing to hold their physical counterparts.
However, the so-called stablecoin UST was unpegged on May 9, after nearly 18 months of retaining its value against the US dollar. The uncoupling created a chain reaction that resulted in the crash of UST and the Terra (LUNA) cryptocurrency and Bitcoin and the more significant crypto sector, which has yet to recover fully.
This article will discuss the history of Terra blockchain, Terra LUNA 2.0, and the difference between LUNA 2.0 and LUNA Classic.
What is Terra Luna 2.0?
Terra 2.0 is the most recent version of Terra (LUNA), which is what Do Kwon has devised as a regeneration strategy. The goal is to propose a fork of the Terra blockchain and an airdrop to crypto investors whom the recent market downturn has impacted. The main goal is to restore trust in this stablecoin through the Terra ecosystem's new venture.
Terra 2.0's policy occasionally issues additional LUNA tokens to crypto investors who purchased more than 10,000 LUNA before the catastrophic harm to this stablecoin. It will help to keep Terra 2.0 from being sold right away. More than 300% of crypto investors' LUNA tokens will be unlocked at once, with the remaining 70% issued over two years. These crypto investors will receive the new Terra 2.0 tokens after six months.
How does LUNA 2.0 work?
To validate transactions on the Terra 2.0 cryptocurrency blockchain, a typical proof-of-stake (PoS) consensus mechanism is used. A total of 130 validators engage in network consensus at any given moment, with voting privileges determined by the quantity of LUNA 2.0 connected to each node. Gas fees and a 7% fixed yearly LUNA 2.0 inflation rate are used to produce rewards.
By delegating LUNA 2.0 tokens to a validator of their choice, LUNA 2.0 token holders participate in consensus. Validators, like delegates, frequently put up their own stake. Therefore, before awarding prizes to delegators, the validation node keeps a commission in this scheme.
The incentives generated by Terra 2.0 coin delegators differ, depending on the voting power of the validators. That being said, those with more voting power naturally earn more rewards, but they must be dispersed among a wider pool of delegators.
Delegating can be done using the Terra Station interface, but be warned that it comes with a risk. For instance, validators can be penalized for misbehaving, resulting in staked LUNA 2.0 being sliced. Slashing can happen even if the validators are mistakenly turned off for a brief time.
History of the Terra blockchain
Terra was founded in 2018 by Do Kwon and Daniel Shin and launched its mainnet in 2019. Kwon and Shin built Terra to offer users the stability of fiat currencies while harnessing the power of blockchain technology for settlements that were  faster and cheaper than traditional payment solutions. The two founders also believed that such options would increase blockchain adoption.
The Terra Alliance backs Terra. The Terra Alliance is a group of e-commerce businesses and platforms from around the world pushing for Terra adoption. Businesses within the Terra Alliance have a combined value worth tens of billions and more than 45 million customers across the companies.
What is the difference between LUNA 2.0 and LUNA Classic?
Despite their striking resemblance, LUNA Classic and LUNA 2.0 are not the same. The Terra network has been divided into two chains based on the new governance plan. Terra Classic with Luna Classic tokens (LUNC) will be the old chain, whereas Terra with LUNA tokens will be the new chain called LUNA 2.0.
The old LUNA will co-exist with LUNA 2.0 rather than being entirely replaced. Any decentralized applications (DApps) launched for Terra Luna will be favored for LUNA 2.0, and the development community will begin constructing DApps and providing utility for the new token. However, it does not include an algorithmic stablecoin.
However, this does not rule out the possibility of Terra Classic losing its community as many investors and traders oppose Do Kwon's restoration plan and the new chain. In truth, Terra Classic retains a sizable following, and the classic community has agreed to begin burning as many LUNC tokens as possible to reduce the coin supply and raise individual token prices.
Rise of LUNC With Luna Hard Fork-No matter but we should Know
The original Terra blockchain was launched in January 2018 by Do Kwon and Daniel Shin, with an ICO for LUNA held in early 2019. It performed remarkably well for a few years, and subsequently became one of the world's top 10 largest cryptocurrencies (by market cap).
However, in early May 2022, the TerraUSD (UST) stablecoin lost its peg against the USD and crashed alongside its sister token Luna. It also dragged the entire cryptocurrency market down with it, causing the start of a long crypto winter.
To revive the blockchain, Do Kwon devised a recovery plan stating that the Terra chain will undergo a hard fork and divide into two chains, and the new chain won't have any stablecoin. The Terra validators approved the plan on May 25, 2022, and on May 28, Terra 2.0 was launched.
Terra 2.0's native token is called LUNA. Meanwhile, the original Terra blockchain is rebranded as Terra Classic, and its native token renamed Luna Classic (LUNC).
LUNC and LUNA are their respective chains' staking tokens for governance. LUNC, however, has the added role of helping maintain the price of its algorithmic stablecoin, Terra (UST), through the protocol's algorithmic market module. When the price of UST rises too high or falls too low, the module incentivizes the burning of UST to mint LUNC, or vice versa. This, in turn, helps stabilize price volatility.
Hence, the primary difference between the two tokens is that LUNC acts as an arbitrage mechanism to the Terra algorithmic stablecoin, while LUNA doesn't because there aren't any algorithmic stablecoins.
Detailed Comparison of LUNC and LUNA
Luna Classic
Luna
Blockchain Name
Terra Classic
Terra 2.0
Ticker Symbol
LUNC
LUNA
Staking and Governance
Yes
Yes
Stability Mechanism
Yes
No
Total Supply (Sept. 27, 2022)
Nearly 7 trillion LUNC
Over 1 billion LUNA
Circulating Supply (Sept. 27, 2022)
Nearly 7 trillion LUNC
164.69 million LUNA
The collapse of the entire Terra ecosystem led Do Kwon to suggest a hard fork to revive the Terra network. A hard fork occurs when two chains split from the original chain. Both the new and old versions are viable, but they no longer interact with each other.
Renaming the hard fork Terra Classic serves as a tribute to Ethereum Classic, which was formed after the Ethereum DAO hack led Ethereum to be split in two back in 2016.
The new Terra chain, Terra 2.0, no longer includes any algorithmic stablecoins in its ecosystem, and holders of the original LUNA token were air-dropped new Terra LUNA tokens. The new LUNA tokens were air-dropped to the Luna Classic holders, stakers, residual UST holders and app developers on Terra Luna Classic.
Total Terra Classic (LUNC) tokens staked on the network reaches over 900 billion as utility slowly returns to the blockchain. After much effort from the Terra Classic community and developer groups, LUNC staking has increased with projects building on chain and investors staking with validators. Terra Classic (LUNC) Tokens Staked Reaches Over 13% Again
Neblio blockchain platform in a tweet on January 19 announced launching a new Neblio mobile wallet. It will have NEBL staking support and cross-staking campaigns. It will enable users to earn NEBL by staking $LUNC and get LUNC by staking NEBL.
While the Terra Classic community is positive about the development, association with Terra Rebels caused the community to become uninterested in using or staking with Neblio mobile wallet.
The Terra Classic community reminded Terra Rebels about returning $150K worth of community funds misappropriated by some members. Notable developers such as Edward Kim, Tobias "Zaradar" Anderson, and Duncan left the developer group Terra Rebels group. Other members were removed from the group and the funds were distributed among just 12 members.
This caused massive drops in LUNC prices and staked LUNC tokens. The total staked LUNC dropped from over 900 billion to 850 billion in December. On January 19, the LUNC supply ratio again jumped over 13% and total LUNC tokens staked reached nearly 900 billion.
The reopening of the IBC channels is also bringing back utility to the Terra Classic chain, with a number of projects building on the blockchain. Moreover, LUNC is supported on TFL's new interchain Station having multiple blockchains.
The industry's largest crypto exchange Binance has confirmed it will support the upcoming network upgrade of Terra Classic (LUNC).
Terra Classic to see 5x gas fees increase
At this moments
On the basis of current development information can say it will take time to rise up its value, But no certain period fix for it. LUNC did achieve a growth of 5%, but unfortunately, sers no longer trust LUNC, and they are absolutely right.The only thing that can save the coin is token burning, which will raise prices by reducing market oversupply. It was already put to the test in September when Binance and other significant CEXs started burning LUNC tokens, To reach the value of $1, we will have to wait several years and that scenario will certainly not happen in 2023. If you're going to invest in digital currency and other particularly volatile assets, you have to accept that there's going to be some outsized risk associated with it.
Disclaimer – The information provided in this article is solely the author's opinion and not investment advice – it is provided for educational purposes only. By using this, you agree that the information does not constitute any investment or financial instructions. Do conduct your own research and reach out to financial advisors before making any investment decisions.