Gaming has revolutionized the way people relax. No matter your age or where you are from, all you need is a console, and you can play…
Should you buy a PlayStation, Xbox or Nintendo Switch – or something else completely? We've ranked the best games consoles you can buy today.
Entertaining video games in a matter of seconds. Some are meant to be played together, and some are meant to be played alone. And depending on the gaming console, some games can be played online so you can play with anyone, anywhere in the world! Since each console has its unique qualities, depending on the type of gamer you are, we've lined up great picks to suit everyone, from beginners, to casual gamers, to more serious gamers. The major distinctions between consoles are their performance capabilities, the games available and the controllers, so we dove deep into those features.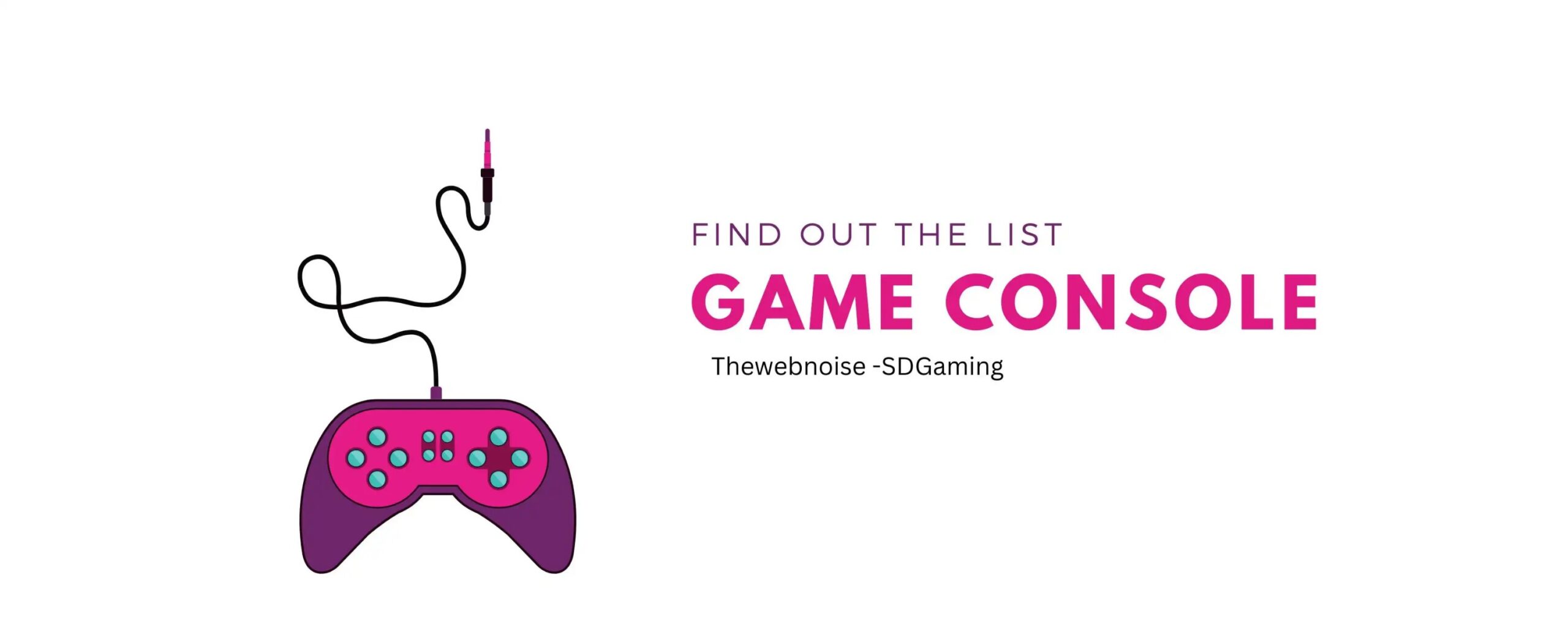 Game consoles are must-haves for many of us, but they're expensive and each offers something slightly different, be it the graphical power, design or game availability. It can be confusing if you're not a hardcore gamer, but that's where we at come in; we've ranked the best games consoles available right now to give you an idea of what to buy. 
1. PlayStation 5 – Best PlayStation experience
Pros
Next-gen 4K@120fps performance
Unmatched DualSense controller
Extravagant design
Cons
Large dimensions
Small internal SSD
The PlayStation 5 represents the pinnacle in new-gen gaming, offering solid 4K@60fps (or even 120fps with a compatible TV) gameplay alongside lightning-fast load times thanks to the inclusion of a custom-designed SSD – although it is a little small at 825GB, and unlike the Xbox Series X, it's pretty difficult (and pricey) to upgrade the internal storage. 
When it comes to performance, expect ray-tracing, high-quality textures, improved particle effects and a generally higher fidelity experience than that of the PS4, but it's arguably the DualSense controller that truly separates it from the competition.
Sony's DualSense controller sports adjustable triggers, meaning the bumpers can better simulate the trigger of a gun or pulling back a bow before firing, and the advanced haptic motors make things feel much more realistic too. The two technologies combined offer a huge step forward compared to the Xbox controller, which offers minimal differences at best.  
There may not be a lower-powered variant like the Xbox Series S, but there is the disc-less PS5 Digital available at a discount without compromising on next-gen performance.
Be warned though: the PS5 is a chonk, no matter which variant you go for.  
2. Xbox Series X – Best Xbox experience
Pros
Next-gen 4K@120fps performance
Compact design
Backwards compatibility
Cons
No changes to Xbox controller
Slower loading times than PS5
The Xbox Series X is Microsoft's answer to new-gen gaming, offering the same 4K@120fps performance with ray-tracing, high-quality textures and improved particle effects as the PS5, and although not quite as fast as Sony's bespoke SSD, the inclusion of an SSD means games are snappy too.
There's a large library of games available to play, offering backward compatibility all the way back to the original Xbox – something that the PS5 can't quite compete with, only offering compatibility with PS4 titles outside of its PS Now service. 
The design is much more muted than the competition, sporting an all-black design with green highlights within the vent atop the console, but it still stands tall at 30cm.
It's a solid contender for the title of best console, when it comes down to it, the 'safe' update to the Xbox controller is what lets it down – while Sony went all-in on all aspects of the next-gen console experience, it seems Microsoft focused only on the tower itself. 
3. Xbox Series S – Best for Xbox Game Pass
Pros
Cheaper than Xbox Series X
Speedy SSD performance
Great for access to Xbox Game Pass
Cons
Caps out at 1440p
Can't run Xbox One X (or Series X) enhancements
The Xbox Series S doesn't offer the same high framerate 4K gameplay as the Series X or PS5, but it does offer key upgrades including the speedy SSD and the updated Xbox UI, and it's much cheaper than the hero consoles too.
In fact, if you've got a 1440p display, it could be the ideal console for you – especially when you consider that it's much smaller than the other next-gen consoles, making for a better TV-side companion. It could also be a cheap-ish way to get your hands on Microsoft exclusive titles if you primarily play on another console, especially given the company's purchase of Bethesda. 
Make no mistake though – it's not as powerful as its bigger brother, and it can't even run games with Xbox One X enhancements, so steer clear if you're currently using the last-gen One X. 
4. Nintendo Switch (OLED) – Best for handheld gaming
Pros
Large OLED display
Slimmer bezels
Better battery life than the original Switch
Cons
Expensive
No boost in graphics power
The Nintendo Switch (OLED) doesn't offer a boost in graphical power like some might've hoped, but as the name suggests, it does sport a larger 7in OLED display for an improved handheld gaming experience with more vivid colours and deeper blacks. Zelda has never looked as good as it does on the Switch OLED!
It's more than just a display upgrade though; there's improved battery life compared to the original 2017 variant of Switch, boasting between 4.5 and 9 hours of life depending on the game you're playing. The console fixes a few long-time complaints too, including the flimsy kickstand, replaced this time around by a much sturdier option, and improved button shapes too.
If you've got the newer version of the Nintendo Switch with improved battery life then the OLED model probably isn't worth the upgrade, but if you've got an older 2017 release Switch, or you're yet to pick one up, the OLED model is worth the money.  
5. Nintendo Switch – Best for hybrid gaming
Pros
Hybrid handheld/TV format
Great Nintendo Switch titles
Range of fun accessories
Cons
Dated design
Middling battery life
Lacks graphical grunt of other consoles
Nintendo's most popular console right now is predictably unusual. The Switch is a sort of handheld/home console hybrid – you can connect it to your TV to play on the big screen, or take it with you on the go as a high-powered handheld, with various different control configurations for each setup. While the design looks a little dated compared to the newer Switch OLED model, the two handhelds offer the same game experience, with no graphical enhancements from the upgraded model. 
That said, you don't always get to play the latest AAA titles on the Switch due to the lack of graphical power available, but there is a huge array of Nintendo exclusive and indie titles available to buy or download.
It's the console you'll need if you want to play the latest Zelda and Mario titles, and it's the best bet if you want versions of huge games like Skyrim that you can take with you on the go.
---
Discussion
How would it have been possible for the fifth generation of video game consoles to have a console with the 2D capabilities of the Saturn, and the 3D capability of the N64?
It is very possible… It's all just a matter of using more powerful hardware.
Unfortunately it takes more than just powerful hardware to make a successful video game console.
Saturn actually have stronger hardware compared to Playstation, unfortunately it has more complicated software/architecture that most developer didn't bother to harness all Saturn potential… Not to mention sega lack interest to JRPG, something which is very popular back then, something that Playstation have lots of.
Again, N64 is actually not bad, but the 3d architecture is more complicated than Playstation. And the lack of CD support meaning N64 have much less storage space, something that was seriously lacking on console back then.
To make the final nail in the coffin, Playstation price is also very competitive. Powerful hardware drive up the cost. Saturn was 399$ while Playstation was 299$. Sure, N64 was released at 199$ (originally it should be 250$), but then Playstation and Saturn also cut their price to 199$.
So while Playstation was not the most powerful console back then (actually it's the weakest), multiple good decisions made it reign as the best selling console on fifth generation console war.
Which consoles could play only 2D games, which only 3D games and which could play both?
Anything can technically play 2D or 3D games. Even Unreal Engine 3, the engine behind Batman Arkham Knight, and Mortal Kombat 11, can be run in MS-DOS (a very old PC operating system using a command line), as I found out today when working with the engine. In terms of physically capable, 3D games didn't really happen until the SNES, where Mario Kart and Starfox used very simple 3D graphics. It was only really at the point of the PS1 where 3D graphics started to become more mainstream and dominant. Anything before then simply wasn't powerful enough.
What are the generations of video game consoles?
FIRST GENERATION: Pong
SECOND GENERATION: Atari, Intellivision, Commodore 64, Magnovox Odyssey
THIRD GENERATION: NES, Atari 8-Bit Computer, Game Boy, Sega Master System
FOURTH GENERATION: Turbo Grafx 16, Genesis, Super NES, Neo Geo, Sega CD, Atari Jaguar
FIFTH GENERATION: Panasonic 3DO, Genesis 32X, Playstation 1, Sega Saturn, Nintendo 64, Philips CD-i
SIXTH GENERATION: Playstation 2, Sega Dreamcast, Gamecube, Xbox, Game Boy Advance
SEVENTH GENERATION: Wii, Playstation 3, Xbox 360, Nintendo DS, Playstation Portable
EIGHTH GENERATION: Playstation 4, Wii U, Xbox One, Nintendo 3DS
NINTH GENERATION: NNintendo Switch, Playstation 5, Xbox Series X, Stadia
---
Entry level Game Console 
1. Nvidia Shield TV (2019) – Best for cloud gaming
Pros
Compact design
Cloud-gaming ready
Android TV is capable
The Nvidia Shield TV may seem expensive for a media streamer, but the games available on Google Play on the system are fairly cheap – and there's plenty more on offer too. 
While the Shield offers all the same features that a standard media streamer would (on-demand TV, etc) it also offers a number of Shield-exclusive games that are pretty power-intensive, and it offers support for a range of Bluetooth controllers too.
It also boasts an exclusive subscription service that provides you with a vast library of games to play, and you also have the option to buy the latest PC games to play directly on the Shield via GeForce Now, too.
2. Nintendo Switch Lite – Best for on-the-go gaming
Pros
Affordable
Fun compact design
Cons
Handheld-only
Middling battery life
Small 5.5in display
If the standard Nintendo Switch isn't portable enough for your needs, the smaller Switch Lite might tick your boxes. It offers the same core Nintendo Switch experience, complete with the latest Switch titles, but with a smaller 5.5in display and a lighter form factor. 
However, unlike the standard console, it isn't hybrid – it's a handheld console only, with no way to connect it to a TV. The Joy-Cons aren't removable either, which might cause a few problems with gesture-based titles.
Still, it's cheaper than the standard Nintendo Switch and for those that primarily play handheld consoles, the TV-less nature of the Lite isn't a huge issue. 
3. Xbox One S – Ideal entry-level Xbox
Pros
Affordable
Great gaming experience with plenty of games
Decent 1080p performance
It's not the next-gen console, but the Xbox One S is a great console for casual gamers.
It's smaller and lighter than the Xbox Series X and the power unit is built-in which is also a nice touch. Although the Xbox One S supports 4K resolution, it's limited to video playback so you'll have to hold out for the Xbox Series X for 4K gaming.
Just be sure to get one at the right price; as stock dwindles, we're seeing some retailers stock the console for between $/£200-300. Considering that was the price when it was the current-gen console, that's too much to pay. We'd advise paying no more than $/£200.
4. PS4 Slim – Ideal entry-level PlayStation
Pros
Affordable
Vast library of PlayStation exclusives
Slimline design
The PS4 Slim is pretty much exactly what it says on the tin, a smaller version of the original PS4 in a smaller (more rounded) design, and with the launch of the PS5, it's cheaper than ever.
With a library of games at your fingertips and releases continuing for some time, there's no better time to get your hands on a PS4 Slim. 
Existing PS4 owners won't need to upgrade as the internals are almost identical. Although the slim PS4 has HDR support, that isn't exclusive as it's also been introduced to the launch PS4 with a software update.
As with the Xbox One S, make sure you pick one up for the right price as some retailers are charging over the odds for the old console. If it costs more than £200, we recommend shopping around.
Stay tuned…