Why Solana Project? Crypto should be taking advantage.
Solana is much faster in terms of the number of transactions it can process and has significantly lower transaction fees than rival blockchains like Ethereum.
The cryptocurrency that runs on the Solana blockchain—also named Solana (SOLUSD) and using the ticker symbol SOL—soared almost 12,000% in 2021 and at one point had a market capitalization of over $66 billion, making it the fifth-largest cryptocurrency by this measure at the time.
Despite its popularity, SOL did not escape the cryptocurrency bloodbath of 2022. By Oct.  2022, SOL had dropped to about $11.71 billion in market capitalization. It also fell to ninth place in market capitalization.
What Is Solana Project ?
Solana is hailed as one of the fastest blockchains around, processing 2,700 transactions per second, according to Coindesk.
Because of this, SOL has managed to overcome one of the major stumbling blocks to widespread crypto adoption as a valid currency across the world and put people closer to commonly accepted decentralized finance.
The low fees, low congestion and fast processing speeds mean that solana could someday step up to compete with Visa credit cards as a commonly accepted payment form.
Although the stablecoin tether has launched on Solana, SOL remains the network's native coin and is not pegged to tether.
Solana is less decentralized than networks like Bitcoin, Ethereum and Cardano, which can be a plus for some investors and a drawback to others.
Like Cardano and Ethereum, Solana uses the more efficient proof-of-stake technology, giving validators access to more coins based on how much they have staked. It also uses proof-of-history to confirm transactions are in the right order. The PoH functionality increases the network's speed, while PoS helps keep it running efficiently.
What Is Solana Project (SOL) and How Does SOL Crypto Work?
Solana is a blockchain platform designed to host decentralized, scalable applications.
Solana can process many more transactions per second and charges lower transaction fees than rival blockchains like Ethereum.
Solana is a proof-of-stake (PoS) blockchain but improves on it with a mechanism called proof-of-history (PoH), which uses hashed timestamps to verify when transactions occur.
Noticeable things is that ,Solana also has its own standard for tokenization, SPL Token, similar to Ethereum's ERC-20
Solana Project History
Yakovenko's previous work experience was in the field of distributed systems design with leading technology companies such as Qualcomm Incorporated (QCOM). This experience made him aware that a reliable clock simplifies network synchronization, and when that occurs, the resulting network would be exponentially faster, with the only constraint being its bandwidth.
Yakovenko surmised that using proof-of-history would speed up the blockchain tremendously compared with blockchain systems without clocks, such as Bitcoin and Ethereum. These systems struggled to scale beyond 15 transactions per second (TPS) worldwide, a fraction of the throughput handled by centralized payment systems such as Visa (V), which see peaks of up to 65,000 TPS.1
Beginnings-Solana Project
Yakovenko's initial implementation began in a private codebase and in the C programming language. At the behest of his former Qualcomm colleague Greg Fitzgerald, Yakovenko subsequently migrated the entire codebase to the Rust programming language.
In February 2018, Fitzgerald began prototyping the first open-source implementation of Yakovenko's white paper and subsequently made the first release of the project, demonstrating that 10,000 signed transactions could be verified and processed in just over half a second. Shortly thereafter, Stephen Akridge—another of Yakovenko's Qualcomm colleagues—demonstrated that throughput could massively improve by offloading signature verification to graphic processors.
Expansion
With these project milestones under their belts, Yakovenko recruited Fitzgerald, Akridge, and three others to co-found a company called Loom. However, because of the potential for confusion with an Ethereum-based project with a similar name, the company/project rebranded to Solana, after the small beach town near San Diego where the co-founders lived when they worked for Qualcomm.
In June 2018, the project scaled up to run on cloud-based networks, and a month later, the company published a 50-node, permissioned, public test net consistently supporting bursts of 250,000 TPS.
Instead of validator nodes, Solana uses validator clusters, where groups of validators work together to secure the blockchain and move transactions
As of September 2022, Solana has processed over 100 billion transactions at an average cost of $0.00025 per transaction.
Solana's Technology
Solana's architecture aims to demonstrate a set of software algorithms that eliminate software as a performance bottleneck when combined with a blockchain. The combination enables transaction throughput to scale proportionally with network bandwidth.
Solana's architecture satisfies all three desirable attributes for a blockchain: it's scalable, secure, and decentralized. Its architecture describes a theoretical upper limit of 710,000 TPS on a standard gigabit network and 28.4 million TPS on a 40-gigabit network
A Bright Future in NFTs
Solana's blockchain is also on the cutting edge of non-fungible token transactions. Solana hosts many NFT marketplaces, including Metaplex, Solanart and the widely used Magic Eden. NFT traders like the versatility and low fees of Solana, and the blockchain is giving Ethereum a run for its money when it comes to NFT transactions.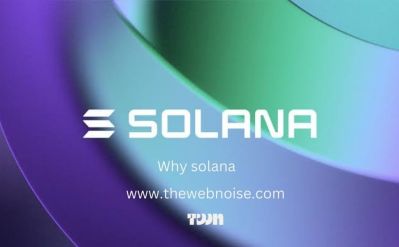 What Is Solana's Market Cap Right Now?
Solana has a market cap of $6.68 billion, making it the 12th-largest cryptocurrency, behind polkadot, polygon and cardano but above chainlink, according to CoinMarketCap. Right now, SOL is a long way from its high point of just under $260, which means it could be a good time to buy.
However, it's important to note that while the price had been fairly stable over the last several months — until a steep decline that began on Nov. 6 — it has trended downward so far in 2022. The question is: Will solana trend upward over time?
Some experts foresee SOL beginning to rise in 2022. All of this begs the questions: What will solana be worth for the remainder of 2022? And what will solana be worth by 2030?
What Will Solana Be Worth in 2023?
As the widely disparate shorter-term forecasts show, it's notoriously difficult to predict cryptocurrency prices. That said, Gov Capital sees solana ending 2023 at $111.34, an increase of about 500% over the current price, based on a prediction derived from volume changes, price changes, market cycles and other alt-coins.
CoinGape is much less specific, predicting a maximum of $717.65 and a minimum of $59.30.
(Note- We are not advising to trade , it is just information about Solana Project and trade )
How Much Is Solana Worth in 2025?
While it's impossible to predict the future, analysts use sophisticated algorithms to create solana price predictions years out.
In 2025, according to CoinPriceForecast, solana could be worth $37.43 by mid-year and $42.24 by the end of the year — a nice return on the current price.
Wallet Investor analysts see solana crashing to an average price of $1.16 by the end of 2025.
What Will Solana project Be Worth in 2030?
Looking ahead to 2030, CoinPriceForecast sees SOL continuing to rise, reaching $83.87 by the end of 2030. If this prediction pans out, a $1,000 investment made at the current price of $18 could be worth as much as $4,659 by the end of 2030.
While no one can predict the future, solana appears to have a lot of potential. Solana blockchain founder Anatoly Yakovenko recently told Fortune that improvements have been implemented to resolve reliability issues resulting from network outages and downtime. He also said that he sees great potential for growth in blockchain-based gaming in the coming year and agrees with predictions that say Solana "will become known as the 'NFT chain' in a multichain world."
Is Solana's SOL Token Available in Fractional Amounts?
SOLs are available in fractional amounts called lamports; a lamport has a value of 0.000000001 SOL. Lamports are named after Solana's biggest technical influence, Leslie Lamport, a computer scientist best known for his work in distributed systems.9
FAQ Solana Projects
How Many SOL Tokens Are Presently in Circulation?
Solana has a total supply of 511.6 million SOL tokens, 355 million of which have already entered the market.12
Where Does Solana Rate Among Cryptocurrency Companies?
If considered by market capitalization, Solana is the ninth largest cryptocurrency company. Larger rivals include Bitcoin, Ethereum, Tether, USD Coin, BNB, XRP, Binance USD, and Cardano
Source
Stay tuned…