Polygon (MATIC) future seems bright, Polygon MATIC was onboarding at least 1 project every day.
The future does appear to be bright for this fast-developing ecosystem. Therefore, there's a high possibility that Polygon MATIC will reach at the very least half of the Binance Smart Chain. It will definitely have high chances of being the next Ethereum in the upcoming time.
In this notes will try to find all detail about the Polygon (Matic) .

What is Polygon Matic Project?
Polygon (MATIC) is a cryptocurrency and a technology platform that was launched to connect and grow Ethereum-compatible projects and blockchains. MATIC tokens are used to govern and secure the Polygon network and pay transaction fees and investors can buy MATIC tokens on exchanges such as Coinbase or Kraken.
Polygon is a cryptocurrency, with the symbol MATIC, and also a technology platform that enables blockchain networks to connect and scale. Polygon—"Ethereum's internet of blockchains"— launched under the name Matic Network in 2017
The Polygon platform operates using the Ethereum blockchain and connects Ethereum-based projects. Using the Polygon platform can increase the flexibility, scalability, and sovereignty of a blockchain project while still affording the security, interoperability, and structural benefits of the Ethereum blockchain.
MATIC is an ERC-20 token, meaning that it's compatible with other Ethereum-based digital currencies. MATIC is used to govern and secure the Polygon network and to pay network transaction fees.
KEY TAKEAWAYS
The Polygon platform, powered by the MATIC token, was launched to connect and grow Ethereum-compatible projects and blockchains.
MATIC tokens are used to govern and secure the Polygon network and pay transaction fees.
Polygon uses a modified proof-of-stake consensus mechanism to efficiently operate the platform.
Understanding Polygon Project
Polygon uses a modified proof-of-stake consensus mechanism that enables a consensus to be achieved with every block.
(Achieving consensus using traditional proof-of-stake requires processing many blocks to achieve consensus.) The proof-of-stake method requires network participants to stake—agree to not trade or sell—their MATIC, in exchange for the right to validate Polygon network transactions. Successful validators in the Polygon network are rewarded with MATIC.
The Polygon network, as a secondary scaling solution, aims to address the limitations of the Ethereum platform—namely high transaction fees and slow transaction processing speeds. Polygon can:4
Deploy existing blockchain networks and develop custom blockchains
Enable communication between Ethereum and other blockchains
Help existing blockchain networks to become compatible with Ethereum
Polygon was co-founded by Jaynti Kanani, Sandeep Nailwal, Anurag Arjun, and Mihailo Bjelic. The platform now supports over 7,000 blockchain-based projects
Advantages and Disadvantages of Polygon
You may be wondering about the major strengths and weaknesses of Polygon. Especially if you are considering buying MATIC, keep reading to understand Polygon's advantages and disadvantages.
Polygon's strengths include:
Ability to process transactions quickly: By using a consensus mechanism that completes the transaction confirmation process in a single block, Polygon can maintain fast transaction processing speeds. Polygon's average block processing time is 2.1 seconds
Transaction fees are consistently low: Polygon keeps its fees to use the platform low, with a typical transaction fee of around $0.01
Among Polygon's weaknesses are:
Not an autonomous blockchain: Polygon is a Layer 2 solution that works atop the Ethereum platform. If the Ethereum platform experiences serious disruptions or ceases to exist, then Polygon would likely lose its value.
Limited use cases for MATIC: The MATIC token is designed to govern and secure the Polygon platform and pay transaction fees. Unlike some digital currencies, MATIC is not generally used for everyday purchases.
Polygon vs. Ethereum
Polygon is a secondary scaling solution that is compatible with and complements the Ethereum blockchain. Polygon aims to improve upon Ethereum as a blockchain development network. Polygon complements Ethereum by providing additional features relating to security, blockchain sovereignty, user and developer experience, and modularity.
Ethereum currently uses the proof-of-work consensus mechanism and is gradually transitioning to using proof-of-stake.
Polygon uses a modified proof-of-stake mechanism that enables transactions to be processed quickly and cheaply.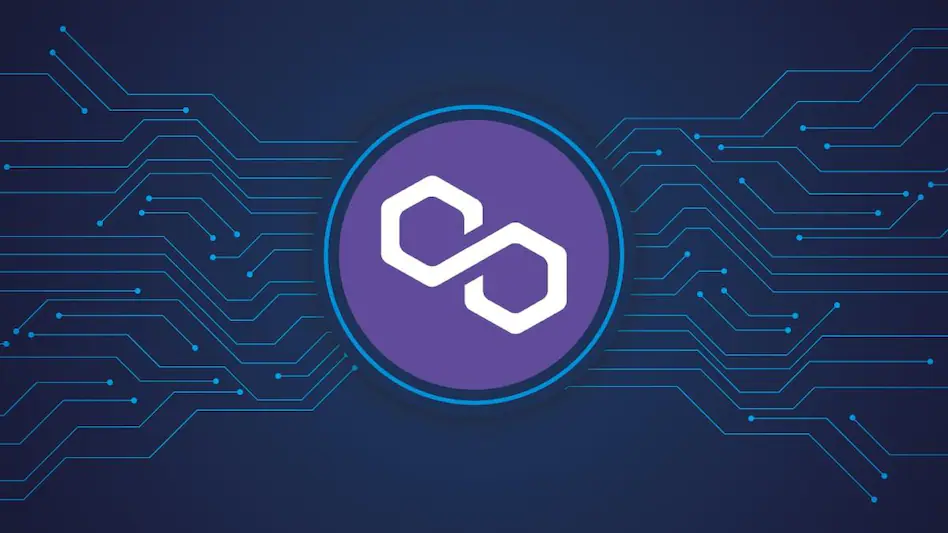 Future of Polygon
Polygon launched Polygon Studios, a subsidiary of Polygon that focuses on blockchain gaming and non-fungible tokens (NFTs),in 2021.
Polygon Studios, if successful, could establish Polygon as a leading technology provider for decentralized gaming and NFTs.
In Jan. 2022, Polygon got a new chief executive officer (CEO). Ryan Watts has joined Polygon from YouTube, where he was the head of gaming.
Polygon (MATIC) is a blockchain platform for the next generation. Polygon's (MATIC) fast transactions and low fees could make it a threat to Ethereum. Polygon (MATIC) gives decentralized applications and token transactions a safe and scalable infrastructure.
Polygon (MATIC) uses Ethereum's existing ecosystem and smart contract compatibility, but Polygon (MATIC) also has its own features, like its Proof of Stake consensus mechanism, that make it stand out. Polygon's (MATIC) future looks bright as it continues to attract developers, businesses, and users who like its easy-to-use platform and commitment to decentralization. 
With its rapidly growing community, Polygon (MATIC) is set to become a major player in the decentralized world, offering innovative solutions and powering the next generation of blockchain applications.
Polygon (MATIC) trading line has been on an upward trajectory lately, increasing in value by 60% over the last two months.
And the bullish trend is probably going to continue over the next couple of months with Polygon setting March 27 as the date for their zero-knowledge Ethereum Virtual Machine (zkEVM) to go live.
All of this makes Polygon a smart long-term investment as it will continue a steady rise throughout 2023.
However, experts believe that presale projects like Meta Masters Guild (MEMAG), Fight Out (FGHT), RobotEra (TARO), and C+Charge (CCHG) can bring larger gains more quickly.
Meta Masters Guild (MEMAG)
Play-to-earn projects are gaining more and more traction with each year, and analysts predict that Meta Masters Guild could become the king of them all.
MEMAG is focusing on play & earn, rather than just play-to-earn. And this philosophy is the reason why Meta could reach incredible heights in this crypto sector.
In order to create a system where players will actually enjoy playing games, instead of playing them simply for profit, MEMAG had to create a multiple-title ecosystem.
So far, they have announced three games – Meta Kart Racers, Meta Masters World, and NFT Raid. With more games to come as the Guild develops.
The project has gathered an incredible amount of media hype since it was announced and many experts believe that the project could bring 10,000% returns once it goes live.
Fight Out (FGHT)
Fight Out is a new move-to-earn crypto that leveraged Web3, blockchain technology, and real-world benefits for their user in order to create the best fitness platform on the market.
FGHT has partnered up with world-class athletes around the globe to provide personalized workout regimes to every individual user.
Fitness enthusiasts can now use the Fight Out app to track a wider variety of physical activities, beyond just walking. This includes activities like weightlifting, yoga, and cycling.
In addition to that, FGHT holders will acquire their soulbound NFT avatars that will mirror their gains in the real world.
But it doesn't stop there, namely, the team has announced the launch of the Fight Out gym chain in over 20 capital cities across the world. In those gyms, members will be able to use state-of-the-art equipment and showcase their NFTs.
With all of these features and plans, the team has secured Fight Out's domination over the M2E space.
Due to the ongoing presale, FGHT tokens can now be bought at a discounted price. Not for very long though, seeing how presale will probably sell out much faster than anticipated.
RobotEra (TARO)
RobotEra (TARO) is an upcoming Metaverse-based crypto game that has generated a lot of excitement among gamers.
The game features a post-apocalyptic digital world, robot NFTs, land trading, and player networking, among other things.
What's more, the game offers various opportunities for players to earn money, including completing tasks, selling NFTs, and trading parcels.
Although the game is still in its first presale phase, players are encouraged to join soon because the price will rise with every presale phase.
C+Charge (CCHG)
C+Charge is a new crypto project that focuses on the renewable energy sector – Electric Vehicle charging to be precise.
Its main goal is to incentivize electric vehicle drivers by rewarding them with carbon credits for using designated charging stations.
To support this, CCHG is developing a robust mobile application that will help drivers find the nearest charging stations and provide information about potential wait times.
C+Charge has just signed a new partnership with Perfect Solutions Turkey, which will designate 20% of EV chargers in Turkey to the project.
New partnerships, innovative use of blockchain, and a skilled team are all the reasons behind investors' bullish prediction for the project. 
Over the last seven days, Polygon's price has raised 3%, reaching $1,33 mark, and is currently trying to break north of the $1,35 point.
That would represent a multi-month high for the crypto that powers the layer-2 Ethereum scaling solution.
This left some experts surprised with Polygon's resilience, as it faces the higher-than-expected US inflation.
On the other side, a larger number of analysts say that MATICs resilience is nothing to be surprised by, considering the growing number of game developers choosing the scaling network for their launch site instead of ETHs mainnet.
One of those companies is Square Enix, which just announced its first NFT game, Symbiogenesis, which will launch on Polygon's gaming ecosystem.
According to the prediction of some crypto experts, we could even see Polygon going over the $3 mark at the end of 2023, which would even break its previous ATH of $2,92.
As you can see, experts seem to believe Polygon's bullish momentum will continue and can bring nice gains in the future. However, these gains won't go over 2-3x.
Projects that we will cover next are displaying signs for much bigger returns in a shorter amount of time.
Finally –
Expert's opinion seem to be positive about the future of the Polygon, with new bullish momentums expected at the end of March with the launch of zkEVM.
Despite the positive predictions, due to Polygon's strong dependency on the Ethereum network, we can't expect to see any larger returns for the foreseeable future.
If that's you're on the lookout for larger gains, projects like MEMAG, FGHT, TARO, and CCHG are worth looking into.
Due to their innovative use of blockchain, and incredible features experts are stating that they will be the most profitable projects of the year.