Many people are turning to natural cures and superfoods in their search for a healthy lifestyle, including diabetes.
Feijoas, often known as the "People's Fruit," are gaining popularity for its ability to prevent diabetes.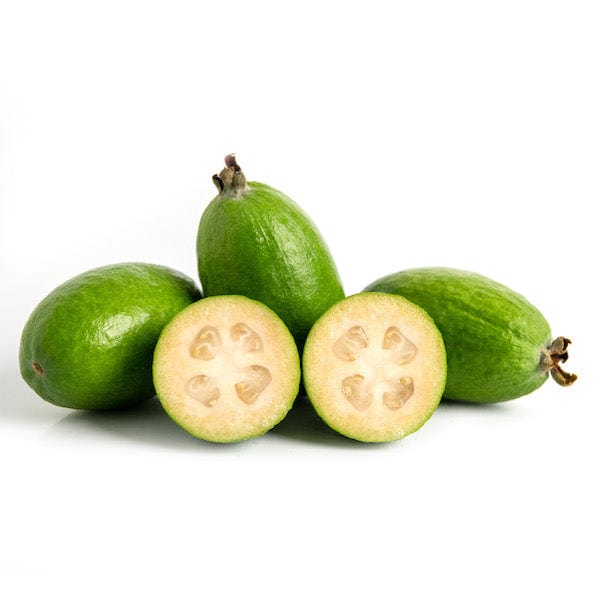 But, can this one-of-a-kind fruit actually help with blood sugar control?
Feijoas, formally known as Acca sellowiana, are little, green fruits native to South America that have made their way into markets throughout the world due to their great flavor and nutritional content.
They are not only a tasty addition to your diet, but they may also be an ally in the battle against diabetes.
The Nutritional Powerhouse
Feijoas are packed with essential nutrients that contribute to overall well-being. They are rich in dietary fiber, antioxidants, vitamins (notably vitamin C), and minerals like potassium. These elements collectively support a healthy lifestyle and may play a significant role in diabetes prevention.
Balancing Blood Sugar Levels
One of the key factors in preventing diabetes is managing blood sugar levels. Feijoas have a low glycemic index (GI), which means they are digested and absorbed slowly, leading to a gradual rise in blood sugar.
This slow release of sugar helps in maintaining stable glucose levels, making Feijoas an excellent choice for those concerned about diabetes.
Antioxidant Defense
Feijoas are also known for their potent antioxidant properties. Antioxidants combat oxidative stress, which can lead to insulin resistance—a precursor to type 2 diabetes.
Regular consumption of Feijoas may help reduce this risk by neutralizing harmful free radicals in the body.
Incorporating Feijoas into Your Diet
To harness the potential benefits of Feijoas, consider including them in your daily diet.
You can enjoy them fresh as a snack, add them to fruit salads, blend them into smoothies, or even use them in baking for a unique twist to your favorite recipes.
While Feijoas show promise in diabetes prevention, it's essential to remember that they are just one piece of the puzzle.
A balanced diet, regular exercise, and a healthy lifestyle are all crucial in reducing the risk of diabetes.
If you have diabetes or are at risk, it's advisable to consult with a healthcare professional for personalized guidance.
In conclusion, Feijoas, the "People's Fruit," offer a range of nutritional benefits that may support diabetes prevention by aiding in blood sugar management and providing valuable antioxidants.
Adding these delicious green gems to your diet can be a flavorful and nutritious step toward a healthier future.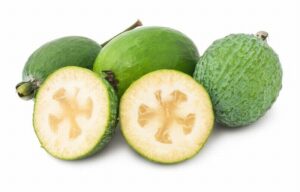 Low Glycemic Index: They have a low glycemic index (GI), making them an excellent choice for maintaining stable blood sugar levels.
Versatile in the Kitchen: You can enjoy Feijoas fresh as a snack, add them to fruit salads, blend them into smoothies, or incorporate them into various recipes for a unique and delicious twist.
Potential in Diabetes Prevention: Feijoas show promise in aiding blood sugar management, making them a valuable addition to a diabetes-friendly diet.
Part of a Balanced Lifestyle: While Feijoas offer health benefits, they should be part of a balanced diet, combined with regular exercise and a healthy lifestyle, to reduce the risk of diabetes effectively.
Feijoas: How to Enjoy Them and When to Indulge
Feijoas, often known as the "People's Fruit," are not just delicious; they also offer a plethora of health benefits. Here's how to savor them and when to make them a part of your diet:
1. Eating Feijoas:
Fresh and Whole: The simplest way to enjoy Feijoas is by eating them fresh and whole. Wash them thoroughly, cut them in half, and scoop out the soft, jelly-like flesh with a spoon. You can eat the entire fruit, including the skin, although some prefer to remove it.

In Fruit Salads: Add sliced Feijoas to fruit salads for a unique tropical flavor. Their sweet and slightly tangy taste pairs well with other fruits like berries, kiwis, and citrus.

Blended in Smoothies: Feijoas can lend a delightful twist to your morning smoothie. Blend them with yogurt, bananas, and a splash of orange juice for a refreshing and nutritious drink.

Baking: Get creative in the kitchen by incorporating Feijoas into your baking. They can be used in muffins, cakes, and pies to add a unique flavor.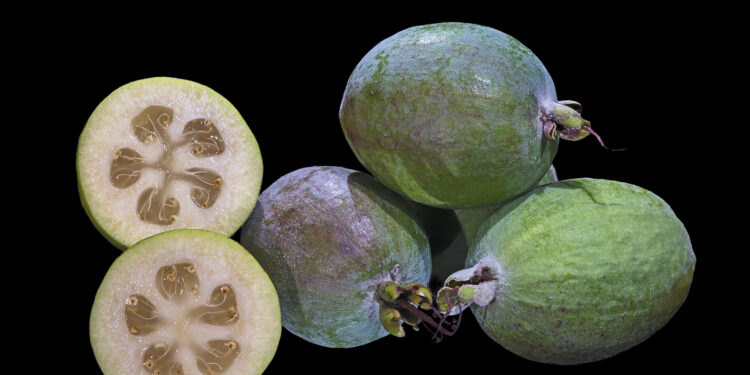 2. When to Include Feijoas in Your Diet:
As a Snack: Feijoas make for an excellent snack at any time of the day. Their natural sweetness and fiber content can help curb your hunger and provide a healthy energy boost.

In Season: Feijoas are typically in season during the fall and early winter months, depending on your location. This is the best time to enjoy them at their freshest and most flavorful.

For Diabetes Prevention: Due to their low glycemic index, Feijoas can be a smart choice for those looking to manage blood sugar levels. Including them in your diet regularly may help in this regard.

In a Balanced Diet: While Feijoas offer health benefits, it's essential to incorporate them into a balanced diet. Pair them with a variety of fruits and vegetables to ensure you get a wide range of nutrients.
Remember that Feijoas are not just delicious but also nutritious. By enjoying them fresh or incorporating them into your meals, you can experience their unique flavor and potentially harness their health benefits. Whether as a snack or a culinary ingredient, Feijoas can be a delightful addition to your diet when in season.