LG OLED Flex LX3 is the world's first 42-inch foldable OLED TV . 
There are 20 different levels of curvature that can be set, from completely flat up to 900R . It is a solution that can be used both for gaming and for the use of television and streaming content . Recall that the Korean company is currently engaged in the launch of the huge 97-inch OLED TV and a 45-inch curved monitor – also OLED – expressly dedicated to gaming. Both products has been shown during IFA 2022 .
LX3 has a response time of 0.1ms and is equipped with self-illuminating pixels with OLED evo technology : the result is perfect black, 100% fidelity colors (Intertek certification) and deep contrasts. The curvature is set by the user directly from the remote control : in addition to selecting one of the two presets, it is possible to adjust the curvature with adjustments of 5% . The customization is completed by the inclination downwards up to 10° and upwards up to 5°.
The stand offers two features:
can be adjusted in height (140mm)
integrates lights that work in sync with the video/audio. There are 5 option
LG OLED Flex 42 has the panel with super anti-reflection coating and has received the certifications anti-flicker and anti-glare (UL Certification anti-flicker and anti-glare), thus allowing gamers to experience long sessions without feeling any discomfort to the eyes . Image quality is also ensured by the α9 Gen 5 processor and processing algorithms.
Another feature dedicated to gamers concerns the possibility of adjusting the size of the images on the screen according to your needs and the type of activity performed:
full 42″ diagonal for RPG, racing or third-person action games
32″ or 27″ for RTS and FPS (in any case according to the will and preferences of the user). Adjusted from the Game Dashboard, the image can be placed anywhere on the screen
Game app with custom screensaver, shortcuts to some apps, connected devices list
Improved Game Optimizer with custom sound settings: Equalizer, AI Game Sound enable, Dolby Atmos
40W front speakers
Multi View mode for viewing content from two different sources at the same time (with the possibility of choosing from which audio is broadcast
Switching Hub : use of the built-in microphone and other devices connected to the TV via USB (headphones, keyboard, mouse) with a PC connected via HDMI
Dolby Vision support for 4K 120Hz gaming
support HDMI 2.1 functionality – eg: VRR variable refresh rate and automatic low latency mode ALLM
compatibility with G-SYNC
AMD FreeSync Premium certified
42" LG OLED Flex LX3: the curvature is variable, the quality remains that of the C2
LG OLED Flex LX3 : don't call it a monitor, because it is in all respects a TV that winks at the most passionate gamers thanks to the variable curvature of the display . We could also define it as a 42-inch C2 with variable curvature (and basically it is so), but analyzing it carefully we realize the many attentions and goodies designed specifically for gamers .
At the moment there are still no definitive specimens available to send for testing, so LG invited us to its showroom and allowed us to test a pre-series specimen for a few hours (of those we had already had the opportunity to see during the 'IFA 2022 Berlin ).
Let's start by saying that in a flat position and from a front view, the new LX3 could look like a normal OLED TV .
On the other hand, moving to the side, we realize how much the overall dimensions are different : not so much for the panel itself, which maintains its classic reduced thickness, but for the motorized arms that allow the "folding" of the display, the tilting anchor to adjust any downward (up to 10°) or upward (up to 5°) inclination of the screen and, finally, the voluminous rear column bracket which allows you to adjust the height of the screen ( up to 140mm) and includes electronics, power supply, connections and also the RGB LED lighting strips arranged in a sort of X.
Speaking of these rear LEDs, you can set your favorite color and even have them "pulse" in sync with the audio-visual playback. 5 operating presets are available , but it should be noted that the involvement and experience are not comparable to those of the excellent Philips "Ambilight" (also because the arrangement is totally different).
On the connections front, we find all the inputs and outputs already present on the 42-inch C2: 4 full-bandwidth 48 Gbps HDMI 2.1 ports and therefore compatible with 4K Ultra HD up to 120 Hz, Variable Refresh Rate also in the proprietary versions AMD FreeSync Premium and Nvidia G-Sync, Auto Low Latency Mode, eARC on port 2 and of course full HDR support in the various versions HDR10, HLG (for TV channels), HGIG (for gaming) and Dolby Vision also in the IQ, Precision Detail and up to 120Hz refresh rate .
There is also a digital audio output, a headphone output and terrestrial and satellite antenna connectors with DVB-T2 and DVB-S2 tuners with all the latest certifications of the case and also HbbTV interactive services and the CAM CI+ slot.
For network connections we have the Ethernet LAN port (up to 100 Mbps), but also Wi-Fi 6 and Bluetooth 5.0 and of course Miracast, Apple AirPlay 2, HomeKit, WiSA wireless audio transmission and Google and Google voice assistants are also supported. Amazon Alexa.
As for the USB ports , something changes here compared to the C2.
To begin with we find 4 ports and the solution is designed to function as a real hub that allows you to connect peripherals (such as a mouse, keyboard or headphones) and decide whether to use them combined with the TV itself or instead with the PC or console.
All of this can be recalled from a side button and easily modified from the "Switching Hub" OSD interface . Interestingly, the microphone integrated into the TV can also be associated with the PC or connected console.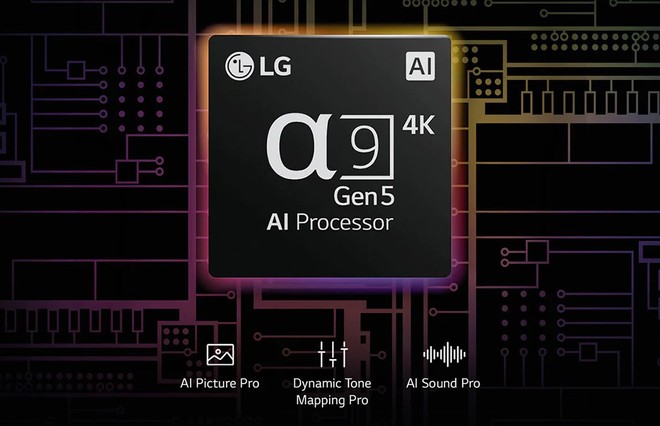 Already from all these features, you will have understood that the processor also remains the same as present on the C2 and G2 series.
That is the very latest Alpha9 Gen5 SoC that we have already had the opportunity to appreciate during the review of the 42-inch C2 .
Coming to the panel, curvature aside, the characteristics remain exactly those of the C2.
It is therefore a latest generation WRGB 4K Ultra HD 10-bit OLED , always without a Brightness Booster (due to the higher pixel density of the smaller diagonal, which does not allow this generation of panels to let in more light).
Also in this case there is no dissipation plate , while to further facilitate gaming sessions, this panel is equipped with an anti-reflection coating that promises to contain 25% of environmental reflections compared to the "classic" LG OLED TVs .
Moving on to use, the new OLED Flex is fully controllable via the usual "Magic Remote" remote control with screen pointer.
Remote control essentially identical to that of real TVs, if it weren't for the key dedicated to controlling the curvature .
Curvature that can be set via presets (up to a maximum of 3) or finely adjusted from 0 (flat) up to 900 R (maximum curvature) in 5% steps .
In short, it is really possible to optimize the curvature according to your tastes and the servo-controlled mechanism has always been extremely smooth and silent in reaching the chosen setting .
Always dedicated exclusively to the LX3, the "Screen size" item is included in the "Game Optimizer" pop-up menu, which allows you to simulate a 32-inch or 27-inch screen for ultra-close and hyper-competitive gaming sessions.
But how is the vision quality compared to the C2 "brother" with the same diagonal?
Do you give up anything in cornering mode? Honestly not.
The performances (excellent!) are absolutely comparable and it is really impossible to notice differences both when watching movies or TV series through the integrated Apps (even the webOS smart TV is identical to that of real TVs ) and this both in SDR , both in HDR10 / Dolby Vision / HLG, and during gaming sessions.
From this point of view we are, in all respects, faced with a 42-inch C2 .
Being a pre-production specimen, the managers of LG Italia asked us not to take measurements (also because the specimen had also been "mistreated" during the IFA, so we perfectly understand the fears), but we still managed to snatch a quick measurement of grayscale and peak luminance in HDR.
Well, if these are the premises, we can rest assured: the rigor and performance are instrumentally those found with the C2 under test and this despite the anti-reflection coating (which we feared could affect the luminance peak).
Finally, another aspect in favor of the LX3 is certainly the audio sector , which can count on more full-bodied speakers with a declared power of 40W and a processing that allows you to simulate a 7.1.2-channel audio configuration (Virtual Surround).
It is highly probable that those who want to play will wear gaming headphones, but knowing that to watch a movie or a TV series you can also rely on an audio system with an above-average performance (for a 42-inch), will certainly please.
We are dealing with an absolute novelty, currently exclusive, which is still produced in limited quantities and any technological "early adopter" knows how much all these factors have a price!
One thing is certain: it's not a scam, it works very well and guarantees high performance .
Stay Tuned….