Insta Pro Latest Version, The best Instagram mod for

Android devices is Insta Pro APK. and this was developed by SamMods.
By the way, absolutely no more worries. We have a new Insta Pro to replace the other Insta Mod in terms of features and performance. The latest version, which is based on the Play Store, was just released by the developer.
Use the below buttons to direct download Insta Pro Apk.
What is new Insta Pro Latest Version
[ Base] 278.0.0.21.117

[Added] Anti Screenshot Privacy

[Added] Anti Reply image

[Added] Hide Listen to voice message

[Improve] Smooth and fast

[Misc] Many More.

[Fixed] Many Random Crash
Features
Privcay – In Every App Privacy is important. In this version have some use full privacy features.(Do not mark messages as read in direct, Hide View Stories, Hide typing status in DM)..
Download Stories & Media – Downloading is Most Important Feature.you can save stories and download images and video in feeds by pressing download button and also using extra option.
Save IGTV Videos – You can Save IGTV videos to your android device storage .
Ad-free – Insta Pro ( InstaPro ) Fully Ad-free You won't see any advertisements in between the feed and stories.
Photos in max quality – Using this feature you can share full resolution.
Translate – Supports Google and Yandex translation engine. One can translate comments and posts to English, Russian, Ukrainian and Turkish.
In-app browser – You Have choice option need to open another browser to visit any link.
Shopping items in search – You can disable advertisement items .
Unfollowing tracker – Many people know who unfollowed them. So, this option makes sense in that case. Even, you can see the list of unfollowers with this InstaPro.
App lock – Don't need any other app and tools anymore. Just insta pro lock your Insta with the pin code.
Follows You – Ability to showing ( FOLLOWS YOU ) Tag. You can easly see who follow you.
Shortcuts features
Enable/Disable Double-tap to like

Download media on triple tap.

Zoom picture on long tap.

Disable swipe to open camera and DM.

Download Own Story With Music
Direct features
Copy comments.

Copy users bio.

Check if the user follows you by going to their profile.

Comments links can be opened directly.

Listen and add music to the Stories

Add music stickers to the Stories (may not be available in your country)
InstaPro v9.90 blocks ads on Instagram, allowing users to have an ad-free experience and explore other features.
InstaPro v9.90 Changelog
Here are all the changes that have happened to InstaPro in the latest version.
| | |
| --- | --- |
| Name | Insta Pro |
| Size | 65.9 MB |
| Version | 9.90 |
| Package | com.instapro |
| Developer | SamMods |
| Android requires | 5.0 or above |
| Last Updated | 5 May 2023 |
Installation
1st Step: Enable the Unknown sources from Settings for manual installation of any third-party app.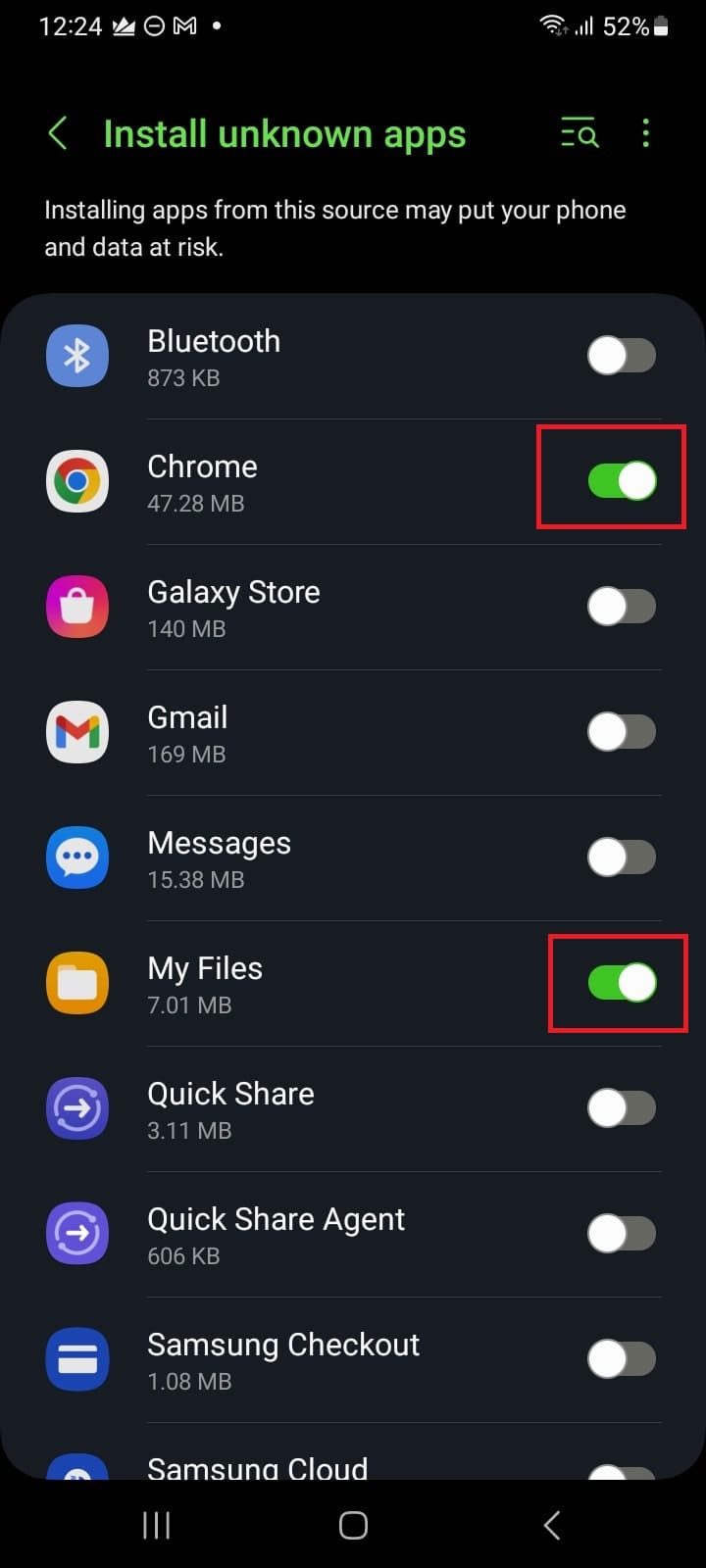 2nd Step: Open File Manager and go to the download folder of your browser.
3rd Step: Locate and click on the recently downloaded InstaPro v9.90.
4th Step: Once the installer opens, click on the Install button.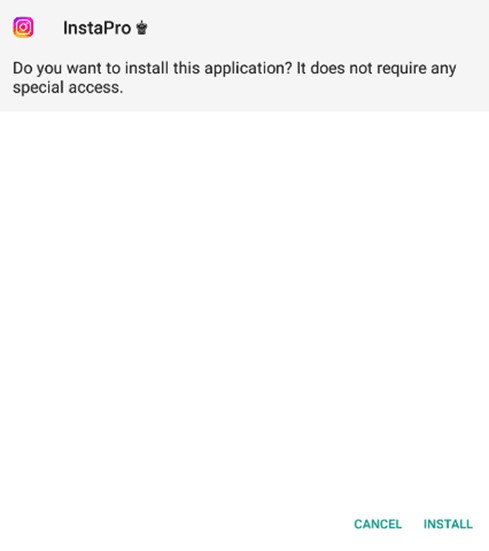 5th Step: After installation completes, click on Done to exit.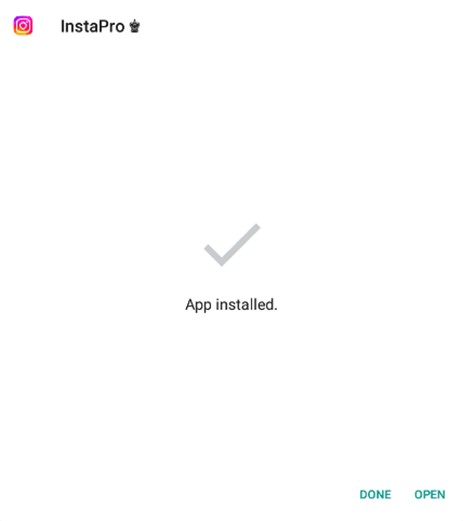 6th Step: That's it.
You can now start using the Insta Pro app on your Android phone. If you are first time switching from stock Instagram to Instagram Pro, you might need a get-started guide. Let us help you with that as well.
How to Get Started with Insta Pro For the First Time
Unlike the case with WhatsApp and GBWhatsApp, all your Instagram chats go with you when you switch from Instagram to Insta Pro. There is no need to back up chats and restore. Also, you can use your Prime account because the app has advanced ban protection. So, all you need to do is,
1st Step: Grab your default Instagram login credentials.
2nd Step: Launch the Insta Pro app from the app drawer.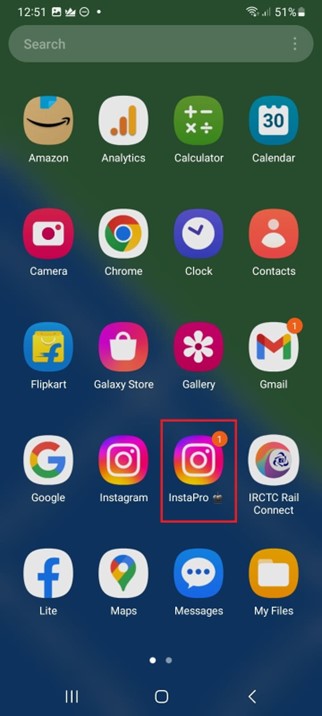 3rd Step: Enter your login details and press Login.
4th Step: If you don't remember them, you can also use the option "login with Facebook".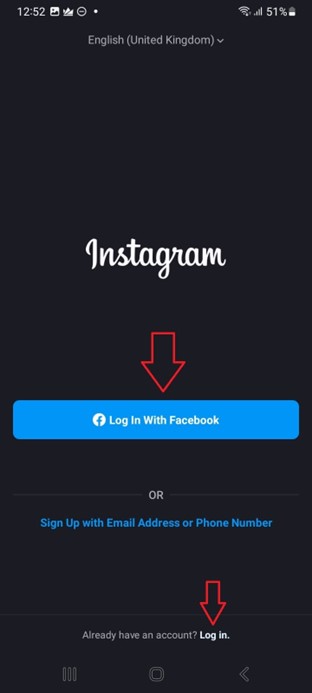 5th Step: Allow InstaPro to access your Facebook account by clicking the "Continue as your name" button.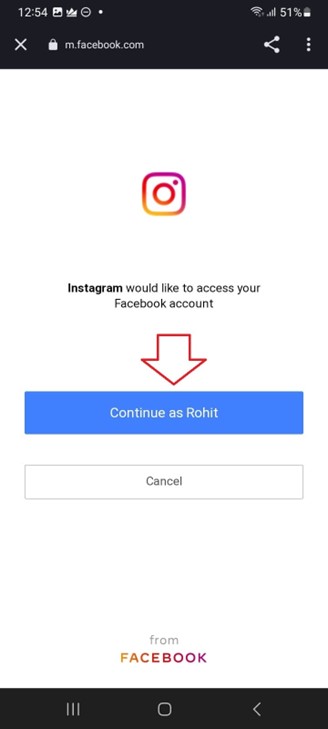 6th Step: Once you're logged in, the settings of Stock Instagram will be as it is. Like on their prime spot.
7th Step: To explore Insta Pro settings, there is an additional option under the settings for that. Go ahead and click to explore.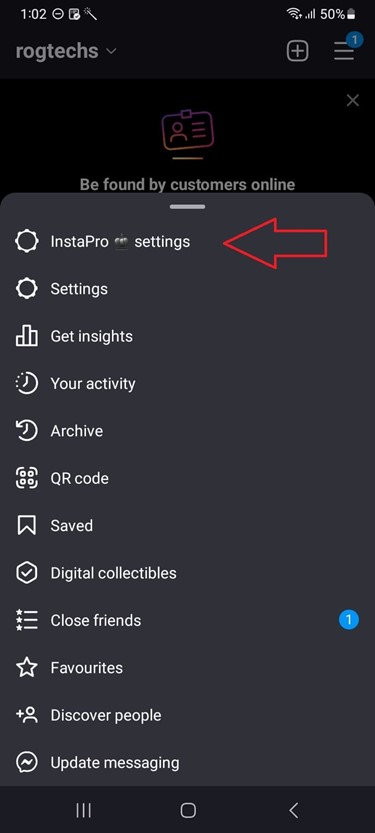 8th Step: You're good to go now. Enjoy.
There are also some gestures and shortcuts available in Insta Pro, we have listed some of them below so you don't have to figure them out yourself.
Long press the Camera icon to on/off videos autoplay
Long press the Direct icon to on/off hide read tick
Tap and hold on any bio text to start copying
In the comments, click on copy for instant text copy
Click thrice on any media to instantly save
Long press the Home icon to open settings for developers
Long press on photos to zoom
Insta Pro for iPhone
If you are an iPhone or iPad user and want to use InstaPro for its numerous advantages then sorry to disappoint you but it is currently not available for your platform. SamMods has only made the APK version which is supported for the Android platform.
But in the future, the developer might release it for iOS as well. If that ever happens in the future, we will of course let you know.
Insta Pro FAQs
Is Insta Pro Safe for use?
InstaPro is developed by a well-known third-party developer named SamMods who has been continuously providing updates with security patches, base version updates, etc.
It also has an anti-ban feature in-built that protects from an account ban. Also, there has been no data-leak news about it. Messages are also end-to-end encrypted.
So, by looking at all the deciding metrics, InstaPro is quite safe to use.
How to install Insta Pro Latest version?
InstaPro is a third-party app that isn't available on App Store.
It can only be updated manually by downloading and installing the latest APK file on top of the old version. I.e once you receive a new version available notification in the app, you can visit direct to download the latest version.
Any alternative of Instagram Pro?
Yes, there are similar Instagram Mods available that are developed by third-party developers. For example, GB Instagram.
There are two more Insta Pro alternatives that are developed by the SamMods and those are Insta Thunder and Insta Pro 2.
Finally
In
the
modern
era,
features
are
more
prevalent
in
apps
than
ever
before
because
they
are
what
users
depend
on
for
their
daily
lives.
Instagram
is
one
of
the
most
widely
used
social
media
platforms,
but
it
still
only
provides
mediocre
features
that
are
available
on
almost
every
other
social
platform
today.
On
the
other
hand,
InstaPro
is
packed
with
additional,
powerful
features
and
includes
all
of
the
Instagram
featurs.
It
will
be
impossible
for
a
typical
user
to
ever
consider
switching
back
to
the
stock
Instagram
after
using
InstaPro.
With
its
amazing
features,
it
offers
privacy
control,
removes
limitations,
and
enhances
the
user
experience
by
being
ad-free.
That's
basically
it
for
Instagram
Pro.