Holi With Technology & Health
At first glance, it may seem like Holi, the festival of colors celebrated in India and other parts of the world, has little to do with technology.
After all, the festival has been around for centuries, long before the advent of computers and smartphones. However, a closer look reveals that technology and Holi are more closely linked than you might think.
In this article, we will explore how technology has transformed the way we celebrate Holi, from the way we share greetings to the way we play with colors. We will also look at some of the ways that technology can enhance the Holi experience and how Holi is good for Health, and how it can be used to promote the festival around the world.
One of the most noticeable ways that technology has changed Holi is in the way we send greetings. In the past, people would exchange traditional cards or simply wish each other in person. But now, with the rise of social media and instant messaging apps, digital greetings have become the norm.
From personalized messages to colorful GIFs and videos, technology has made it easier than ever to connect with loved ones and spread the Holi cheer. And with the pandemic forcing many of us to celebrate from a distance, digital greetings have become even more important.
Another way that technology has revolutionized the Holi experience is through the use of colorful apps. There are now countless apps available that allow users to apply virtual colors to their photos and videos, creating a fun and festive effect.
These apps not only make it easy to share Holi-themed content on social media, but they also offer a way to engage with the festival even if you can't celebrate in person. And for those who want to take things a step further, there are even apps that allow you to create your own virtual Holi celebrations, complete with music, dancing, and colorful visuals.
Smart devices have also had a significant impact on the way we celebrate Holi. From smart lighting systems that can be programmed to change colors to smart speakers that can play festive music on demand, technology has made it easier than ever to set the mood for a Holi celebration.
And with the rise of voice assistants like Alexa and Google Home, you don't even need to lift a finger to create a festive atmosphere. Simply ask your smart device to play Holi music, turn on the lights, and even order some festive snacks and drinks.
In recent years, technology has also made it possible to attend virtual Holi events from anywhere in the world. From live-streamed concerts to online workshops on Holi traditions and crafts, there are now countless opportunities to celebrate the festival online.
And with the pandemic still affecting large gatherings, virtual events have become an essential way to keep the Holi spirit alive. Not only do they allow people to connect with others who share their love for the festival, but they also offer a way to learn more about Holi and its rich cultural heritage.
Finally, technology has also played a crucial role in promoting Holi around the world. From social media campaigns to virtual tours of Holi celebrations in India, technology has made it easier than ever to share the festival's message of love, unity, and joy with people from all walks of life.
And with the rise of influencer marketing, brands are increasingly using Holi as a way to connect with consumers and promote their products. From Holi-themed ad campaigns to product launches timed to coincide with the festival, technology has made it possible for businesses to capitalize on the growing popularity of Holi and its message of inclusivity and celebration.
---
Celebrated annually in the spring season, Holi Festival is one of the most popular Hindu festivals that is known for its vibrant colors, music, and dance.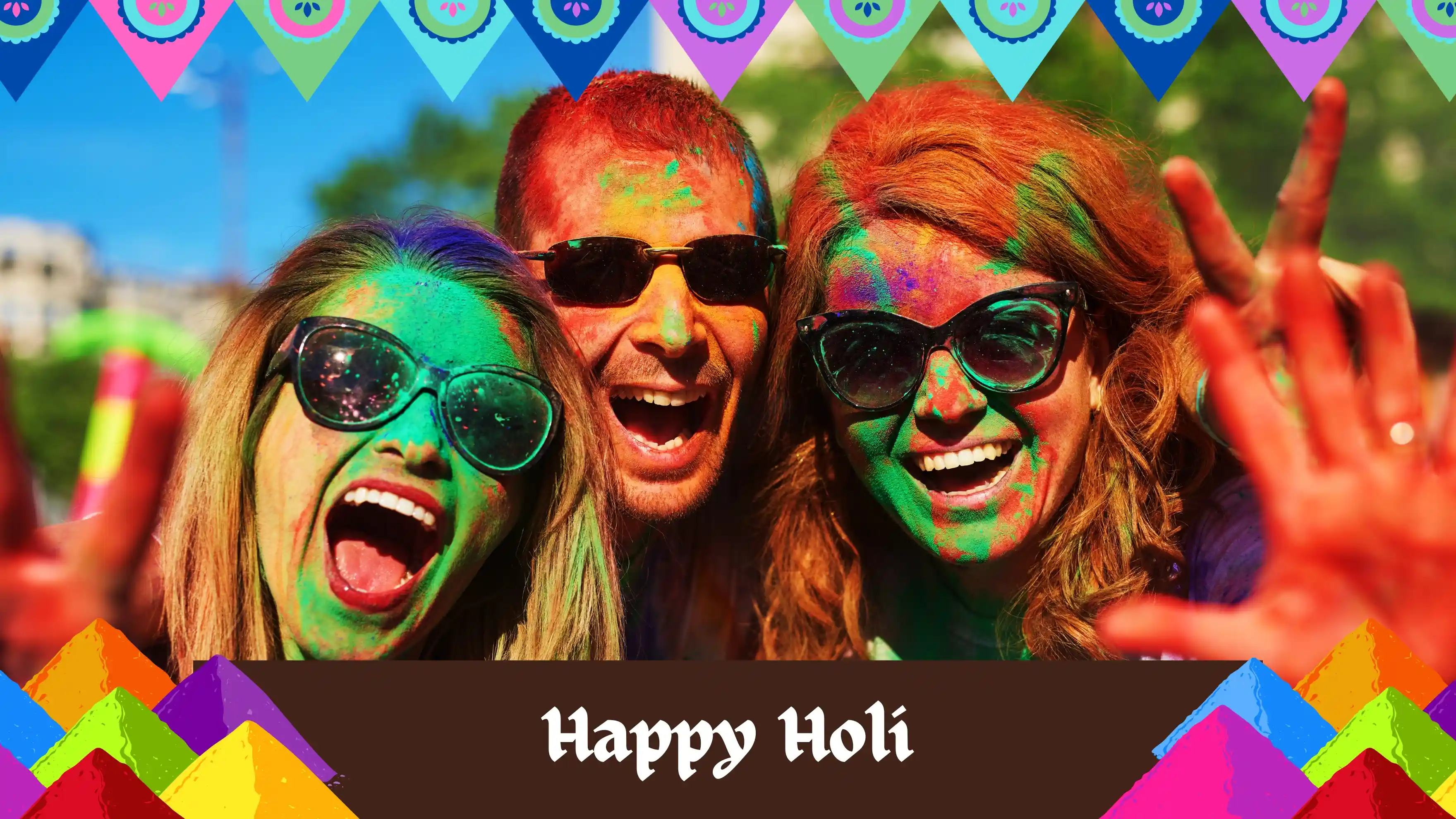 Holi signifies the victory of good over evil, and it is celebrated with immense joy and enthusiasm by people of all ages across the world.
---
Lets  explore the various ways in which Holi Festival is healthy for you.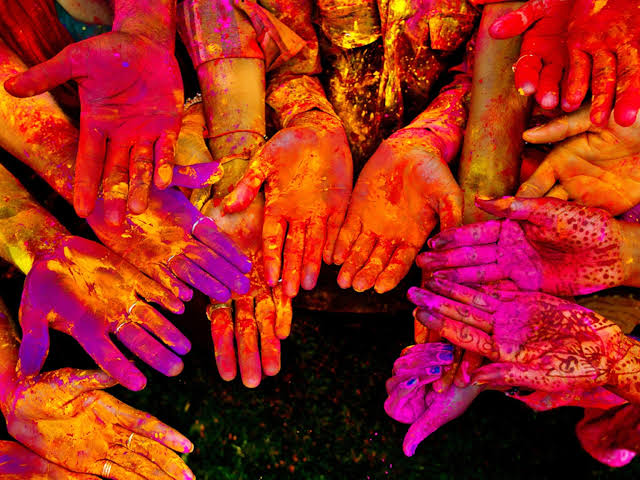 Improves mood: Step out to be part of the colourful and cheerful vibe of Holi if you are experiencing mood troubles. Playing with colours can brighten up your mood. The happy atmosphere and fun activities can help you feel happier.
Gives you an opportunity to interact: Conversations can have a healing effect. Playing Holi with friends, family and new people gives you an opportunity to talk. When everyone is covered in bright colours, it's easier to loosen up and communicate with each other and have fun.
Promotes bonding: Playing Holi can help promote bonding and teamwork. When everyone is working together to create a beautiful work of art, it can help team members bond and work together more efficiently.
Boosts happy hormones: Playing Holi, eating sweets and having fun together produces happy hormones and this helps in making the mood and atmosphere light and happy.
Colour therapy: Last but not the least, the use of colours during Holi is extremely therapeutic as every colour is associated with different aspects of energy, emotions and transformational ability. Colours are everywhere around us and have a deep psychological, physical and emotional impact on us. For instance, the colour red brings in more stability while blue aids in expression and communication and yellow boosts power and visibility.
Burning Calories: Holi is a highly energetic festival, which involves dancing, running, and playing with colors. All these activities can help burn a significant number of calories. This can be particularly helpful for those looking to lose weight or maintain a healthy body weight.
Detoxification : The colors used during Holi are made from natural ingredients such as flowers, herbs, and fruits. These natural ingredients have detoxifying properties that help to cleanse the body. The colors help to open up the skin pores and remove toxins from the body, promoting overall health.
Positive Emotions: The act of playing with colors and water is inherently joyful, which can help promote positive emotions such as happiness, love, and laughter. The sense of community and togetherness created during Holi celebrations can also have a positive impact on mental health.
 Boosting Confidence: Holi celebrations involve people of all ages, genders, and backgrounds, and everyone is encouraged to participate. This inclusivity can help boost confidence and self-esteem, particularly for those who may feel excluded or marginalized in other areas of life.
Cleansing of Negativity: In Hindu mythology, Holi marks the victory of good over evil. The festival is associated with the burning of Holika, a demoness who represents negativity and evil. The bonfire symbolizes the burning of negative thoughts and emotions, leaving space for positivity and goodness.
Celebration of Goodness: Holi is a celebration of the arrival of spring, a season associated with new beginnings, growth, and positivity. The festival is a reminder to celebrate the good in life and to let go of negativity and grudges.
---
Significance of Colors
Each color used during Holi has its significance .During Holi, people come together to smear each other with colored powders and water, dance, sing, and feast  on traditional sweets and snacks.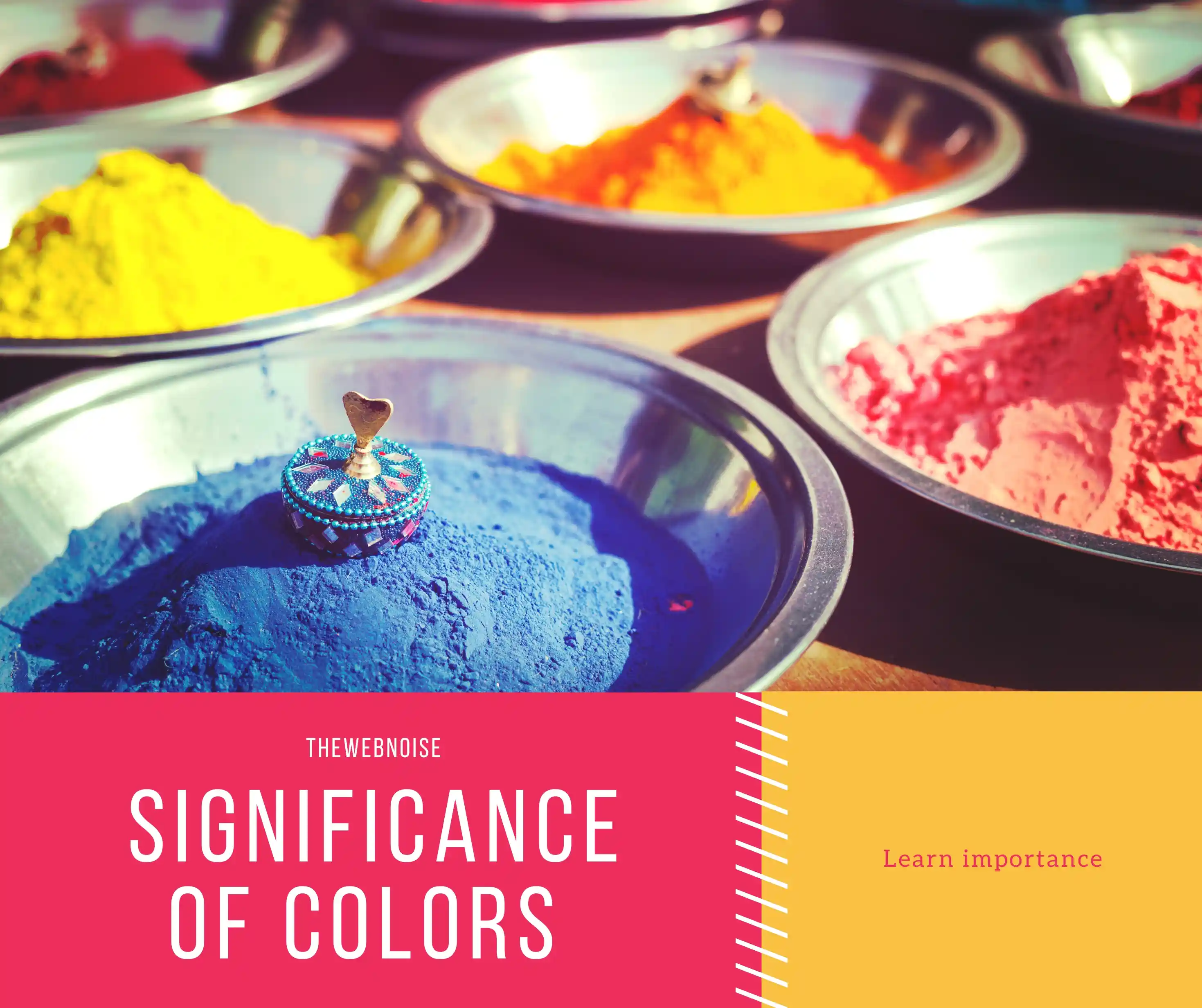 But did you know that each color used in Holi has a deep symbolic meaning? Now we'll explore the significance of the colors used in Holi and what they represent.
---
Red

– Love and Fertility
Red is one of the most prominent colors used during Holi, and it symbolizes love, passion, and fertility. According to Hindu mythology, Lord Krishna, the blue-skinned god, was jealous of his lover Radha's fair complexion. In an attempt to impress her, he playfully smeared her face with red powder. The act of smearing red powder on each other's faces during Holi is said to be a tribute to this legendary love story.
Yellow

– Knowledge and Happiness
Yellow, the color of turmeric, represents knowledge, wisdom, and happiness. It is believed that Lord Vishnu, the preserver of the universe, incarnated as Narasimha, a half-man, half-lion figure, to protect his devotee Prahlada from his evil father.
Narasimha's body was yellow, and his face was black. During Holi, people smear yellow powder on each other's faces to honor this powerful divine presence.
Blue

– Calmness and Serenity
Blue is the color of Lord Krishna, and it symbolizes calmness, serenity, and trust. Krishna is often depicted as playing his flute under a tree with his beloved Radha and other gopis (cowherd girls) surrounding him.
His blue complexion represents the infinite and eternal nature of the universe. During Holi, people wear blue clothing and use blue powder to pay homage to the playful and mischievous nature of Lord Krishna.
Green – New Beginnings and Harvest
Green is the color of new beginnings, harvest, and prosperity. In Hindu mythology, Lord Vishnu, as Vamana, the dwarf avatar, asked for three steps of land from the demon king Bali. Bali agreed, but Vamana grew in size and covered the entire universe in two steps. For his third step, Bali offered his head to Vamana, who placed his foot on Bali's head and sent him to the netherworld. This act is celebrated during Holi by wearing green clothing and smearing green powder on each other's faces.
Pink – Romance and Happiness
Pink is the color of romance, happiness, and friendship. It is believed that Radha, Krishna's lover, had fair skin with a pink tint. During Holi, people mix pink powder with water to create a fun and festive atmosphere. Pink also represents the blossoming of flowers, signaling the arrival of spring and new beginnings.

FAQs
Q. What is the significance of Holi?
A. Holi celebrates the arrival of spring and the victory of good over evil.
Q. Why do people use colored powders during Holi?
A. The use of colored powders during Holi is a way to honor Hindu mythology and the different gods and goddesses.
HAPPY HOL

I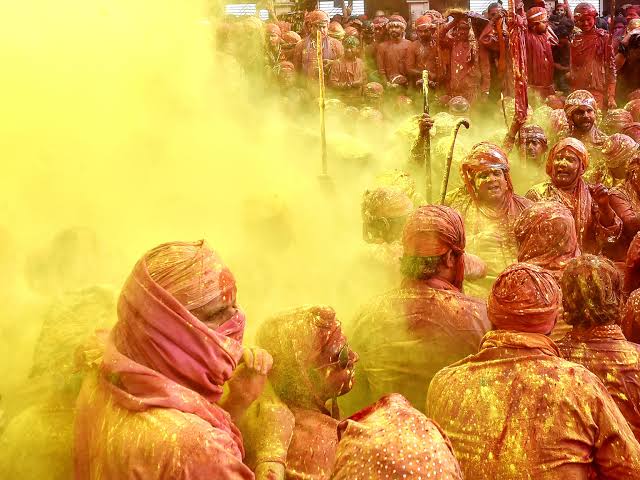 Stay tuned for more updates….