Gaming Laptop can be great buy, if you know the answer of the below question.
1.

How much can you spend?
2.What type of CPU and GPU are you looking for?
3.What kind of screen are you looking for?
Gaming laptops have been among the most exciting PCs available for a few years now.
Naturally, they have become lighter and thinner, but they have also significantly increased in power and efficiency, making them suited for both work and play.
They have incorporated some daring features, such as rotating hinges and customization that is almost desktop-like.
PC manufacturers can be more creative with gaming laptops.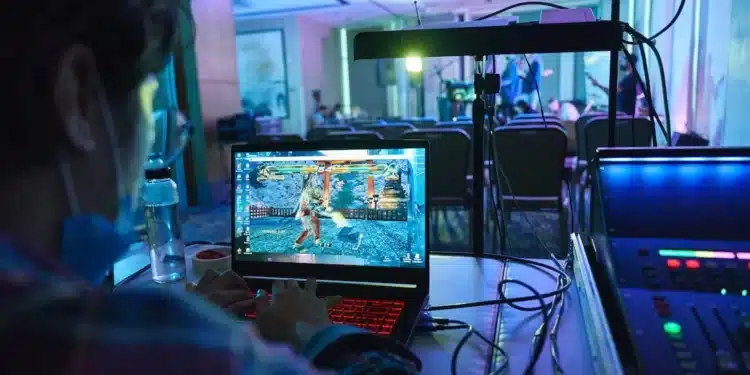 It might make more sense to get a gaming notebook over a workstation similar to the MacBook Pro if you're a professional in the market for a powerful new computer and enjoy playing a few games of Apex Legends occasionally.
For 3D rendering and video encoding, you'll still have more than enough power, plus you might pay less overall. From affordable options like the Dell G15 to high-end laptops like the Razer Blade 15, we'll help you determine which gaming laptop is perfect for you.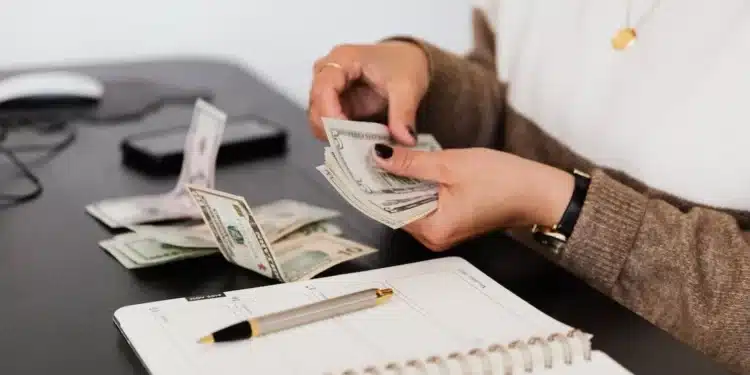 How much can you spend?
Your willingness to spend money determines both the beginning and the end of your laptop shopping process.
Not surprising at all. The good news is that gamers of all financial abilities have many selections. Particularly, the Dell G15 series is one of the excellent entry-level PC gaming options available for less than $1,000.
A budget gaming laptop in this price bracket will undoubtedly feel a little flimsier than more expensive ones, and it is possible that it will be less powerful overall and have less RAM.
However, they should be capable of running the majority of games at 1080p at 60 fps per second, which is the very minimum you should expect from any system.
When you start looking at the top gaming laptops in the mid-range pricing category, which start at $1,000 and up, things get interesting.
The ASUS Zephyrus ROG G14, one of our favourite gaming notebooks, will then start to appear. Overall, you should anticipate considerably superior build quality than low-cost laptops (metal cases! ), greater graphics performance, and enough RAM and storage to tackle the most demanding games.
These are the gaming systems that we'd advise for the majority of users because they'll let you play and work for years without the need for an upgrade.
You can begin to think about more expensive solutions like Razer's Blade if you're ready to spend $1,800 or more.
Expect flawlessly polished enclosures, the most cutting-edge hardware available, and absurdly slim designs.
The Area 51m from Alienware is a massive, highly customisable beast that may cost up to $4,700.
Few individuals require a device of that calibre, but if you're a gamer with extra money to spend, it might be worthwhile to carefully examine some of these more expensive systems.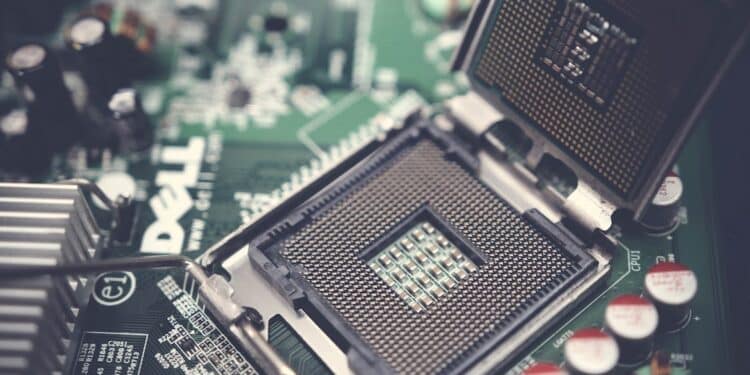 What type of CPU and GPU are you looking for?
Previously, the solution was as easy as purchasing an Intel processor with an NVIDIA GPU. However, AMD has improved its Ryzen notebook CPUs in recent years, making them better suited for handling many tasks at once (like streaming to Twitch while destroying fools in Fortnite).
However, it's excellent to have good Ryzen AMD alternatives accessible, especially because they're frequently less expensive than equivalent Intel models.
Intel reacted with its remarkable 12th and 13th-gen CPUs.
On the other hand, AMD is still catching up in the area of visual cards. In laptops like ASUS's ROG Strix G15, its Radeon RX 6000M GPU has been a terrific performer, but it falls short of NVIDIA in terms of more recent technologies like ray tracing.
(AMD's latest Radeon 7000 series mobile GPUs have yet to be tested.) A Radeon-powered notebook can at the very least rival the NVIDIA RTX 3070 and 3080 GPUs' overall gaming performance.
You're probably better off great buying an NVIDIA video card if you want to future-proof your purchase or if you simply want to see how much better ray tracing can make your games seem.
They're in a lot more systems, and it's obvious that their ray tracing technology is better optimised.
The company's DLSS technology, which use AI to upscale games to higher resolutions, is also included in NVIDIA GeForce RTX GPUs.
You'll be able to play Destiny 2 in 4K with higher frame rates thanks to that. If you want to benefit from a display with a high refresh rate, that is helpful.
NVIDIA's older RTX 30-series GPUs are still widely available in laptops today, and they still offer excellent performance.
But since the more recent RTX 40-series devices support the more recent DLSS 3 technology and provide a multitude of performance improvements, it may be wise to go with them just to be safe.
(If you're searching for the best discounts, there are certainly some fantastic RTX 3070 laptops available.)
The entry-level RTX 4050 is a good place to start, but if you want to maximise your framerates on faster screens, we'd advise upgrading to a 4060 or 4070.
Although the RTX 4080 and 4090 are both highly powerful graphics cards, most consumers find their systems to be far too pricey.
It's important to note that NVIDIA's more potent desktop GPUs are not directly equivalent to its mobile GPUs.
Voltage adjustments are another way that PC manufacturers can improve gaming performance in a slimmer case. Basically, even though every notebook has the same GPU, don't be shocked if they perform very differently.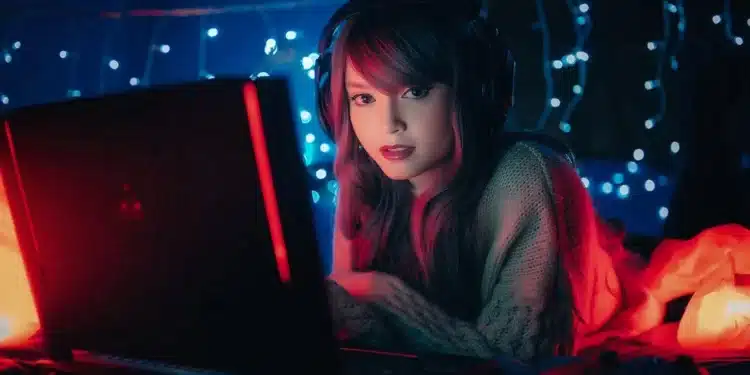 What kind of screen are you looking for?
When comparing gaming notebooks, a smart place to start is the screen size. Generally speaking, 15-inch laptops offer the finest combination of immersion and portability, whereas larger 17-inch ones are heavier but, obviously, have larger screens.
Although there are several 13-inch gaming laptops available, such as the Razer Blade Stealth, strangely you'll frequently pay more for those than somewhat larger 15-inch choices.
A lot of 14-inch choices are also available, such the Blade 14 and Zephyrus G14, which are more substantial than 13-inch laptops while still being rather portable.
Today, there are many factors to take into account in addition to screen size. Refresh rates are just one.
The majority of monitors refresh their screens vertically at a rate of 60 hertz (Hz). Since NTSC TVs in black and white, that standard has been in use. However, displays have changed a lot in recent years.
The basic minimum for any gaming laptop today is a 120Hz 1080p screen, however faster options include 144Hz, 240Hz, and even 360Hz displays. Making everything on your display appear as smooth as possible is the goal of all of this.
Higher refresh rates for video games also aid in removing screen tearing and other artefacts that could interfere with your frag fest.
Additionally, it simply results in a better viewing experience for everything else. On a 120Hz or faster panel, even scrolling a webpage is noticeably different than doing so on a 60Hz screen.
Everything glides smoothly, giving the impression that you are reading a glossy paper magazine, as opposed to seeing a frenetic wall of text and images.
Increasing the frame rate makes the game appear considerably more responsive, which gives some players a little advantage.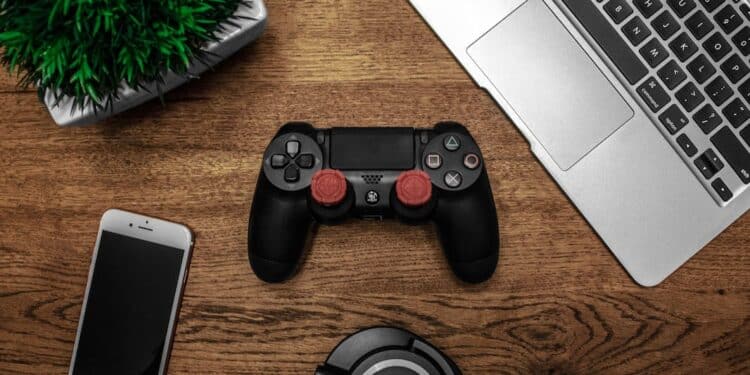 Not to add to the complexity, but you should also be aware of AMD's FreeSync and NVIDIA's G-SYNC.
Both of these adaptive sync systems can sync the refresh rate of your screen with the game's framerate.
This also contributes to less screen tearing and a smoother gaming experience. They are not required, but they can nevertheless provide a modest visual enhancement. Think of them as lovely additions on top of a high refresh rate display.
One more thing: The majority of these recommendations pertain to LCD panels rather than OLEDs.
OLED is a fantastic choice for TVs, but choosing one for a gaming laptop is a little trickier. Although some versions offer 90Hz, they are often restricted to 60Hz.
A 120Hz or 144Hz screen's smoothness won't be visible, though. OLEDs can also be purchased as 4K or 3.5K panels, although running games natively at those resolutions requires a powerful GPU.
They have the best black levels and contrast on the market, and they look amazing, but we believe that most gamers would fare better with an LCD.
---
Additionally, purchase RAM that is at least 16GB. Additionally, 32GB is a good option if you intend to multitask a lot when streaming.
---
1.Storage is a major issue. Nowadays, I'd advise going for a 1TB M.2 SSD, which should provide enough room to accommodate a few huge games, such as Destiny
2. (If you have the money to upgrade to a 2TB SSD, though, do it.) Standard SATA drives, which are much less expensive than M.2s and have a larger storage capacity, can also fit in some laptops.
3.Before you purchase a system, try it out. I'd advise buying your ideal gaming laptop from a store like Amazon or Best Buy that has a straightforward return policy. 
4. Gaming laptop headphones and PC Pad.
Overall- ASUS ROG Zephyrus G14 is the best.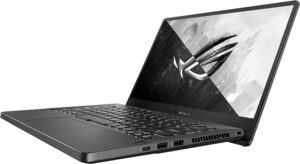 While the G14 has jumped in price since it debuted, it's still one of the best gaming notebooks around, especially since ASUS has finally added a built-in webcam.
We really enjoy the Zephyrus G14, in case you couldn't tell by this point. It is a startlingly light 3.5 pounds and includes AMD's new Ryzen processors combined with Radeon 6000M graphics; for $1,400, we recommend the Ryzen 9 variant with an RX 6700M.
Even though its 14-inch screen is a little smaller than those of our other picks, it still looks beautiful and has a quick 144Hz refresh rate.
We really enjoy its retro-futuristic look (for added flare, certain models incorporate small LEDs on the rear panel).
Even though the price of the G14 has increased since it was first released, it is still among the best gaming laptops available, especially now that ASUS has at last included a built-in webcam.
Dell G15 has the best price.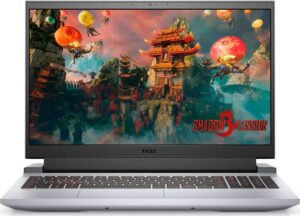 We've been fans of Dell's G5 line ever since it first appeared a few years ago. Now dubbed the G15, it starts at under $1,000 and, while not the most powerful gaming laptop, features all of the latest hardware.
Since the G5 range from Dell initially debuted a few years back, we have been admirers of it.
It is now known as the G15, starts at less than $1,000, and even while it isn't the most powerful gaming laptop, it has all the most recent gear, including RTX 40-series graphics cards from NVIDIA and 13th-generation Intel CPUs. (Some versions also feature AMD Ryzen CPUs.)
Although it weighs more than five pounds, this inexpensive gaming laptop is a good one overall. If you upgrade to the RTX 4060, you can even push it into the realm of mid-range gaming.
Razer Blade 15 is the best high-end gaming laptop.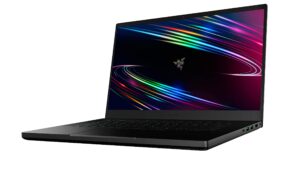 Razer continues to do a stellar job of delivering bleeding-edge gaming hardware in a sleek package that would make Mac users jealous.
The cutting-edge hardware that Razer continues to offer in a stylish design that would make Mac users envious is still excellent.
The Blade 15 includes the NVIDIA RTX 4080, 13th-generation Intel CPUs, and quick quad-HD screens, so it pretty much has everything you could desire.
Recommendation from us? Think about the $2,500 model with the Quad HD 165Hz screen and RTX 4060 GPU.
Going with a less expensive notebook will allow you to save some money, but they won't feel as high-quality as the Blade.
An additional choice is the Acer Predator Triton 500 SE.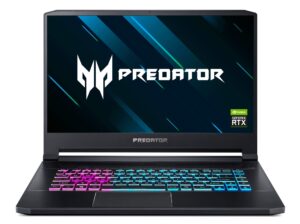 The Triton 500 SE has the same sturdy build quality we've come to expect from Acer's gaming laptops, and it has most of the standard features you'd need.
While Acer has presented some crazier notions in the past, such as the Triton 900 with a 360-degree hinge, the Triton 500 is a more practical and reasonably priced choice.
This year, the screen size has been increased to 16 inches, providing you a more immersive gaming experience.
It is slightly over five pounds, reasonably slim, and supports both RTX 30-series GPUs from NVIDIA and Intel's 11th generation of processors.
The Acer's construction is as solid as ever, and it includes the majority of the features you'd expect in a gaming laptop.
Alienware m18 is the best huge gaming laptop.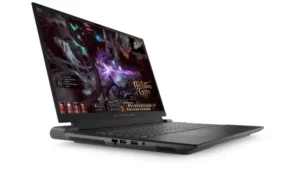 Alienware's m18 is its biggest gaming laptop ever, and it packs in just about everything we'd want.
The Alienware m18 is the company's largest gaming laptop to date and includes almost everything we could possibly need.
It may be fitted with the quickest CPUs from Intel, AMD, and NVIDIA, including the 4090. For an 18-inch laptop, the base configuration with an RTX 4060 starts at $2,100, which is shockingly reasonable.
Alienware's m-series gaming laptops have always been a favourite of ours, but this year they're improved thanks to better cooling and a somewhat more streamlined appearance.
CherryMX mechanical keys are another option; they provide a desktop-like gaming and typing experience.
The best dual-screen option is the ASUS ROG Zephyrus Duo 16.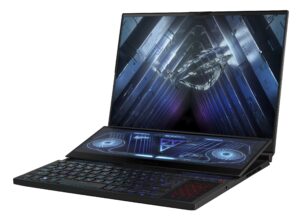 If a single 17-inch screen isn't enough, or you want a mobile setup that's closer to a multi-monitor desktop, ASUS's unique gaming laptop might be your best bet.
You are aware of your requirement for a dual-screen laptop if: Maybe you need more than just a single 17-inch screen, or you want a mobile solution that is more akin to a multi-monitor desktop.
The Zephyrus Duo 16 is the ideal laptop for you in that situation. Because of its strength and additional 14-inch screen, you can effortlessly multitask while working diligently and playing video games.
It also features the most recent hardware available, including NVIDIA's RTX 4000 GPUs and AMD's new Ryzen processors. Although it's not at all portable, a true multitasker won't care.
If you have more idea about gaming laptop , you can share in comments box .