Latest updates Google Pixel Software Tracker
Sept-23
Android's September security update fixes actively exploited zero
Another bit of good news is that your Android device will let you know when the update is ready for your phone and the only thing you'll have to do is restart the device when prompted. You should immediately do so as soon as you see the notification popup.
If you are unsure as to what security patch your phone has, go to Settings > System > System Update, where you'll see both the version of Android on your device and the security update that has been applied.
On my Pixel 7 Pro, I'm still on the August security update but I assume the September update should be available any day.
As far as the rest of the September security update, there are three vulnerabilities marked Critical, which are as follows (listed by CVE, Reference Type, Severity, and Android version):
RCE (Remote Code Execution) vulnerabilities are of particular concern because they make it possible for threat actors to execute malicious code without having direct access to your device.
For September, Google has issued not one but two sets of patches but only the second patch (2023-09-05) addresses all of the security issues found in the security bulletin as well as patches for third-party, proprietary code (such as a bug found in the Qualcomm WLAN firmware).
This particular issue is a zero-day vulnerability, which means it was previously unknown to anyone capable of fixing it and, until developers can mitigate the issue, threat actors can exploit it.
This zero-day vulnerability makes it possible for bad actors to escalate privileges without requiring user interaction.
Before you get too concerned, there are a couple of things to note. First, a vulnerability marked High is not the most severe issue. Critical is worse than High (more on that in a bit). 
AUG-23
In the meantime, get ready for an upgrade on the Pixel 4a through the Pixel 7 Pro, Pixel 7a, Pixel Fold, and Pixel Tablet. Android 14 may arrive later this month.
The Pixel Watch is likely to receive its August upgrade as well. These upgrades should soon be available over-the-air, and if you want, there are photos you can flash to obtain them even faster.
Here are the remaining information regarding the Pixel August update for those who are interested. The rollout has started.
August Google Pixel update builds
Global
Pixel 4a:              TQ3A.230805.001

Pixel 4a (5G):    TQ3A.230805.001

Pixel 5:                TQ3A.230805.001

Pixel 5a (5G):    TQ3A.230805.001

Pixel 6:                TQ3A.230805.001

Pixel 6 Pro:         TQ3A.230805.001

Pixel 6a:              TQ3A.230805.001

Pixel 7:                TQ3A.230805.001

Pixel 7 Pro:         TQ3A.230805.001

Pixel 7a:              TQ3A.230805.001

Pixel Tablet:       TQ3A.230805.001.B1

Pixel Fold:           TQ3C.230805.001.A3

Pixel Watch:       RWDC.230805.001
Japan
Pixel Fold:          TQ3C.230805.001.A4
T-Mobile & MVNOs, Google Fi (US)
Pixel 6:                TQ3A.230805.001.A1

Pixel 6 Pro:         TQ3A.230805.001.A1

Pixel 6a:              TQ3A.230805.001.A1
Verizon & MVNOs (US)
Pixel 4a:              TQ3A.230805.001.A2

Pixel 4a (5G):    TQ3A.230805.001.A2

Pixel 5:                TQ3A.230805.001.A2

Pixel 5a (5G):    TQ3A.230805.001.A2

Pixel 6:                TQ3A.230805.001.A2

Pixel 6 Pro:         TQ3A.230805.001.A2

Pixel 6a:              TQ3A.230805.001.A2

Pixel 7:                TQ3A.230805.001.A2

Pixel 7 Pro:         TQ3A.230805.001.A2

Pixel 7a:              TQ3A.230805.001.A3

Pixel Fold:          TQ3C.230805.001.B2
August Google Pixel update bug fixes
Bluetooth
Fix for issue occasionally causing Bluetooth keyboards to not connect *[Pixel Fold, Tablet]
User Interface
Fix for issue causing certain Live Wallpapers to display incorrectly in different device orientations *[Pixel Fold]

Fix for issue occasionally causing lock screen to not respond *[Pixel Fold]

Fix for issue occasionally causing home screen launcher search input to not register *[Pixel Fold]

Fix for issue occasionally causing flickering or glitches while in Hub Mode *[Pixel Tablet]
Again, Google should begin pushing these updates shortly over-the-air (Settings>System>System update).
July-23
What need to Know ?
Google's July 2023 security patch rolls out for the Pixel 4a to the Pixel 7a and also includes the latest Pixel Fold and Pixel Tablet.
Google includes a fix for battery and thermal performance in this update, though it's unclear if it will solve problems users faced in June.
Several "high" and "critical" vulnerabilities were fixed for Pixels' framework and systems.
Google is beginning to roll out July's security update right on time in the first week of July.
Unlike June's patch, the changelog for the July 2023 security patch is pretty light but should hopefully correct a severe issue users reported last month. As usual, this month's update is available from the Google Pixel 4a up to the Pixel 7a. Globally, these devices will download firmware version TQ3A.230705.001. 
Two additional devices are involved this time around, the Pixel Fold and the Pixel Tablet, which will update to version TQ3C.230705.001.C1 and TQ3A.230705.001.B4, respectively.
Additional firmware versions for July in the U.S. for a couple of different carriers, as well as Japan, are shown below.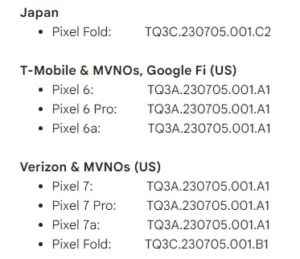 The standout fix in the light patch notes involves a fix for Pixel devices' batteries. As Google notes, a fix is rolling in to correct "battery usage or thermal performance in certain conditions" alongside some improvements to charging.
The second fix involves lock screen notification text occasionally appearing behind certain unlock UI elements.
June-23
Google's June 2023 Pixel Drop Update: New Features for Phones, Tablets, and Watches
In the final month of the quarter, Google lost no time in launching the newest Pixel feature drop update.
The Pixel Feature Drop for June 2023 has indeed been revealed. The new features included in this quarter's update are all intended to improve the Android experience on phones, tablets, and wear OS wearables.
As we explore the intriguing features of the new Pixel Feature Drop, prepare yourself.
Every three months, Google, which is known for its frequent upgrades, offers an impressive Pixel Feature Drop for Android devices.
This quarter's much-anticipated feature release has finally happened. Google consistently makes these upgrades available in the last month of each quarter, giving customers exciting new features to look forward to.
These features are gradually released to eligible devices in due course after being announced.
Get ready for an exciting lineup of new additions heading your way with the Pixel Feature drop upgrade in June 2023.
No matter what kind of Android device you own—a smartphone, tablet, or smartwatch—Google has something new in store for you. Let's now get into the long-awaited list of improvements that you will soon be able to use on your Android device.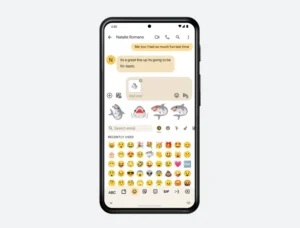 New Emoji Kitchen Combinations
One of Google Keyboard's intriguing features is Emoji Kitchen. Users can combine various emojis to make brand-new, amusing emoticons.
Google routinely releases new emojis for mashups as well. Google has included new aquatic-themed emojis like a shark, dolphin, and whale with the July Feature Drop Update.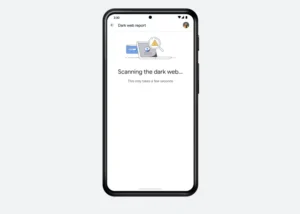 Dark Web Information
To see if their account address has been made public on the dark web, users can run a scan.
The report offers customers the necessary steps to take in order to guarantee the security of their accounts.
In the following months, this feature will be made available to users with Google accounts in more than 20 additional countries in addition to the US.
Users from the US can also check for extra details like their social security number.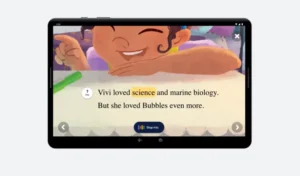 Reading Exercises
With the most recent feature drop, a new function became available that enables readers to immediately develop their vocabulary and comprehension abilities on their Android phone or tablet.
Reading ebooks on Google Play Books marked as "practise" can help users achieve this. They can also hear immediate feedback and pronunciate words.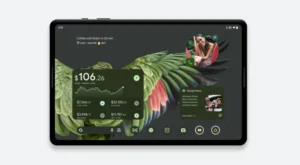 Added Widgets
Widgets can be used for far more than what most users do with them.
Three new widgets are being added by Google with the most recent major upgrade.
The Google Finance widget reveals graphs of chosen stocks, the Google News widget delivers curated daily news right on the homescreen, and the Google TV widget shows personalised Movies and TV Shows.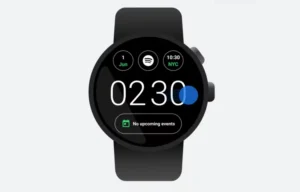 Spotify's newest tiles
This function is exclusive to smartwatches running Wear OS.
With the addition of new tiles and a watch face shortcut, Spotify for Wear OS makes it simpler and quicker to access your Spotify playlists on the smartwatch.
Card import into Google Wallet
Commuters may conveniently tap and ride by simply importing their SmarTrip and Clipper cards to Google Wallet. Currently, the San Francisco Bay Area and Washington, D.C., both offer this feature.
Access to Google Keep notes
On their Wear OS wrist, users can now quickly access their pinned Keep notes. Simply swipe through the tiles until you come across the Google Keep tile.
Other features that will be included in the June 2023 Pixel feature drop are already accessible. This is the list.
Nearby Share Beta for Windows: Yes, Nearby Share is now available for Windows, making it easy to transfer files between your Windows and Android devices.
Fast Pair: Android phones and tablets can easily detect Matter-enabled devices and prompt you to set up the device easily.
Add Shorts to Playlist: Users can now save YouTube Shorts to playlists, just like YouTube videos.
May-23
Android's May security update is rolling out now to Google Pixel phones
Although Google is now operating two beta programmes simultaneously—one for Android 14 and one for the June Pixel Feature Drop—the company has continued to release upgrades for the stable channel.
Even if new features can be entertaining, security updates are more crucial in terms of functionality.
To address vulnerabilities in Android 13 for Pixel phones, the May 2023 update has just been released.
Google began spreading the update on the first Monday of the month, as is custom. The Pixel 7 Pro's touch screen response lag has finally been fixed in this new update, which features a few bug patches specifically for Pixel phones.
The update's version number on all supported global variants is TQ2A.230505.002.
The May Android Security Bulletin, which lists solutions for vulnerabilities in Android as a whole, was also released by Google.
The May 1 and May 5 patch levels make up this month's bulletin. The first patch level comprises remedies for Android OS vulnerabilities, while the second addresses vendor-specific vulnerabilities.
Google does this to make it simpler for different phone OEMs to include these updates in their own monthly patches.
A total of 16 updates for common vulnerabilities and exposures (CVEs) in the Android system and framework are included in the May 1 bulletin.
The May 5 patch level also addressed two Pixel-specific CVEs and patched 29 vendor-specific CVEs. None of the 47 CVEs that have been patched up overall are considered critical.
Apr-23
The monthly Pixel update schedule might be a thing of mystery these days, but we're still here to tell you the minute an update drops.
The April 2023 Google Pixel update has now done just that.
Google hasn't met its first-Monday schedule and is instead on the second month of a second-Monday rollout.
We aren't sure if this is the new norm or not, but for now we can simply tell you that Google has (or will in a second) posted April factory image and OTA 13.0 files for all of the active Pixel phones, including the Pixel 4a, Pixel 4a 5G, Pixel 5, Pixel 5a, Pixel 6 and Pixel 6 Pro, Pixel 6a, Pixel 7, and Pixel 7 Pro.
The over-the-air update for April's patch is said to start rolling out today and will continue "over the next week in phases depending on carrier and device."
In other words, if you do not see it this very minute, give it some time.
This April update contains few bug fixes that we've detailed here.
Global
Pixel 4a: TQ2A.230405.003

Pixel 4a (5G): TQ2A.230405.003

Pixel 5: TQ2A.230405.003

Pixel 5a (5G): TQ2A.230405.003

Pixel 6: TQ2A.230405.003.E1

Pixel 6 Pro: TQ2A.230405.003.E1

Pixel 6a: TQ2A.230405.003.E1

Pixel 7: TQ2A.230405.003.E1

Pixel 7 Pro: TQ2A.230405.003.E1
T-Mobile & MVNOs, Google Fi (US)
Pixel 4a (5G): TQ2A.230405.003.A2

Pixel 5: TQ2A.230405.003.A2

Pixel 5a (5G): TQ2A.230405.003.A2
TELUS (CA)
Pixel 4a: TQ2A.230405.003.B2

Pixel 4a (5G): TQ2A.230405.003.B2

Pixel 5: TQ2A.230405.003.B2

Pixel 5a (5G): TQ2A.230405.003.B2
Again, Google should begin pushing these updates shortly over-the-air (Settings>System>System update), but if you don't want to wait for Google and prefer to update manually, you will find each factory image or OTA file at the links below.
Links:
The "Android Security Bulletin—April 2023" was released at the usual time, but carriers (Verizon) have yet to detail.We're not expecting the April security patch to be a big upgrade since Android 13 QPR2 rolled out last month.
At best, there should be a handful of functional updates and other fixes. (The next Feature Drop/QPR3 is expected in June, with testing already underway.)
It comes as one user last week received an April 5, 2023 security update on their Pixel 5 ahead of schedule.
That was a one-off incident with no other reports (possibly internal testing), but it did reveal a build number that suggested nothing significant is likely to change.
Pixel security patches are released on the first Monday of the month at 10 a.m. PT.
Following last month's situation, Google has yet to release the April 2023 update for the Pixel 4a to 7 Pro.
As Monday winds down, the company has yet to post a "Google Pixel Update – April 2023" changelog, detail the "Pixel Update Bulletin—April 2023," or release full Factory/OTA Images.
There's no obvious reason for the update to not be released today (i.e., Monday isn't a public holiday in the US).
The last notable delay was in August 2022, when Google did not roll out an update on schedule because it was waiting for Android 13, which received a mid-month launch.
Before that, the Pixel 6 series was not updated at the same time as older phones, with Tensor likely at fault.
Google never explained why the updates were delayed last month, and the company didn't provide any guidance when we asked today about April.
Meanwhile, the Pixel Watch has yet to see its April 2023 update. Google has been updating the wearable on the same day/schedule as its phone.
Last month's sizable Pixel Watch release widely rolled out as part of the second wave alongside the Pixel 6, 6 Pro, and 6a.
Hopefully, the April delay is not as significant as last month's, and this doesn't become a habit for Google.
Mar-23
March Pixel Feature Drop with Android 13 QPR2 now rolling out
Following QPR1 in December, Android 13 QPR2 contains only a handful of visual tweaks.
The biggest is a large digital clock when you fully expand Quick Settings. (As you swipe down, note how the time in the top-left corner gets bigger.)
It appears in the top-left corner with day/date below, while your cellular carrier is now displayed above the row of status bar icons.Google has also replaced the battery percentage in Quick Settings with a remaining day/hour or "Until hh:mm" estimate.
Elsewhere, there are minor tweaks to padding in the Pixel Launcher and folders. Meanwhile, Now Playing appears higher up on the lockscreen, the "Emergency" calling button is larger, and the Google Home icon appears in Device controls.
March Feature Drop
On the Pixel 7 series, two eSIMs can be used for Dual SIM Dual Standby, and there's also support for T-Mobile 3CA, as well as 5G for the Pixel 6a and 7/Pro in India.Pixel 6 Pro owners can now switch to 1080p FHD+ "High resolution" from 1440p, while Night Sight on the Pixel 6 series is getting faster due to new and improved algorithms on the first-generation Tensor chip.
March-6Th
The March Pixel update with Android 13 QPR2
There are 31 security issues resolved in the Android 13 March patch dated 2023-03-01 and 29 for 2023-03-05.
As of the usual time, there are zero blogs from Google announcing the March update for Pixel phones, while there are no new factory or OTA images.
Even if the update doesn't roll out immediately for some phones, Google usually still details the release.
For example, the Tensor-powered Pixel 6 and 6 Pro in 2021 often received their updates — factory images and on-device OTAs — a few weeks after older phones.
This month's update has been hotly anticipated by Pixel owners since it contains the QPR2 Pixel Feature Drop where Google seeds fun new features to its devices.
There are two sets of security patches included in this bulletin: March 1, 2023 and March 5, 2023.
18 system vulnerabilities and 8 framework vulnerabilities were fixed in the March 1 update, and a further 5 vulnerabilities will be patched via Google Play System updates.The March 5 update mostly includes fixes for vendor-specific vulnerabilities: 21 for Qualcomm, 4 for Unisoc, and 3 for MediaTek, though there's also a patch for a CVE in Android's kernel.
Google notes that the worst issue being patched is a critical vulnerability in Android System that could lead to remote code execution.
Most vulnerabilities were marked as high severity, but a total of four were deemed critical: CVE-2023-20951 and CVE-2023-20954 in the Android System, as well as CVE-2022-33213 and CVE-2022-33256 in Qualcomm closed-sourced components.
March 2023 Pixel Feature Drop changelog leaks out
The Pixel Feature Drop now incorporates phones and the Watch. For the wearable, Fall Detection is the key/only addition mentioned.
It's rolling out via a server-side update, and is seeing wider availability as of last Friday.
Moving on to Pixel phones, there's nothing too major. The Pixel 6 and 6 Pro are benefiting from how "Night Sight can now give you low-light photos even faster." Google cites "new algorithms powered by the Google Tensor chip."
This "faster Night Sight" was first announced for the Pixel 7 and 7 Pro, with Google noting in October how "Night Sight now only needs half of the normal exposure time to produce beautiful low-light images that are sharper than before.
"Continuing on that trend is Direct My Call availability for the Pixel 4a to Pixel 5a. The last feature of note is that Health Connect is now a preloaded app on Pixel with the March 2023 Feature Drop.
This was a change made by Android 13 QPR2, with users previously having to download directly from the Play Store.
Google also mentioned the recent expansion of Magic Eraser to all Pixel phone owners as part of the Google One announcement last month.Google hasn't said anything publicly yet, but we'll keep you updated on the March Google Pixel update as we have more.
Feb-23
Google has released Android 13 QPR2 Beta 3.1 for Pixel devices that are enrolled in the beta program.Google has released a new update for its Android 13 Quarterly Platform Release (QPR), with version QPR2 Beta 3.1 arriving a week after the release of Android 13 QPR2 Beta 3.
While not a major release, the new update, T2B3.230109.004, does include some welcome bug fixes, that should be helpful to some that are running the beta.When it comes to QPR2 Beta 3.1, as mentioned before, there are minor bug fixes, with just two being mentioned in the release notes.
The first was an issue with the system Bluetooth module, which "could have allowed for possible out-of-bounds writes due to memory corruption."
The second issue was a fix for some missing Romanian translations in the system image.
As you can tell, nothing too serious when it comes to bug fixes, but these fixes are good nonetheless.
For those that are currently running the beta and wanting to update, you can go to the Settings menu, System section, and head into the System update area to start the update process.
The update can be performed over-the-air and it should be relatively quick, coming in at roughly 21MB.
Those that have never used a beta version of Android, you can always enroll your handset in the Android beta program to start the process.
Once enrolled, you'll be able to download the beta over-the-air, making it a simple and smooth process.
Of course, if you want to download it manually, you can do so, but make sure to back up any important data that you might have on the phone first.
The current beta is compatible with the Pixel 4a Pixel 4a 5G, Pixel 5, Pixel 5a, Pixel 6 series or Pixel 7 series devices.
With this latest release, we are one step closer to getting a stable version, that will be available to all users with compatible Pixel devices sometime in the near future.
Of course, if you want to jump ahead, you can always go for the Android 14 Developer Preview.
Jan-23
Google has started releasing the January 2023 software updates ..
Google to roll out January software update for Pixel devices running on Android 13.

The January 2023 update also includes bug fixes and improvements such as in `Display & Graphics` and `Biometrics`.

Last month, Google rolled out new features to Pixel devices, including new security and privacy settings.
Google announced that it has rolled out a `January software update` to all supported Pixel devices running Android 13. Starting from Tuesday, the rollout will "continue over the next few weeks in phases depending on carrier and device", the tech giant said in a support page.
Users will get a notification once the over-the-air (OTA) becomes available for their devices.
The January 2023 update also includes bug fixes and improvements such as in `Display & Graphics` and `Biometrics`.
Last month, Google rolled out new features to Pixel devices, including new security and privacy settings.
With these features, users were able to review their security and privacy settings, risk levels, and other information all in one place, making it easy to protect their phones, accounts and passwords.
This update also includes support for static spatial audio, which will provide surround sound for any connected headset. Another update will roll out to Pixel Buds Pro in the coming weeks that will enable spatial audio with head tracking.
Software versions
Global
Pixel 4a: TQ1A.230105.001

Pixel 4a (5G): TQ1A.230105.001

Pixel 5: TQ1A.230105.001

Pixel 5a (5G): TQ1A.230105.001

Pixel 6: TQ1A.230105.002

Pixel 6 Pro: TQ1A.230105.002

Pixel 6a: TQ1A.230105.001.A2

Pixel 7: TQ1A.230105.001.A2

Pixel 7 Pro: TQ1A.230105.002
Canada
Pixel 4a: TQ1A.230105.001.B1
Telstra (AU)
Pixel 7: TQ1A.230105.001.A3

Pixel 7 Pro: TQ1A.230105.002.A1
What's included
The January 2023 update includes bug fixes and improvements for Pixel users – see below for details.
Audio
Add support for Spatial Audio with certain devices and accessories *[1]
Biometrics
Additional improvements for fingerprint recognition and response in certain conditions *[2]
Bluetooth
Fix for issue occasionally preventing certain Bluetooth Low Energy devices or accessories from pairing or reconnecting

Fix for issue preventing audio from playing over certain headphones or accessories while connected in certain conditions
Camera
Fix for issue occasionally causing captured photos to appear corrupted or distorted while zoomed in *[3]
Display & Graphics
Fix for issue occasionally preventing display from waking or appearing turned off while device is powered on *[3]
User Interface
Fix for issue occasionally causing UI to display in landscape layout while device is held in portrait mode
—————————————————————
Device Applicability
Fixes are available for all supported Pixel devices unless otherwise indicated below.
*[1] Included on Pixel 6, Pixel 6 Pro, Pixel 7, Pixel 7 Pro
*[2] Included on Pixel 6a, Pixel 7
*[3] Included on Pixel 7, Pixel 7 Pro
Google Android 13 Developer Preview 2 Final – Here Are The Top Features !!!
January 2023 Android security updates
The monthly Android Security Bulletin is usually posted on the first Monday of each month, but the first Monday of January 2023 — i.e. January 2nd — was the day that many American workers observed the country's New Year's Day holiday.
It's because when a U.S. federal holiday falls on a weekend, most workplaces observe the holiday on the closest weekday instead.
Thus, Google moved the release of the January 2023 ASB to today, and now the latest security update is rolling out to Pixel phones.
There are 20 issues resolved in the Android 13 January patch dated 2023-01-01 and 40 for 2023-01-05.
Vulnerabilities range from high to critical, with the most severe relating to the kernel and vendor components.Notably, patches for these vulnerabilities have been in the works for a few weeks or months now and are only now being disclosed. For more information on how the monthly Android security update process works.
Pixel Updates December 2022: What's included ?
Google has announced a new Pixel Feature Drop bringing new features to supported Pixel devices and the Pixel Watch.
we got some great news with a preview of new features that would be popping up on Android, Wear OS, and Google Photos.
Now, Google has shared details of what to expect with its latest Pixel Feature Drop.
That means you can expect new features for your supported Pixel handsets and, for the first time, new features for your Pixel Watch too.One of the first things that Google highlights about the new Pixel Feature Drop is safety, and for a good reason.
Over the past couple of years, safety and privacy have become big concerns for users as more and more services become intrusive.
Pixel 7 and Pixel 7 Pro users can now access VPN by Google One for free, giving them network-level protection regardless of the app or web browser being used. While this can be used at home or the office, it is especially useful when in a public space using a public network.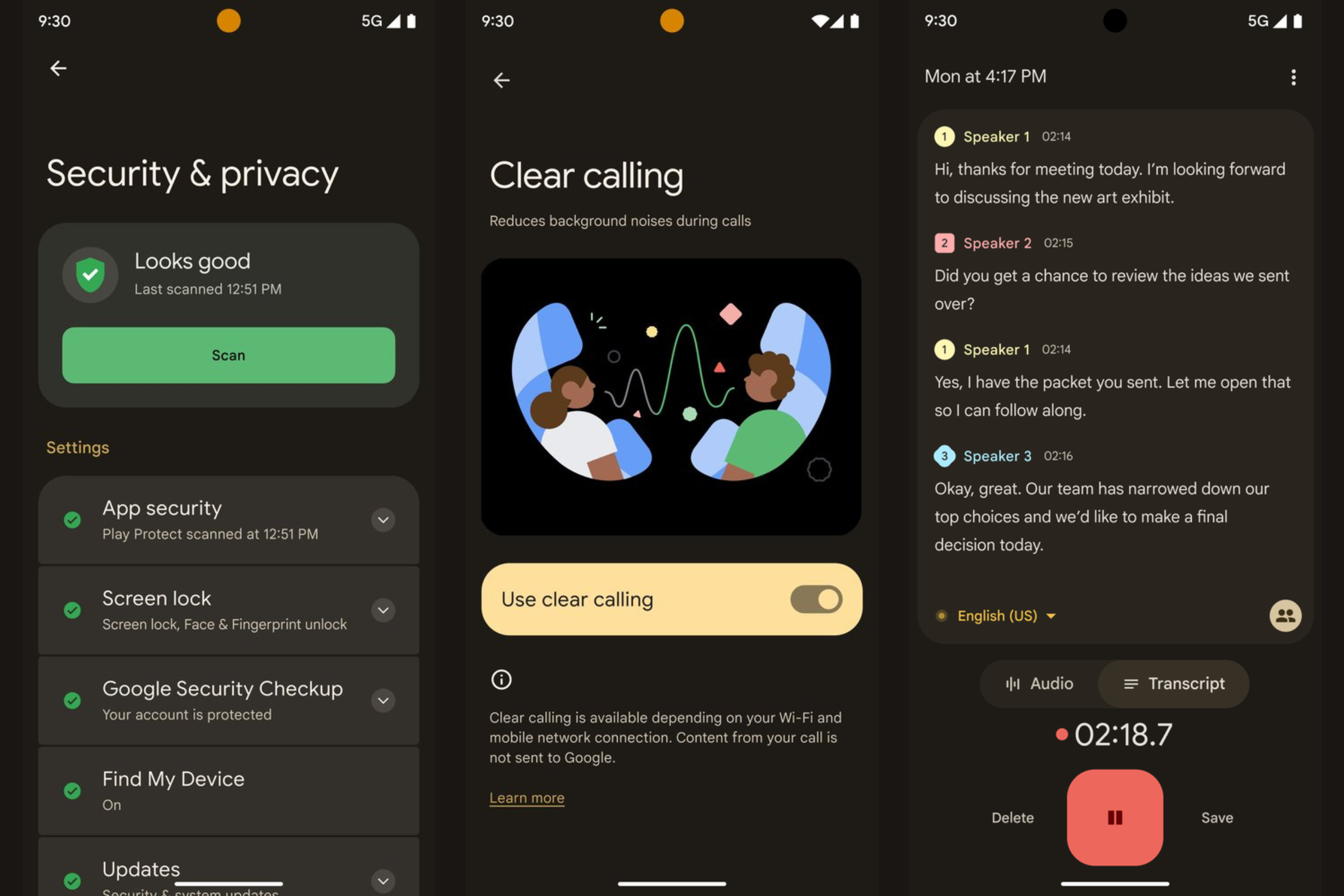 Clear Calling on Pixel 7 and Pixel 7 Pro
Furthermore, users will have access to new action cards that will share any security risks that might be present on your handset.
In addition, checking on these settings will be easy, as they will all be located in one menu going forward. For Pixel 7 series users, Clear Calling will now be enabled, giving users a better calling experience regardless of the environment.
The Pixel 7s will enhance a caller's voice while, at the same time, suppressing background noise.
According to Google, this can be accomplished thanks to the all-new Tensor G2 processor.
Google Pixel Recorder
Google's Pixel Recorder is getting an upgrade. While it previously could record and transcribe conversations, it is now capable of labeling speakers in the conversation, giving users a cleaner chat transcript.
While it won't automatically enter names for you, each person that is labeled, for example, "Speaker 1," can be changed at a later time to a proper name. Furthermore, all of this will take place on the fly, making it easy and convenient.