The Pixel 8 is a long ways off, but some snippets of camera app code identified by developer Kuba Wojciechowski are giving us an early glimpse into what Google might be planning.
The code in question refers to "staggered HDR," which isn't a technique that Google's Pixel camera currently uses. The company was one of the first to refine mobile HDR and computational photography, taking them mainstream. Now, it appears to be evolving its tech for the next generation in a significant way.
Staggered HDR is a method of capturing short and long exposures of scenes nearly simultaneously. Google currently employs HDR Plus Bracketing, which takes individual photos in rapid succession and uses them to create a final image with a wide dynamic range — meaning there's detail in both shadows and in highlight areas.
It works well, but it also means that the system has a harder time dealing with moving subjects since it's using separate frames.
With staggered HDR, a short exposure follows right on the heels of a long exposure — before the long exposure has even finished.
This rolling shutter effect scans the sensor from top to bottom and means that there's no wait for one exposure to finish before starting another one.
This means there are fewer motion artifacts to deal with, and less power is consumed in the process — Samsung says it reduces power consumption by 24 percent compared to a method using separate frames.
If Google does plan to add support for staggered HDR, then a new camera sensor is on the way, too.
Kuba says that the Pixel 7 and 7 Pro use a Samsung Isocell GN1 for their main camera sensor, which doesn't support staggered HDR. The Isocell GN2 does support the feature, so it seems to be a likely candidate for the Pixel 8.
The GN2 would also provide some autofocus enhancements thanks to a tweaked phase-detection array that's more sensitive to horizontal movement.
We're a long way from finding out if any of this is in the cards for the Pixel 8 — Google hasn't confirmed the device yet, and we expect to launch in the fall of 2023.
But it seems likely that Google will keep iterating on the HDR feature it made popularly, and this early hint gives us a glimpse of what that might look like.
---
Google refined HDR photography on our smartphones, and new camera app code hints at a new method in the next-generation camera.
---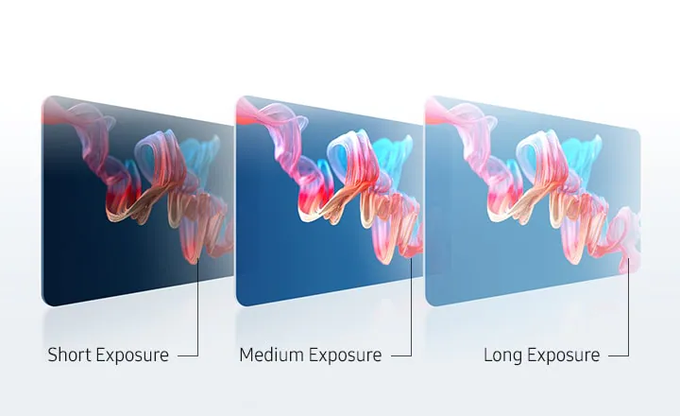 According to Kuba Wojciechowski, the next Google flagship phones will support staggered HDR. This will let the sensor capture different exposures simultaneously with the same pixels.
Just like iPhone can use smart HDR to capture different exposure shots at different levels and then merges them in real-time to give a single image that is best, Google might also do something like that for the Pixel 8 series.
Pixel 7 has HDR shooting but it is not as effective as staggered HDR. This limitation is due to the Samsung GN1 camera sensor (not supporting staggered HDR) that is provided in Pixel 7 phones.
This is being rectified as both Pixel phones for 2023 codenamed Husky and Shiba will have staggered HDR, claims Wojciechowski.
This means the Pixel 8 series might also get a new camera sensor and that will most probably be the GN2 sensor. Google also seems to be working on the Pro version of its Pixel tablet which has been codenamed TangorPro.
Google Pixel 7 Series consist of Pixel 7 (Rs. 59,999) and Pixel 7 Pro (Rs. 84,999), both of which are available in the Indian market.
Pixel 7 is equipped with a 50MP main and a 12MP ultrawide camera while the Pixel 7 Pro has an additional 48MP telephoto lens as well.
More Updates:- Google Pixel 8 Series in the works: Tipped to be powered by Tensor G3 chipset
The Google Pixel 8 Series is being worked upon that is said to consist of 2 models- Google Pixel 8 and Google Pixel 8 pro. A german website WinFuture has revealed some key details about the Pixel 8 devices that will see the light of day in 2023.
Google Pixel 8 Series: Rumors
The website claims that the Pixel 8 and Pixel 8 Pro have been codenamed 'Shiba' and 'Husky' respectively and the names are in tandem with Google's current devices as Pixel 7 and 7 Pro were also called 'Panther' and 'Cheetah' respectively.
The report claims that Google might make a 3rd Tensor chipset in collaboration with Samsung and that chipset has been codenamed 'Zuma'. Zuma is said to have the same Samsung-made G5300 modem as the Tensor G2.
Since Samsung has started working on Exynos 2300, it can be the reference platform for the next Tensor SoC.
Some other speculations about the device claim that the Pixel 8 Series will have 12GB LPDDR5X RAM and run Android 14 (codenamed Upside Down Cake).
The Pixel 8 will have a 2268×1080 resolution display whereas the Pro variant might have a 2822×1344 pixel resolution panel. Earlier reports claim that the Google Pixel 8 pro might also have an ultrasonic sensor.
However, regardless of any rumors that surface online Google Pixel 8 Series is still almost a year away and a lot of these specs might even change by then.
For now, speculations are rife that Google might come up with a Pixel 7a and a Pixel Ultra device before it actually starts talking about the Pixel 8 Series.
The Pixel Ultra smartphone is said to feature insane camera specs that might solidify the company's best camera phone maker status.
Watch Video
Google Pixel 7 Pro Not The Best !! But Still MY PHONE OF THE YEAR !!!
Stay Tuned…..