Publisher Bandai Namco and developer From Software have announced Elden Ring expansion "Shadow of the Erdtree." A release date was not announced.
Bandai Namco teased: "Rise, Tarnished, and let us walk a new path together. An upcoming expansion for Elden Ring, 'Shadow of the Erdtree,' is currently in development. We hope you look forward to new adventures in the Lands Between."
Elden Ring is going to be getting a huge DLC soon and it seems that a release date has been revealed already, all thanks to anotehr FromSoftware game.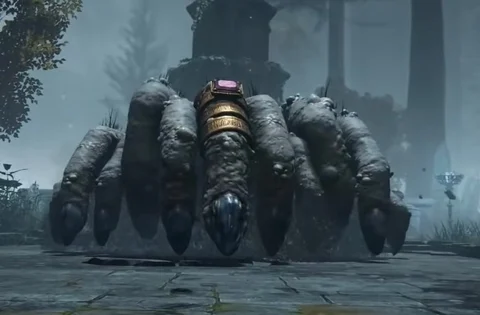 Elden Ring was the hit game of 2022 and while it's got a vast world with never-ending adventure, there is more content in the works for the game which has fans pretty excited. A DLC is in the works and now a release window has also been revealed.
A recent announcement by FromSoftware has revealed that their next instalment of their popular Mech game 'Armored Core' should be coming sometime in September, but what does this have to do with an Elden Ring DLC?
---
This news follows Elden Ring's one-year anniversary celebration, during which it was revealed that the game had sold over 20 million copies and had received numerous Game of the Year awards, including from DICE, New York Game Awards and The Game Awards.
---
With the announcement of Armored Core 6: Fires of Rubicon coming sometime in September or October, if there are no big delays, comes a hint at a potential release window of the upcoming Elden Ring DLC as well.
It was also revealed that FromSoftware is looking to release Armored Core 6 before Shadow of the Erdtree expansion for Elden Ring. So, what does that mean for all of us Elden Ring fans out there? Well, it means we are going to have to be a bit more patient.
With the first Armored Core game being released since 2012 fans are pretty excited for this game so it makes sense for FromSoftware to prioritize this instalment of the series, while the Elden Ring DLC is going to be a hit for sure after the huge success of the initial game.
So, are you excited for the upcoming Armored Core game or would you rather have the Elden Ring DLC release beforehand? The gameplay on both games is vastly different, aiming for different demographics, but if it's a FromSoftware game you'll know either is going to be a success.
Since its launch, Elden Ring has only received one other DLC in the form of the Colosseum multiplayer update. While it's unclear how much content the Shadow of the Erdtree expansion will include, it will be the first single-player expansion available for the game.
The developers have confirmed that the Elden Ring DLC is currently in development, but no release date has been announced yet.
---
Armored Core 6 reportedly releasing before Elden Ring DLC
 Armored Core 6 was in receipt of an epic trailer that certainly had Armored Core fans jumping out of their seats. It's been a long-awaited comeback for many, with the last Armored Core title – Armored Core 5 – being released in 2012 for Xbox 360 and PlayStation 3.
xputer has spoken with sources close to developers, and as ever, this information should be taken with a pinch of salt. It says that, "sources have now revealed that the developers have planned a release window that falls between September and October for Armored Core 6."
The report continues, "unless further internally delayed, there are more chances for the title to launch in late September."
It has also been said that FromSoftware intend on releasing Armored Core 6 before releasing the highly-anticipated Elden Ring DLC that was revealed just this week, Shadow of the Erdtree.
When interviewed about Armored Core 6 following its reveal, Elden Ring director Hidetaka Miyazaki and Armored Core 6 producer Masaru Yamamura detailed what players should expect from the game.
Unsurprisingly, customising your mech is a key part of Armored Core 6, but players should not expect any Soulsborne-style gameplay: "No, we've not been making a conscious effort to try to direct it towards more Soulsborne type gameplay. First of all, let me just make that clear," Miyazaki explained.
It's been a long time coming for Armored Core fans, so I'm sure that a few months more won't hurt. Are you looking forward to seeing the series make a comeback with Fires of Rubicon?
Personally, I'll be patiently waiting for Elden Ring's Shadow of the Erdtree to release, but there's no denying that the mech combat of Armored Core looks immense.
Game Awards 2022: Elden Ring is Game of the Year
The most prestigious award is the Game of the Year itself. 2022 year's winner is Elden Ring. Beside the main award, they also won Best Game Direction and Best Art Direction. EarlyGame says congrats to a well-earned winner!
Elden Ring is available now for PlayStation 5, Xbox Series, PlayStation 4, Xbox One, and PC via Steam.
Stay Tuned for more updates..