The Feb. 6 earthquake in Turkey and Syria was so deadly because the region sits on a boundary between multiple tectonic plates, while soil and building conditions make strong earthquakes more likely to cause damage. 😥 
More than 12,000 people were killed and tens of thousands left injured and homeless following a devastating earthquake in Turkey and Syria on Monday (Feb. 6). 
The magnitude 7.8 earthquake — caused by a 60-mile (100 kilometers) rupture between the Anatolian and Arabian tectonic plates — struck at its epicenter near the city of Nurdağı, in southern Turkey, at 4:15 a.m. local time Monday, toppling buildings and leaving thousands trapped beneath the ruins. 
Amid frantic search-and-rescue attempts, several aftershocks (including one nearly as powerful as the original earthquake) have added to the destruction. The growing death toll has already made the temblor one of the deadliest since the 2011 Tohoku earthquake in Japan, which triggered a tsunami that killed nearly 20,000 people and led to a nuclear disaster. 
As the death figures stand so far, the Nurdağı quake is the third-deadliest in Turkey in the past century, surpassed only by the 1999 Izmit earthquake, which killed more than 17,000 people, and the 1939 Erzincan quake, which killed nearly 33,000 people.
But why do earthquakes in this region have the potential to be so deadly? The answer, in part, lies in complex plate tectonics, soft soil, and the uneven construction of quake-proof buildings. 
Southeast Turkey and northwest Syria are prone to dangerous seismic activity because they lie on the junction of three enormous tectonic plates — the African, Anatolian and Arabian — whose collisions and snaggings cause earthquakes.
Monday's quake likely came from the East Anatolian Fault, where sections of the Arabian and Anatolian plates can become locked together by friction. After many decades of slowly pulling away in opposing directions, so much strain was gathered between the two plates that their point of contact ripped apart in a "strike slip" rupture — yanking the plates suddenly and horizontally past each other and releasing energy in the form of seismic waves.
Some scientists have speculated that stress on the fault may have been building over centuries.
"GPS shows that across the East Anatolian Fault, the blocks are moving [around] 15 millimeters [0.6 inch] per year relative to each other. That motion stretches the crust across the fault," Judith Hubbard(opens in new tab), a visiting assistant professor of Earth and atmospheric sciences at Cornell University, wrote on Twitter(opens in new tab). "A magnitude 7.8 earthquake might slip 5 meters [16.4 feet] on average. So today's quake is catching up on about 300 years of slow stretching."
Once the fault ruptured, the earthquake's catastrophic impact was magnified by several factors. The East Anatolian Fault snakes under a heavily populated region and Monday's quake was shallow, at just 11 miles (18 km) below Earth's surface. This meant the energy of the quake's seismic waves hadn't dissipated much before it began to shake people's homes.
And once the buildings shook, the soft sedimentary soils of the region meant they shook harder and were more likely to collapse than if their foundations had rested on bedrock. According to the USGS(opens in new tab), the soils of Nurdağı are moist enough to undergo a significant amount of liquefaction — behaving more like a liquid than a solid during the quake's violent convulsions.
Other reasons as to why the earthquake was so deadly are the integrity of the buildings and the time of day that the quake occurred. Because it struck in the early morning hours, people were mostly asleep and had little opportunity to escape the collapsing buildings, many of which were not sufficiently earthquake-proof.
"It's difficult to watch this tragedy unfold, especially since we've known for a long time that the buildings in the region were not designed to withstand earthquakes," David Wald, a scientist at the U.S. Geological Survey (USGS), said in a statement(opens in new tab). "An earthquake this size has the potential to be damaging anywhere in the world, but many structures in this region are particularly vulnerable."
In the wake of the 1999 Izmit earthquake, stricter building codes ensured Turkey's modern constructions were designed to be resistant to earthquakes. However, many of the older buildings, which often house those living in poorer and more densely-populated neighborhoods, were erected before the codes came into effect and remained vulnerable to collapse. After the quake struck, some of these buildings experienced "pancake" collapses, in which the upper floors fell straight onto the lower floors, making it next to impossible to save the people who had been crushed inside.
"This incident serves as a reminder of the region's high physical vulnerability to earthquakes. The proximity of Syria and Turkey to both Convergent and Strike-Slip boundaries means earthquakes shall happen regularly and this reality needs to be inculcated into the disaster management frameworks of both countries," Henry Bang(opens in new tab), a disaster management expert at Bournemouth University in the U.K., said in the statement. "Learning from this experience, a priority should be to retrofit existing buildings in the region to be able to withstand earthquakes."
An earthquake to hit India soon? 
A Dutch seismologist correctly predicted that a powerful earthquake would happen imminently in Turkey, three days before the disaster that killed more than 21,000 people.
Frank Hoogerbeets from the Solar System Geometry Survey (SSGEOS) in the Netherlands made the prediction on Twitter on February 3, even attaching a map correctly marking the area where the earthquake would strike.
"Sooner or later there will be a ~M 7.5 earthquake in this region (South-Central Turkey, Jordan, Syria, Lebanon)," he wrote in a now viral tweet shared more than 51,000 times.
A strong earthquake struck southeastern Turkey and neighbouring Syria in the early hours of Monday, devastating cities and killing and injuring thousands.
The first 7.8 magnitude quake occurred at 4.17am local time at a depth of about 18 kilometres near the Turkish city of Gaziantep, which is home to around two million people, the US Geological Survey said.
It was followed by a slightly smaller 7.5 magnitude tremor and many aftershocks. The quakes devastated entire sections of major cities in Turkey and war-ravaged Syria.
The region also hosts millions of people who have fled the civil war in Syria and other conflicts.
More than 21,000 people have been killed and thousands more injured as efforts continue for a fourth day in freezing conditions to save those still trapped under rubble.
Reacting to the earthquake after his prediction went viral, Mr Hooogerbeets wrote, "As I stated earlier, sooner or later this would happen in this region, similar to the years 115 and 526. These earthquakes are always preceded by critical planetary geometry, as we had on 4-5 Feb."
SSGEOS describes itself on Twitter as a "research institute for monitoring geometry between celestial bodies related to seismic activity".
After multiple aftershocks were felt in the following days, Mr Hooogerbeets wrote, "The large earthquakes in Central Turkey have caused a significant change in stress distribution throughout the region, with seismic activity down to Palestine as a result. Clearly, the region is resettling."
Officials and medics said Thursday that 17,674 people had died in Turkey and 3377 in Syria, bringing the confirmed total to 21,051.
Initial rescue efforts were hampered by a winter storm that covered major roads in ice and snow and left three key airports in the area inoperable, complicating deliveries of vital aid.
Survivors are still being pulled from collapsed buildings, though disaster experts warn that the chances of saving lives drop sharply after 72 hours.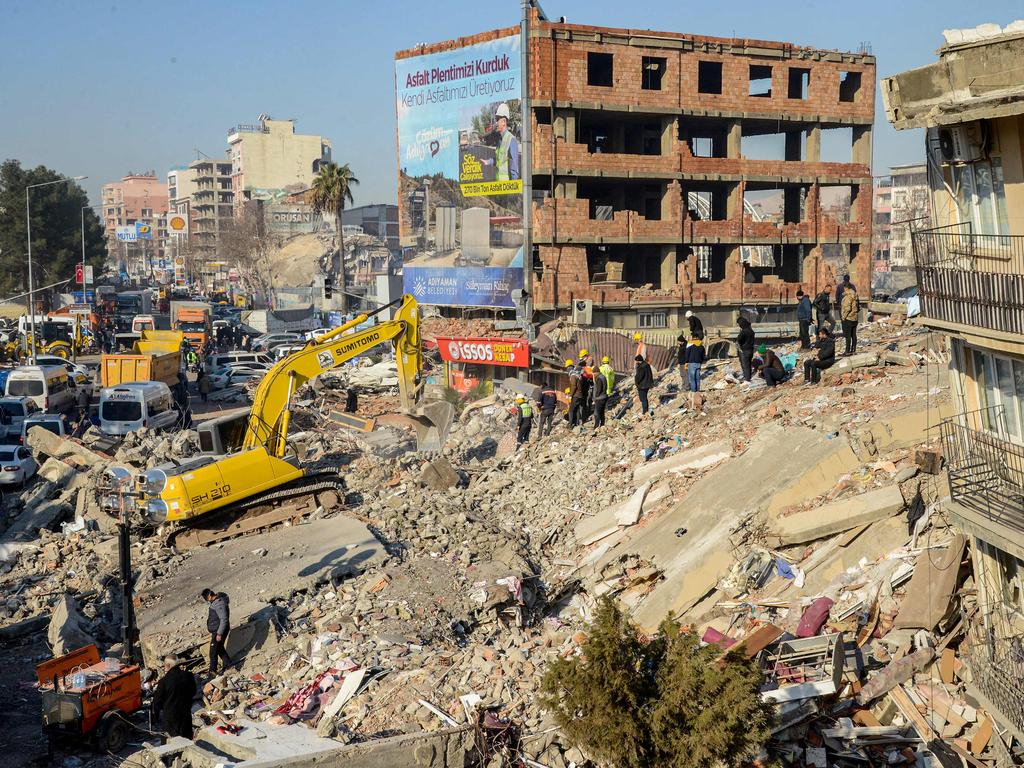 Rescuers search operations among the rubble in Adiyaman, Turkey. Picture: Ilyas Akengin/AFP
Some of the heaviest devastation occurred near the quake's epicentre between Kahramanmaras and Gaziantep, where entire city blocks lay in ruins.
Turkey said almost 3000 buildings had collapsed in seven different provinces, including public hospitals.
A famous mosque dating back to the 13th century partially collapsed in the province of Maltaya, where a 14-storey building with 28 apartments that housed 92 people collapsed.
Social media posts showed a 2200-year-old hilltop castle built by Roman armies in Gaziantep lying in ruins, its walls partially turned to rubble.
In Syria, the health ministry reported damage across the provinces of Aleppo, Latakia, Hama and Tartus, where Russia is leasing a naval facility.
The UN's cultural body UNESCO warned that two sites on its World Heritage List, the old city of Syria's Aleppo and the fortress in the southeastern Turkish city of Diyarbakir, had sustained damage and that several others may also have been hit.
It noted that the quake occurred in one of the longest continuously inhabited areas on the planet within the so-called Fertile Crescent, which has witnessed the emergence of different civilisations from the Hittites to the Ottomans.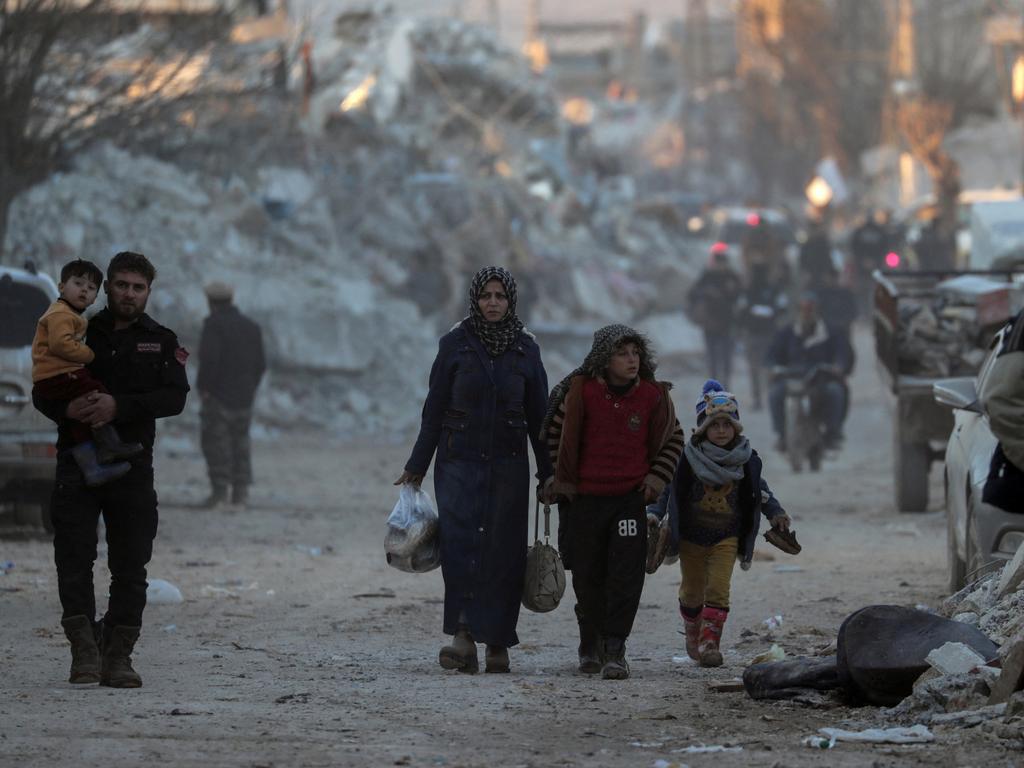 People in the rebel-held town of Jandaris, Syria. Picture: Khalil Ashawi/Reuters
Even before the tragedy, buildings in Aleppo often toppled due to poor infrastructure and many are dilapidated after more than a decade of war.
Large parts of Antakya in south-central Turkey — once the ancient city of Antioch — have been reduced to rubble.
The Syrian village of Tloul was flooded when a mud dam collapsed, leaving families to flee water that submerged houses, streets and crop fields.
Ratings agency Fitch said the quake could cause economic losses exceeding $US4 billion ($5.8 billion). Insured losses will be much lower, possibly around $US1 billion ($1.5 billion), due to low insurance coverage in the area, it added.
Condolences and offers of aid have poured in, including from the European Union, the United Nations, NATO, Washington, China and Russia.
The UN insisted Thursday on the need to avoid "politicisation" of aid to earthquake victims in Syria, which faces international sanctions, and urged Washington and Brussels to ensure there were "no impediments".
EU chief Ursula von der Leyen said the bloc is planning to host a donor conference in March.
The death toll from the massive earthquake has topped 21,000. Picture: Ilyas Akengin/AFP
President Joe Biden promised his Turkish counterpart Recep Tayyip Erdogan that the United States will send "any and all" aid needed.
US Secretary of State Antony Blinken said Washington would work with partners to provide aid in Syria, instead of with the government of President Bashar al-Assad — which is under Western sanctions over alleged humanitarian abuses during his country's nearly 12-year civil war.
Syria, which has only been offered minimal assistance because of the sanctions, on Wednesday made an official plea to the EU for help.
An aid convoy reached rebel-held northwestern Syria Thursday, the first since the earthquake, an official at the Bab al-Hawa border crossing told AFP.
France meanwhile pledged 12 million euros ($18.6 million) in emergency aid to Syria.
The UN's resident Syria coordinator, El-Mostafa Benlamlih, called for the facilitation of aid access to rebel-held areas in Syria's northwest, warning that relief stocks will soon be depleted.
The European Commission is "encouraging" EU member countries to respond to Syria's request for medical supplies and food, said the commissioner, Janez Lenarcic.
The World Health Organisation said up to 23 million people overall could be affected by the earthquake and promised long-term assistance.
Sci-Fi Ideas That Could Change of Space Exploration in 2023
---
59% Indian Land Mass Prone To Earthquakes, National Capital In Second Highest Seismic Zone
The fatality or intensity of an earthquake is determined by the severity of its shaking or tremors. Areas with un-reinforced buildings or soft soil that prolongs shaking are prone to higher casualties. Quakes or tremors can also cause dangerous secondary effects, like landslides, fires, and tsunamis. The Modified Mercalli Index, developed from Giuseppe Mercalli's Mercalli intensity scale of 1902 is a measure designed to describe the effects of an earthquake, at a given place, on natural features, on industrial installations, and on human beings distinguished from the earthquake's inherent force or strength as measured by seismic magnitude scales. The MMI measures an earthquake's intensity by considering the severity of the shaking and the amount of damage relative to factors like building construction and soil composition.
In July 2021, minister of state for Science & Technology and Earth Sciences, Jitendra Singh informed the Lok Sabha "that considering the recorded history of earthquakes in the country, a total of 59% of the land mass of India is prone to earthquakes of different intensities". Singh underlined that the total land mass in the country has been classified into four seismic zones, in accordance with the seismic zone map. 
The National Centre for Seismology, under the Ministry of Earth sciences, is responsible for studying earthquake mechanisms and shifts in seismic activities. It has a total of 115 observatories across the country and prepared a government report in 2021, categorizing the country into four seismic zones: zone five (most fatal), zone four, zone three, and zone two (least fatal).
The report undertakes around 11per cent of the country under zone five, including the entirety of entire northeastern India, parts of Jammu and Kashmir, Himachal Pradesh, Uttaranchal, Rann of Kutch in Gujarat, part of North Bihar, and Andaman & Nicobar Islands. 18per cent of Indian land falls in zone four which takes into account the remaining parts of Jammu & Kashmir and Himachal Pradesh, Union Territory of Delhi, Sikkim, northern parts of Uttar Pradesh, Bihar, and West Bengal, parts of Gujarat, and small portions of Maharashtra near the west coast and Rajasthan. Zone three comprises around 30per cent and includes Kerala, Goa, Lakshadweep islands, remaining parts of Uttar Pradesh, Gujarat, and West Bengal, parts of Punjab, Rajasthan, Madhya Pradesh, Bihar, Jharkhand, Chhattisgarh, Maharashtra, Orissa, Andhra Pradesh, Tamil Nadu, and Karnataka. Zone two, the least seismic-prone zone, covers the remaining parts of the country.
Cities and towns in eight states and Union Territories of India fall under zone five, putting them at great risk of earthquakes of the highest intensity. The center's list of cities that lie in the highest seismic zone five include Bhuj in Gujarat, Bihar's Darbhanga, Guwahati in Assam, Kohima in Nagaland, Manipur's Imphal, Mandi in Himachal Pradesh, PortBlair in Andaman and Nicobar, Jammu & Kashmir capital Srinagar and two cities of Assam namely Jorhat and Sadiya.
According to private agency weather forecaster Skymet, Maharashtra's Mumbai also falls in the seismic Zone three. Located on a coastal line, Mumbai is prone to the risk of a tsunami. Chennai, which earlier used to lie in zone two has now shifted to zone three.
The National Capital region comes under zone four, which is the second-highest category. As per an Indian Express report, seismologist and retired professor, Centre for Earth Sciences, Indian Institute of Science, Bangalore, Kusala Rajendran said that while a large earthquake may not originate in Delhi itself, it is prone to the impact of earthquakes originating in the Himalayas.
The Indian Subcontinent And Its History Of Earthquakes
The Indian subcontinent has a history of devastating earthquakes with the major reason for the high frequency and intensity of the earthquakes being that the Indian plate is driving into Asia at a rate of approximately 47 mm/year. Geographical statistics of India show that almost 58per cent of the land is vulnerable to earthquakes. A World Bank and United Nations report shows estimates that around 200 million city dwellers in India will be exposed to storms and earthquakes by 2050. Here is a look at some of the most severe earthquakes in the Indian subcontinent in the past century:
1. On December 26, 2004, a 9.1 magnitude earthquake in Indonesia triggered an Indian Ocean Tsunami, hitting the Andaman Islands. The Tsunami killed around 283,000 people across dozens of countries. It is also the third strongest earthquake since 1950 in human history.
2. Pakistan occupied Kashmir on October 8, 2005, experienced 7.6 magnitude quake, where Some estimate the death toll to be over 87,000.
3. On January 26, 2001, A magnitude 7.7 quake struck Gujarat in India, killing around 20,000 people.
 in the state.
4. April 25, 2015: In Nepal, more than 8,800 people were killed by a magnitude 7.8 earthquake.
Deep analysis with the source of data taken from various platform 
Stay Tuned —