AI Presentations is still in the early access stage !!
You'll appreciate the enormous benefit of AI presentation tools if you've ever hurried to put together a presentation at the last minute.
What if you could spend your valuable time somewhere else while AI does the labor-intensive tasks for you?
It's not true if it seems too wonderful to be true. Recently, AI research has accelerated, and various platforms are figuring out the wrinkles in applying AI to presentations.
Hello to your new digital helper and goodbye to boring Powerpoints.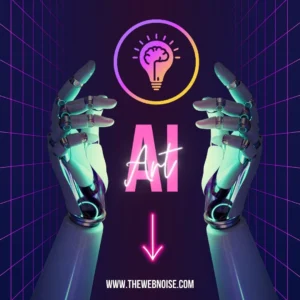 How can an AI presentation tool help you?
You can simply input text into their feature or platform, and they can create designs for you in a jiffy.

You can add your brand assets, such as your logo, brand colors, and fonts, into your presentation in seconds, making it consistent throughout.

Teams can collaborate on one platform to further improve a presentation before the big day.

Professionals can integrate these presentation tools into their workplace apps like Slack and Microsoft Teams.

AI can fix or modify elements when you add or remove elements to any slide.

AI can organize your slides to help you tell a story.

These tools have built-in templates (eg. Powerpoint design templates) and access to image and video libraries to make your presentation more enticing.
1. Beautiful.AI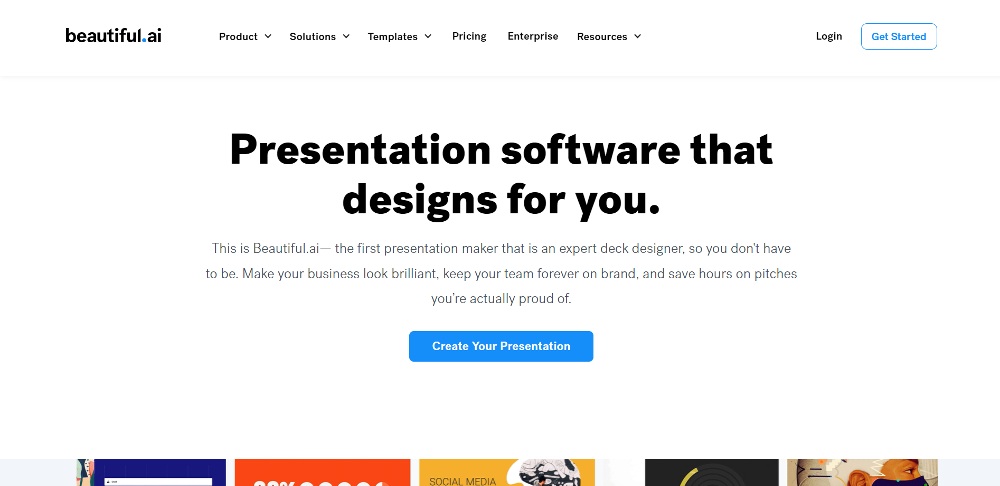 First on our list of AI presentation tools is Beautiful.AI. You can reduce the number of minutes or hours you spend creating a presentation. You don't have to edit or adjust elements manually. Their AI is intuitive in helping you predict your next move. Plus, their AI can make your data look more presentable and clear when shown to your audience or stakeholders.
In addition to those, Beautiful.AI is collaborative, allowing team members to comment on slides without the need for back and forth on chat apps or emails. 
Here are some of their nifty features:
Access to templates, slide library, and millions of photos and videos for your presentation

Customizable themes

Voice narration

Sharing and collaboration

Integrations to Slack, Monday.com, Dropbox, and Powerpoint
Pricing:
Pro – $12/mo (billed annually)
Team – $40/user/mo (billed annually)
Enterprise – Schedule a Demo
2. Designs.AI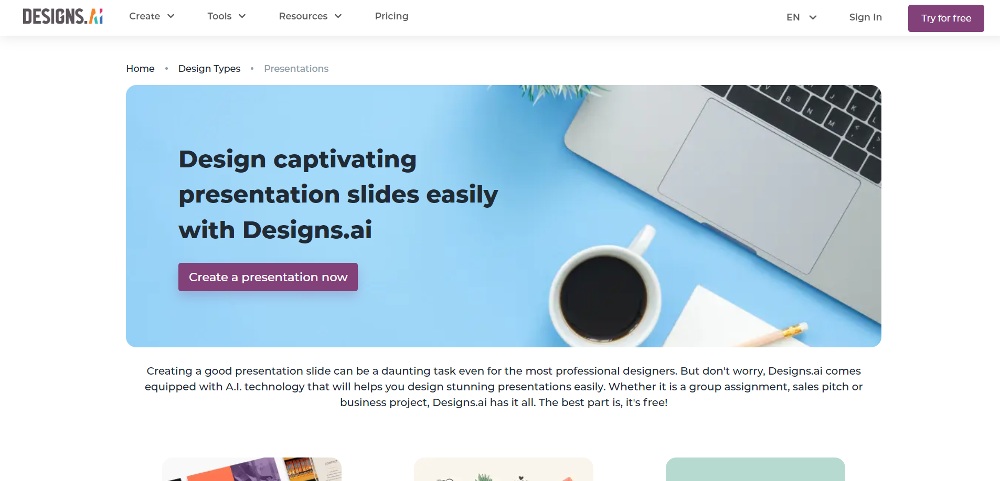 Designs.AI is more than just AI graphic design software. They can also help users create videos, speeches, and presentations. Users can create AI-powered presentations with their Designmaker feature. 
With Designs.AI, all you have to do is input your text into their tool, and their AI can produce various designs for you. In addition, you can make modifications and edits simpler with their one-click resize tool. Plus, you'll have access to millions of design and video assets to use in your presentation.
Pricing:
Basic – $29/mo
Pro – $69/mo
Enterprise – Customized
3. Presentations.AI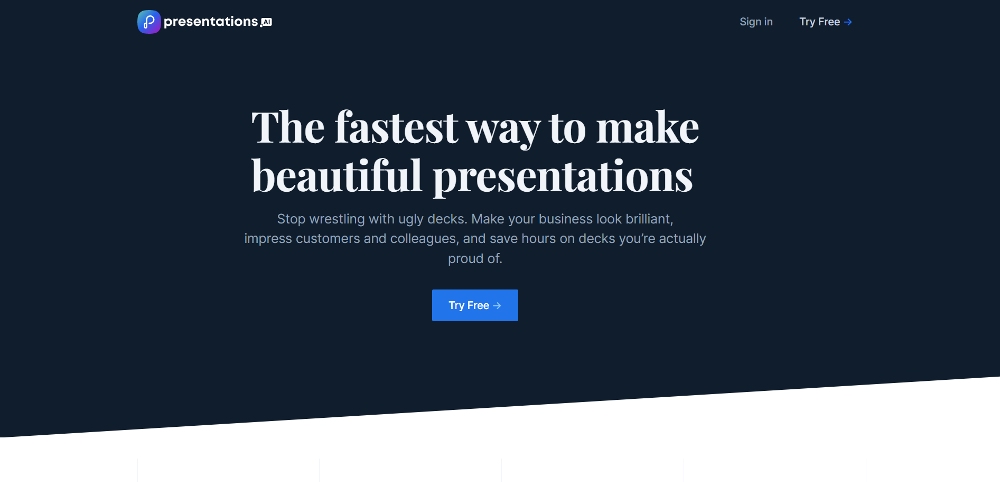 If you want an alternative collaborative tool, Presentations.AI is one of the best AI presentation tools out there.
You can expect well-designed presentation templates and their AI to aid you when adding various elements to your slides. 
Presentations.AI is ideal for those who have a lot of presentations. Although their Starter Plan has the basics down, such as collaborative features, integrations, and unlimited presentations, their Pro Plan will give you more, such as:
Access to premium templates

Custom colors and fonts

Revision history and export tools

Video collaboration
Pricing:
Starter – $10/mo
Pro – $25/mo
Gold – Talk to Sales
4. Kroma.AI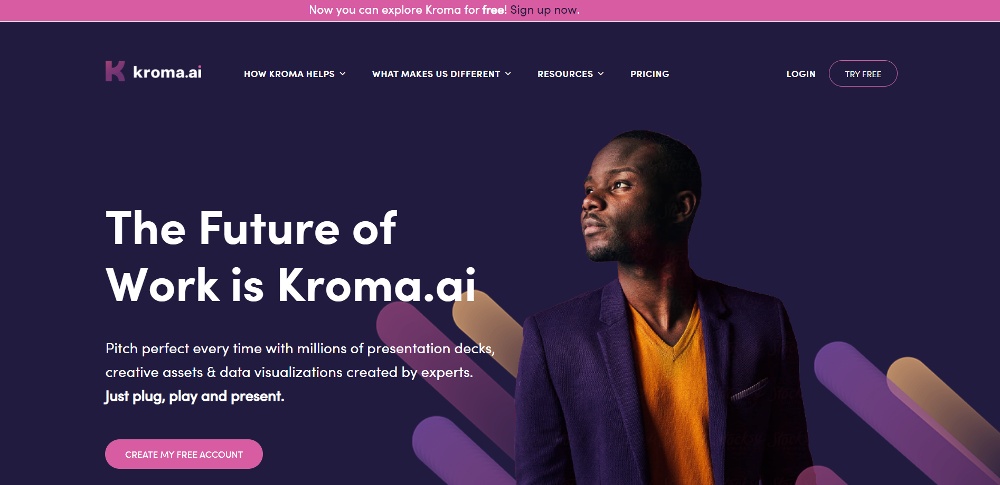 Kroma.AI is much more expensive than the other AI presentation tools on this list, but they do offer a free option, ideal if you want to do a test run before committing to their subscription plan. 
Their AI specializes in pitch deck designs that will make investors say YES. If you're a startup founder needing funding, you can definitely use Kroma.AI to give you a presentation in minutes. One of their main features is helping you organize data neatly with their charts and graphs. Aside from that, you will have access to their high-resolution library packed with images, icons, and videos to make your presentation pop. Plus, you can even add your startup logo to give it a professional look.
Pricing:
Explorer – Free
Premium – $49.99/mo
Enterprise – $1699/yr
5. Deck Robot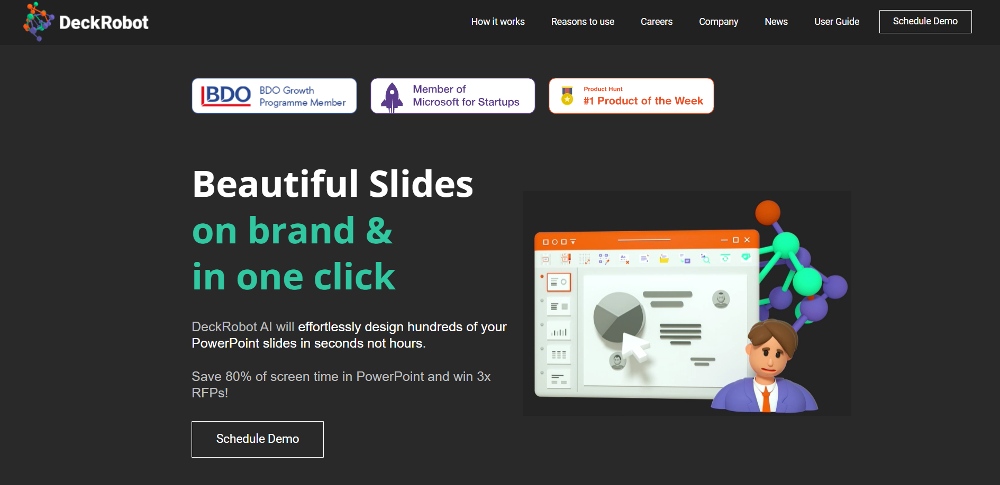 Do you have a PowerPoint draft but don't want to spend so much time beautifying it? Deck Robot is here to save your presentation with their AI.
With Deck Robot, you can upload your PowerPoint draft, and they will make it organized and customized to your liking before the big presentation.
Aside from that, they can also redesign your old branded PowerPoint to your new colors, fonts, and other branded assets.
Pricing:
If you're interested in subscribing to Deck Robot, you need to schedule a demo with them first.
6. Slidebean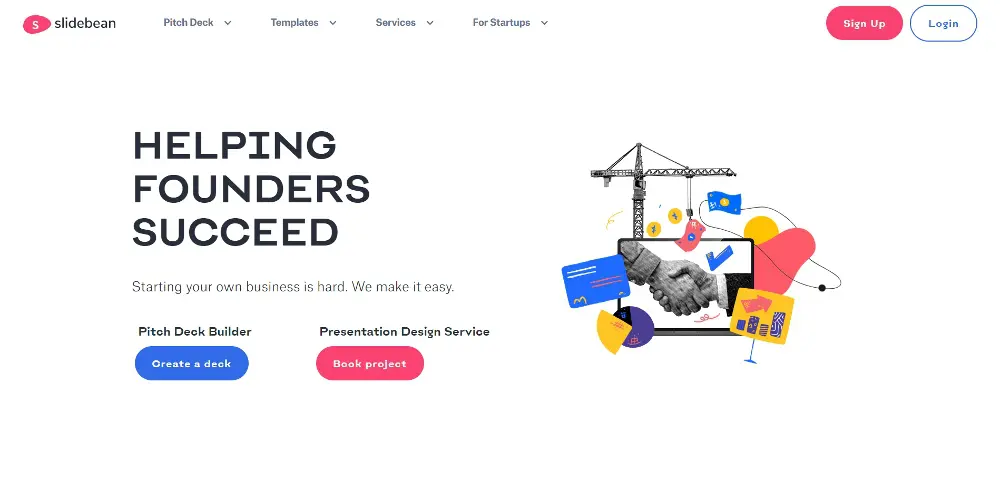 Slidebean is another AI presentation tool ideal for those who need better-looking pitch decks and other business presentations.
Although you can build your own presentation or use their presentation design service, Slidebean has an "Arrange with AI" option to give you different design alternatives.
Pricing:
Basic – Free
All Access – $29/mo
7. Pitch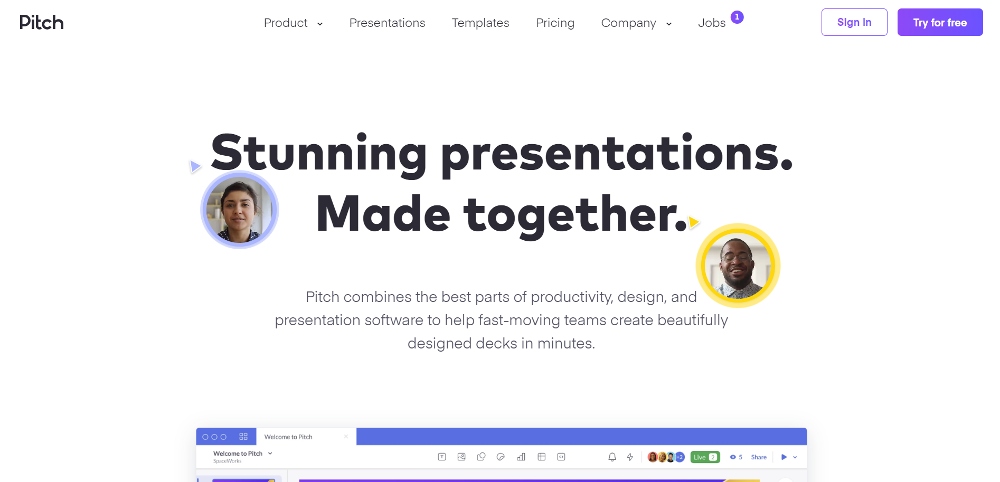 Pitch is one of the most popular presentation tools out there on the market. You can build presentations from scratch here or use one of their well-designed templates for your new presentation.
Their AI feature is limited to editing and cropping, giving the user full control over most of the functions in the presentation maker.
Pricing:
Starter – Fre
Pro – $8/mo
Enterprise – Contact Sales
8. Venngage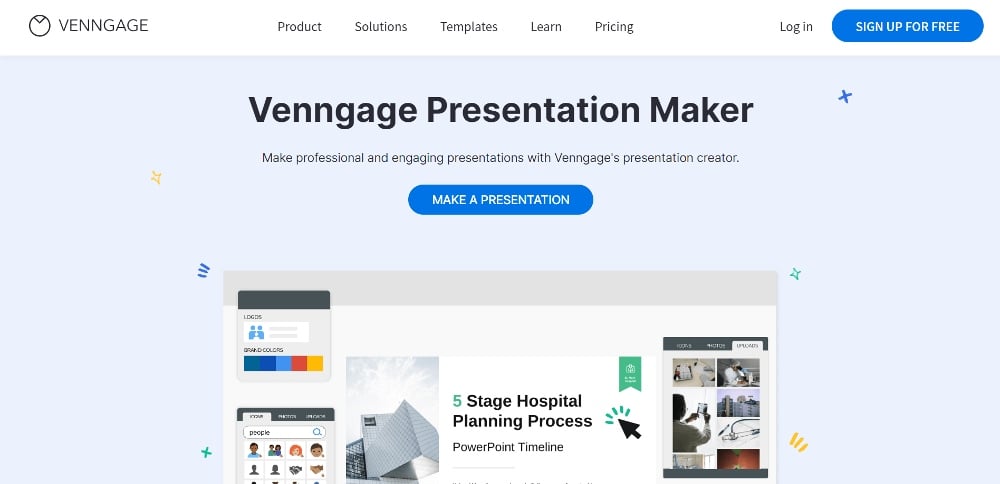 Although Venngage is a well-known infographic maker, Venngage has "Design AI" for other designs made in their software.
They have an AI-powered tool to help sales teams, marketers, and professionals create slides in a snap.
You can input your written content into a text field, and Venngage will generate designs for you to choose from. Plus, you can also customize slide designs with your brand colors to ensure consistency.
Pricing:
Free
Premium – $19/mo
Business – $49/mo
Enterprise – Starts at $499/mo
Get quick help with your presentations
If testing out various AI presentation apps sounds like a hassle, our graphic design team is here to help.
Our  designers create crisp presentation designs tailored to your unique needs.
Just open a project and use the textbox to describe the type of designs you need.
No matter your industry or the topic of the presentation, above tools can help. Get your designs back in as little as 24 hours and request any revisions you need at sites.
You can make  FREE presentation with AI here.. I would recommend to watch this video to know How To Create Stunning Presentations Instantly with A.I (Step By Step Tutorial)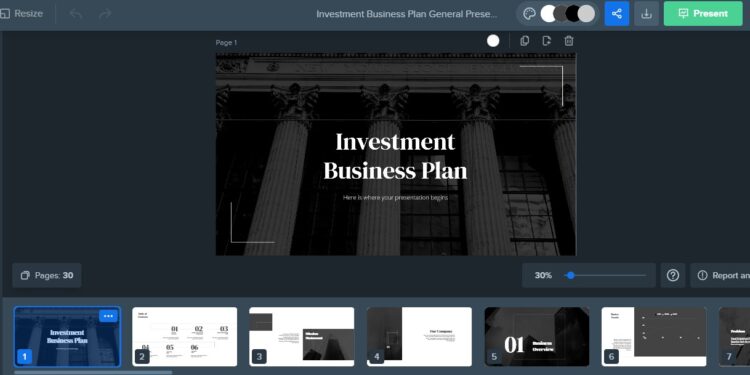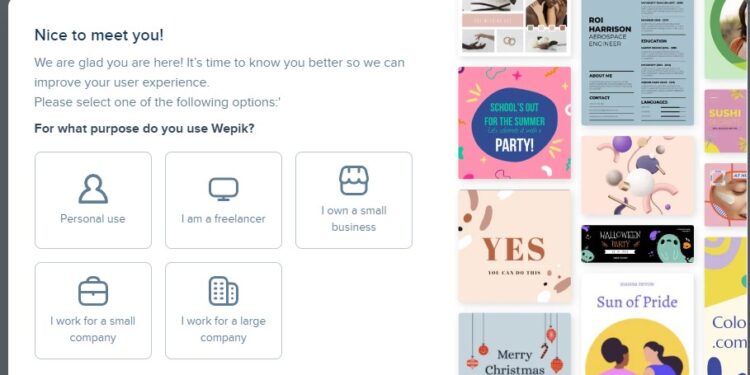 The Pros and Cons of AI Presentation Design Tools
Pros
1. AI Can Save You Time
One of the most time-consuming parts of designing a presentation slide deck is wading through thousands of images and templates to find what you want. Even more frustrating is when you've looked through those online banks and libraries only to come up with nothing.
You simply can't find what you want. In those moments, I often wish I was a graphic designer.
I wish I had the skills to simply create on the screen what I am envisioning for my presentation. This is one of the huge pros of AI.
Artist and XR design manager at Unity, Manuel "Manu.Vision" Sainsily says that "these tools open a path for imaginative people with no visual execution skills to create something visual." By using text prompts, we can direct AI programs to create for us.
2. AI Offers A Creative Springboard
The blank screen or slide deck is one of the most intimidating parts of presentation design. AI reduces the time you have to spend staring at that blank screen.
While we've yet to see an AI program that can produce a fully completed slide deck with no need for revision, there are plenty which can get you started. 
For example, Canva's doc to decks AI generator won't give you a full presentation, but it might offer an attractive color palette and font choice.
PowerPoint's Designer won't read your mind, but it will give you several options for an attractive layout which you can mimic for the rest of your slide deck to create a cohesive, professional-looking presentation.
One of the biggest pros of AI is that you no longer have to start designing from scratch.
The Cons
1. Program Glitches
While AI for presentations boasts some great pros, it is still a fairly new and developing technology. That means not all the kinks have been worked out of the programs yet.
Here are just a couple examples of the issues that may make working with AI for your presentation frustrating:
In PowerPoint's Designer, grouped items don't work well.

In PowerPoint's Designer, shapes are not yet compatible.

Designer also doesn't read logos as distinct from other images when they are uploaded as picture files which can lead to weird layouts with cropped logos.

Canva's text to image tool only produces results in square shapes, so they need to be cropped or altered to fit more traditional presentation sizes.

Many AI-generated images don't offer attractive backgrounds. While the primary foreground image may be good, the background often is less aesthetically pleasing.

AI doesn't have a way to understand the hierarchy of slide elements. It doesn't know what is most important on the slide.
2. Things Get Lost in Translation
An AI generator is only as good as a few things:
the algorithms and searchable menu items that have been built into the program. In other words, the amount of "intelligence" developers structured the program to have.

the search terms, or prompts, that the user enters to pull back results.
As we all know, human communication isn't a direct download of information. If I tell my husband a story of something that happened during my day, there is no possible way for him to experience, see, and understand the story exactly like I did.
I can share it in the clearest terms possible, but he still reconstructs the story in his mind a little differently.
Something always gets lost or changed in the encoding and decoding process. The same thing holds true for AI design. The chances of you pulling back the exact thing you want are pretty slim, if not impossible.
3. Copyright Issues
One of the major drawbacks with AI-generated images and presentations is the question of who owns the product. On one side of the copyright argument is the notion that we already mix creative elements in many ways.
Sampling is part of the modern-day, technology-driven creative process.
On the other side of the issue is the notion that AI technology can pull back music, artwork, photography, and more from skilled artists who should be compensated for their work and talent.
It often takes a while for legislation to catch up with technology, so we're watching to see how this develops. You can read more about AI copyright issues here.
All-in-all, AI is one more tool in the presentation design toolbox. Is it perfect? No. But it's developing. And we are excited to see where this technology leads.
In the meantime, you may be hesitant to work with AI programs or you may have tried and found them lacking. If so, consider talking with one of our design experts.
They have the skills needed to create a stunning slide deck that meets your specific needs.
Stay tuned to get more updates