Babydogecoin dont be a magic , It is just memecoin
[dropcap]F[/dropcap]rom how you can purchase it to whether you should, here's everything prospective buyers need to know about Baby Doge Coin.
Things move quickly in the world of cryptocurrency. It wasn't long ago that Dogecoin was the hottest crypto of 2021. Now, it's practically old news, and there's a Baby Doge Coin getting loads of hype in 2022 and maybe in 2023.
Baby Doge Coin had big initial success, as its price rose by over 1,000% in about two weeks. But by the next day, it had lost nearly half that value.
Since Baby Doge Coin is just one year old and is getting quite a bit of attention, this might seem like the right time to buy. But before you do, there's a lot you should know about it.
1. BabyDoge Coin is only One year old
True to the name, this crypto is still a baby right now. It was created on June 1, 2021. The earliest price on record wasn't until June 9, when it cost $0.000000000175. That quickly shot up thanks to social media and influencer marketing, but then it came back down.
Buying such a young cryptocurrency is a risky proposition. BabyDoge Coin doesn't have much of a track record, and the reality is that most cryptocurrencies don't make it.
2. It started with 420 quadrillion tokens
BabyDoge Coin's total supply was 420 quadrillion tokens, and the team behind it has manually burned (destroyed) over 125 quadrillion so far. Manual burns mean that the Baby Doge Coin team has full control of when and how many tokens get burned.
We've found one company that's positioned itself perfectly as a long-term picks-and-shovels solution for the broader crypto market — Bitcoin, Dogecoin, and all the others. In fact, you've probably used this company's technology in the past few days, even if you've never had an account or even heard of the company before. That's how prevalent it's become.
Large numbers of coins priced at a fraction of a cent are common with new cryptocurrencies. Baby Doge Coin is an extreme example, though.
3. Every transaction has a 10% fee
On every Baby Doge Coin transaction, the seller pays 10%. Here's where that goes:
5% is redistributed to everyone who currently holds Baby Doge Coin.
5% is split 50/50, with half remaining as Baby Doge Coin and the other half being traded for Binance Coin. These are used for a liquidity pool so people can trade those two coins for each other.
The 10% fee is an incentive to hold on to Baby Doge Coin. If you sell yours, you get charged 10%. If you keep it, you get rewarded with a portion of the fee anytime someone else sells. Baby Doge Coin didn't invent this idea. Safemoon, which launched in March, has the same type of fee.
4. Part of its mission is rescuing dogs
One of the goals listed in Baby Doge Coin's whitepaper is rescuing dogs in need. It also says that the team has a charity wallet with 2.2% of the total supply of Baby Doge Coin. Since 5% of the transaction fee with this crypto is redistributed to existing holders, the charity wallet receives 2.2% of that.
The charity wallet is used to support Baby Doge Coin's charity partners. On June 24, the crypto's Twitter account announced a $75,000 donation to PawsWithCause, a nonprofit that uses community paint days to bring more attention to animals in local shelters.
5. It's available on PancakeSwap — but not any major crypto exchanges
For anyone who wants to get Baby Doge Coin, PancakeSwap is the recommended platform. PancakeSwap is one of the bigger decentralized exchanges (sites where users contribute and trade crypto).
To use PancakeSwap, you need to connect a crypto wallet. Then you can trade another crypto, such as Binance Coin, for Baby Doge Coin. There's a bit of a learning curve, but it's not too hard once you get the hang of it.
It's worth noting that Baby Doge Coin isn't listed on any of the best cryptocurrency exchanges, however. Getting listed is a longshot, given that this is a memecoin with a low trading volume.
6. The roadmap includes several unique goals
BabyDoge Coin has a six-phase roadmap. The first few phases are normal enough, with goals such as reaching 25,000 holders and completing a website redesign.
The final phase is where things get much more ambitious. It includes the community carving a Baby Doge into a mountain at a $108,069,502  market cap and the creation of a Baby Doge religion at a $500 billion market cap.
Only a handful of cryptocurrencies have ever passed a $100 billion market cap, and only Bitcoin has passed $500 billion. Odds are that we won't ever see Mount Baby Doge or the church of the Baby Doge.
7. Buying it is a gamble, and there's a high chance of losing money
BabyDoge Coin started strong, but it's hard to see any value in it as a long-term investment. Memecoins like this one — with no notable future plans or advantages over the competition — are a dime a dozen.
They rely on marketing to build hype and push up the price. The team behind them and the earliest investors make money, while everyone who gets in too late loses.
Anything can happen with crypto. There's always the slim chance that Baby Doge Coin has another hot streak and shatters its all-time high. But it's more likely that people forget about it and move on to the next memecoin with a funny name.
Babydoge Coin (BabyDoge): What It Is, What It's Worth and Whether You Should Invest
What Is Baby Doge Coin?
Baby doge coin — "doge" being an farcical misspelling of "dog" — is a crypto asset created by the online dogecoin community. According to its website, "Baby Doge seeks to impress his father by showing his new improved transaction speeds and adorableness."
As a hyper-deflationary token, baby doge coin has been designed to become more scarce over time. Whereas some crypto teams simply destroy coins to limit the number of coins in circulation, baby doge adds coins to holders' wallets each time they make a transaction, and some coins are added to the decentralized exchange PancakeSwap as part a liquidity pair.
Redistributions also go to charity partners. According to the baby doge website, the organization behind baby doge coin has donated over $750,000 to The Humane Society, ASPCA, Paws with Cause, the North Shore Animal League and other charities that benefit dogs.
That said, baby doge has a maximum supply of 420 quadrillion coins, 115.114 quadrillion of which are currently in circulation. Baby Doge announced in an Aug. 1 tweet that it had just burned 1 quadrillion coins worth $1.3 million — the 10th burn of 1 quadrillion or more coins since the beginning of the year, The Crypto Basic reported, bringing the total amount burned thus far to 46% of the maximum supply.
As of September 2022, the total supply of baby doge — that is, the maximum supply of 420 quadrillion tokens less the 46% that have been burned — stands at 231.942 quadrillion, according to CoinMarketCap.
What Is Baby Doge Coin Used For?
Baby doge coin's developers created the token to be a "fun meme with a serious mission to rescue dogs in need, bring crypto adoption to the main stream with new concepts such as rewards, NFTs, decentralized exchanges and credit card for crypto payment on our website." Currently, however, the coin has little real-world use. Although a listing on CoinPayments allows Shopify, WooCommerce and Magento merchants to accept baby doge as a payment method, the baby doge organization doesn't say how many — or if any — merchants do accept it.
So, what can you do with baby doge coin? Not much, other than collect and swap it. People who collect it do so because they enjoy being part of an enthusiastic community that supports dogs, and they hope the coin's value will increase. Sentiment arising from the community, rather than the token's utility, is what gives baby doge coin value.
Baby Doge Coin Advantages Over Other Cryptocurrencies
Some have made the argument that baby doge compares favorably to dogecoin in that dogecoin has no cap on its coin supply. However, a coin with no practical utility and a cap of 420 quadrillion coins can hardly be considered scarce — even after nearly half have been burned. Bitcoin, for example, has true scarcity — its cap is 21 billion coins, over 19 billion of which are already circulating.
For now, it appears that the only advantage baby doge has over other cryptocurrencies is the loyal community that has sprung up around it. With no real-world utility for the coin so far, all of its value lies in its appeal as a meme coin. Of course, baby doge is currently trading for just $0.000000001229. That means you can make a speculative purchase of 1,627,339,300 coins and risk just $2.
Why Did It Spike?
Baby doge coin spiked for the same reason as its father, dogecoin: Elon Musk. In July 2021, the Tesla CEO posted a tweet, hinting at the token:
"Baby Doge, doo, doo, doo, doo, doo, Baby Doge, doo, doo, doo, doo, doo, Baby Doge, doo, doo, doo, doo, doo, Baby Doge."
As a result of this tweet, buyers did precisely what they had done earlier in the year with dogecoin — they started buying.
In just 24 hours, the aftermath of the tweet presented itself as a 228.3% spike in the price of baby doge coin.
Of course, that wasn't baby doge coin's first or only only spike. A smaller but still significant 22% spike occurred in February, when the token was listed on the Huobi cryptocurrency exchange. The listing also resulted in a 443% spike in trading volume, Benzinga reported at the time.
Prices surged again in time for baby doge's first birthday on June 1. The @babydogeburn_ Twitter account noted on that day that 29.7 quadrillion tokens had been burned over the previous 24 hours.
The most recent spikes occured during the second week in August, following a cryptic tweet from the @BabyDogeCoin Twitter account. The tweet, which said a big announcement was coming, led followers to suspect a listing on Binance was imminent. The listing has not materialized.
What Is Baby Doge Coin Worth?
As of Sept. 14, one baby doge coin is worth $0.000000001229 with a trading volume of $5,132,058 and a market rank of #235 on CoinMarketCap.
As is evident, the price is not very promising since it is just a tiny fraction of a single penny. However, investors aim to hoard the coins and reap the rewards if and when it reaches a dollar. In the meantime, they can participate in the community forum, which boasts over 300,000 members on Telegram, and, if they have at least 10 million coins, submit a proposal to the development team and community. Examples of current proposals include setting up an online casino and using the profits to burn coins — most proposals involve burning coins, which investors hope will increase the remaining coins' value by increasing their scarcity.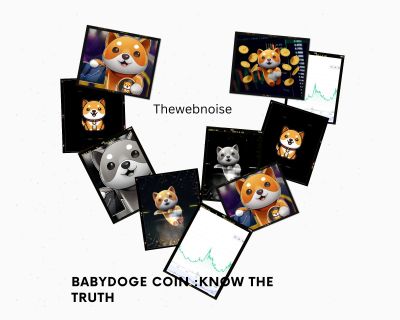 Should You Invest?
Any wise investor would have a hard time taking this coin seriously. Also, it's pretty obvious that the developers have named it baby doge coin to leverage the popularity of dogecoin.
You can't depend on tweets and hype trains to make your investment moves. With that in mind, it's best to stay wary of dogecoin's new offspring.
Stay tuned..
Disclaimer: The information contained in this article reflects the views of the author only and does not constitute investment advice – it is for educational purposes only. By using this article, you agree that the information does not constitute investment or financial advice. Do your own research and consult your financial advisor before making any investment decision.